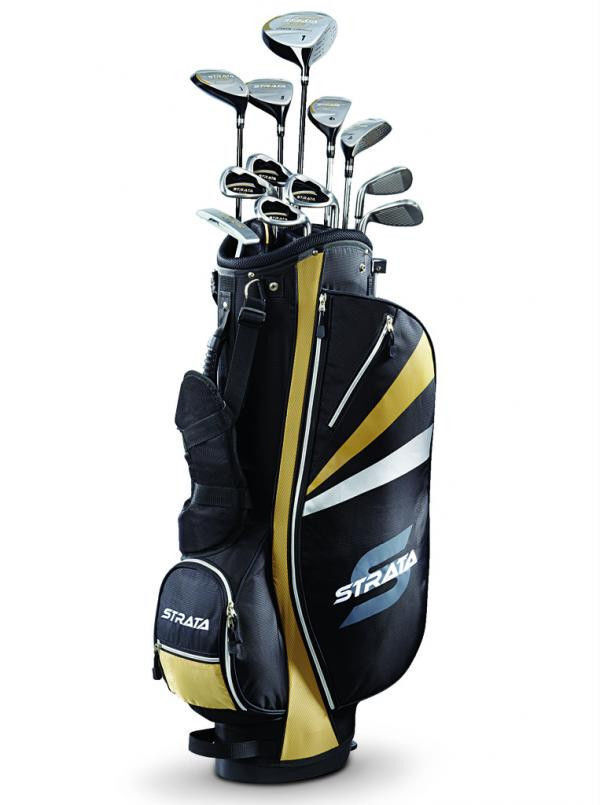 Golf is a popular game worldwide and offers a combination of competition and relaxation. The camaraderie of the golf course atmosphere is also something to savour, and the networking opportunities are well known. For the novice or those with a healthy handicap, it pays - as in all sports - to own the best equipment available, and when it comes to golf clubs there is plenty of choice on eBay.
Choosing the right set of clubs is about balancing:
* The player's skill level,
* The type of game play
* The shopper's budget
It is essential that each are considered carefully. The different sorts of clubs each have a definite purpose, and they can be bought separately or in sets. Before going into more detail about golf club sets that are available to buy on eBay, it is important to have a basic understanding of the different types of individual clubs, and their various uses.
The Different Types of Golf Clubs That Can be Included in Sets
Each type of club has its own intention, and there are distinct differences between them. The following should give a simplified impression:
| | |
| --- | --- |
| Driver | Used for teeing off and long distance shots. |
| Wood | Used variously on the Fairway. |
| Iron | Used for general play and very important choice. |
| Wedge | Used for bunker play and short chips. |
| Putter | Used for short range shots into hole. |
This gives a general idea of the different types of clubs needed for golf, and a good golf club set should include at least one of each. Later in the article each will be discussed in more depth for those who aim to create custom-made sets, but initially it is important to discuss the ready-made sets available on eBay.
Types of Golf Club Set
Packaged sets of clubs offer consummate ease, as they will include a complete spectrum of clubs. There are also customised sets available with fewer clubs included but sold as a group because the club selection works well together.
Here are some things that need to be considered depending on who will be using the sets:
* Male
* Female
* A junior
Sellers on eBay clearly indicate who the set is intended for, as this is the most basic of questions that should be asked. At this early stage it is also important to deliberate on the dexterity of the intended user. Is the golf club set designed for a left handed or a right handed player?
Once these questions have been answered more advanced queries can be set in motion. Expert golfers are likely to have gotten to know a preferential brand and might want to invest in a complete set of clubs made by this particular company.
With golf being a specialist sport the more advanced it gets, it is unsurprising that there are a large number of brands that produce golf club sets, some of the most popular are:
* Callaway
* Dunlop
* Nike
* Ping
* Wilson
It is also possible to buy sets clubs on eBay according to the material type, for instance graphite club sets or steel club sets.
Instead of buying a complete set many golfers prefer to build their own by purchasing individual clubs. eBay is a useful website to go to for buying sets in this manner as it allows for careful consideration of each club. As mentioned earlier a set needs to be made up of a number of different clubs. Below each type of club will be looked at individually.
Essential Clubs in All Golf Club Sets
Buying a Driver
A driver is among the most important clubs in a player's armoury, and should be considered very carefully. For the best buying advice consider five different factors: The model, the shape, the loft, the material and the shaft.
The Different Areas to Consider When Buying a Driver
There is great competition among golf club manufacturers, and endorsement by players is very much a bonus. The technology used in golf club manufacture these days has come a long way in a short time, and with models on which the weight bias can be altered - and change the way the ball is sliced - there is plenty of advanced technology. However, for beginners it is best to stick to a simple model.
The shape of drivers has changed considerably in recent years, and it was one manufacturer - Nike - that moved away from the traditional style. Nowadays drivers differ in shape quite considerably, and there are some curious designs. The loft, the angle of the face, will vary between eight and 13 degrees, and the higher the degree the more suitable for novices.
The material is another interesting point; golf clubs were, at one time, exclusively wooden, but nowadays there is a general choice of a head that is made of either titanium or carbon; these two materials offer excellent strength to weight ratios and are extremely durable.
Buying the Right Wood
The wood is a versatile and interesting member of the club family; a number of woods are needed for different purposes, and there are many different types. The woods are defined by number, and this refers to the loft:
| | |
| --- | --- |
| Degree of loft | Corresponding Wood |
| | Strong 3 |
| 15-16 | Classic 3 |
| 16-17 | Strong 4 |
| 17-18 | Classic 4 |
| 18-19 | Strong 5 |
| 19-21 | 6 |
| 23-24 | Strong 7 |
| 28-29 | 9 and higher |
| 29-38 | 11 wood |
It is plain to see there is plenty of choice, and advice from a golf instructor can be useful as to the best selection of woods to carry at any one time. There is also a great choice of head design and shaft material, and it should be remembered that the wood is the workhorse of the set. Choose carefully, and in conjunction with the rest of the set.
Choosing an Iron
The iron is a club used to create accurate shots from the fairway to the green, and the one that is most likely to define a golfer's game. There are many different types of iron - too many to list here - and it is recommended that expert advice be sought on the best ones to carry.
It is a choice only limited by the number of clubs wanted to be carried at a time. Most people will carry a driver, a putter, and two woods; the remaining ten clubs in the bag are going to be irons. These range from the 3-iron - the one with the slightest loft - to the pitching or sand wedge, with various in between according to personal choice. The 7-iron is widely seen as essential to a golfer's game.
The difference between the irons is the distance and style in which they hit the ball; in the hands of an accomplished player, a three iron will direct a ball in a long, low shot for around 200 yards. Factoring in around 15 yards difference between each number, gives an idea of the difference. The pitching wedge, as an example, will lift the ball higher, and let it travel for around 100 yards.
It is essential to take advice on buying the right irons, as they really are the mainstay of any golf club set.
The sand wedge is manufactured to chip the ball out of bunkers, it is a light club with a very specific loft of between 54 and 58 degrees, and is an essential part of kit.
The Putter
Any set of clubs will naturally include a putter, but the way club design has evolved in recent times is something to behold. Once a standard design, putters nowadays can be quite advanced, and come in a number of different styles. To begin with a set should include a simple design before more technical specifications are sought out.
How to Buy Golf Club Sets On eBay
The above is just an introduction to the various types of golf clubs and sets available to buy, and there is much more detail to be found on eBay by reading the information given on individual listings. Buying golf clubs on eBay could not be easier, it is possible to find:
* Single clubs,
* Sets,
* Packaged sets
* Sets including a bag
Many of the vendors offer free delivery, in many cases, as well as excellent prices. Some people choose to visit their local golf store and try out the various clubs, then look for a corresponding version on eBay, but many sellers do offer returns.
As golf clubs are long-lasting items it is not unusual to find second hand sets for sale that are in excellent condition, as well as brand new packages from reputable sellers. To find golf club sets on eBay navigate to the Sporting Goods section from the left-hand side of the ebay.co.uk homepage, select the Golf category within sporting goods division. Now select Golf Clubs, to browse a wide range of choices, with additional refinements available from drop-down menus. For more information on buying on eBay visit the eBay Stores, and there is a very useful Search Tips page for guidance on how to search for specific items.
Conclusion
Golf is an excellent form of leisurely exercise, an enjoyable pastime, and a great way of developing hand-eye coordination. The social aspects of the game are also an attraction, and there are many picturesque golf courses on which to hone skills and the style of playing.
As players progress, the clubs in their chosen set often alternate to suit their technique. eBay offers complete golf sets and the ability to customise existing sets by sourcing individual clubs.
All good golf club sets will include the following clubs:
* A driver
* A wood
* A number of irons
* A Putter
* A wedge
Like all sports, golf is best played with the most effective equipment and at eBay there is plenty of scope for buying a great set of golf clubs at an affordable price. Whether buying single items or a full set, there is nowhere better to shop for golf clubs.