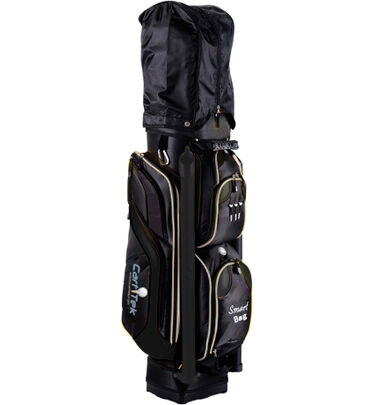 Golf is one of the few sports where the location it is played in, is just as important as the equipment and the players themselves. For this reason, golfers travel the world over in order to play on the very best courses. Of course, the equipment is extremely important as well, which is why there are so many different kinds of golf bags available. Some golf bags are meant to be carried by the golfer or caddy, while others are meant to be placed on a trolley, a small wheeled device that can be pulled behind the golfer. These trolley bags or cart bags, as they are sometimes known, come in a number of varieties. Some of them are simple and meant for casual use while others are meant for golfers who take their clubs with them on airline flights.
These travel trolley bags are commonly founding in sporting goods stores, as well as online at eBay, where sellers around the world provide buyers with many options. When buying a golf trolley travel bag, it is important to look at a few things like, types of travel bags, weight, pockets, dividers, and other features like built-in coolers, before making a purchase. Learning about these factors makes it possible for anyone to make an informed purchase.
Types of Travel Golf Bags
Trolley bags are golf bags that are designed to be carried on a small portable trolley, or on a golf cart. Either way, they are not meant to be carried, and their pockets are designed to face only in one direction. Accessibility is a key feature with golf bags, and trolley bags are no exception. This does pose a problem when one is travelling, as it is important not to lose clubs, balls, tees, and other equipment while in transit.
Most golfers cringe at the thought of ignorant luggage handlers destroying valuable clubs, and for this reason, travel bags are protective as much as they are designed to contain equipment. It should be noted that while many golf bags do come in travel versions, there are also covers that can be placed over a golf bag in order to protect it.
Hard cases
Many golfers feel that their equipment is safer when their travel bag has a hard case. Hard cases are the most durable, and typically allow for the most protection of any golf bags. However, a hard case is far more expensive than a soft case, and the weight is much greater as well. The heavier weight may be an issue, not only when carrying the bag, but when checking in luggage on an airline flight as well. The extra weight may end up costing more money simply to put it on a plane. On the downside, hard cases can be broken or smashed open with enough force.
Soft cases
Travel bags with soft cases are usually just bags with a hood that can be placed over the clubs and zipped, or otherwise fastened to keep equipment secure. Soft cases do not add much weight to a regular trolley bag, and are fine at preventing balls, clubs, and tees from escaping while travelling. They are, however, not quite as efficient at protecting clubs. They are fine when it comes to keeping the clubs safe from scratches, but anything that might crush or bend the clubs, such as other airline luggage, may pose a problem to travellers. Golfers who use soft cases tend to use towels, or other soft materials, to keep their clubs from rattling together. This also has the benefit of allowing the bag to absorb a greater shock than a hard case.
Wheels
Many travel golf bags contain wheels, even those that are designed as cart bags. This allows the bag to be easily transported through an airport, and can allow the golfer to carry other bags at the same time. Wheels do not generally add significantly more weight to a golf bag.
Trolley Travel Bag Weight
Weight is extremely important for golfers who travel. Not only is weight a concern when flying, it is also a concern when carrying a bag. While trolley bags are not meant to be carried on the course, it is likely that they have to be carried to the trolley itself, or into a hotel room and other places where a trolley might go. For many golfers, such short distances might not be an issue, but for older golfers or those with physical disabilities, a heavier bag can become a problem very fast.
Solutions to a Heavy Golf Trolley Travel Bag
Part of the solution is to simply reduce the weight of the items in the bag, an easy option when the pockets are all facing one way. Another part of the solution to reducing weight, is to look for a trolley bag that does not have a built-in stand. These stands are designed to allow the golfer to place the bag at an easy to access level without a trolley or cart. While this may be convenient for some, it should be noted that it can make a bag much heavier.
Trolley Travel Bag Pockets
Pockets are a major part of any golf bag. Gone are the days when a golf bag only needed a few pockets to store extra balls in. Now, it is necessary to have pockets for extra pairs of golf shoes, or for mobile phones, or even for a few drinks or other refreshments. When purchasing a trolley bag, it is important to evaluate the needs of the golfer using the bag, and find a bag that has the appropriate number of pockets. Trolley bags tend to have more, and larger pockets than other golf bags. This is because trolley bags do not generally need to be balanced as much as these other bags. For the most part, a trolley bag has all of its pockets on one side of the bag, facing one direction, so that the pocketless side can be placed snugly in a trolley or into a cart.
Trolley Travel Bag Dividers
Just as the outside of a trolley bag is where items are contained in various pockets, the interior of a bag is where the clubs are placed. This open area is usually split into different sections using a divider. In some cases, there is no divider at all, and clubs are allowed to clang and clatter against each other with wild abandon. This is most likely not an ideal situation for a golfer who travels frequently, as clubs banging together can damage them. Dividers can divide the golf bag into a number of different sections, even to the point where each club has it's own section. This is the design preferred by professionals and other serious golfers, and those who travel may want to look for as many dividers as they can before making a purchase.
Buying a Golf Trolley Travel Bag on eBay
Amateur and professional golfers alike can find the right equipment for their needs on eBay. This includes items like a golf trolley travel bag. Not only can buyers choose from a selection that includes items from the major manufacturers, they can find items that are relatively inexpensive. The best way to find a golf trolley travel bag on eBay is to simply enter the term, 'golf trolley travel bag' into the search bar on the eBay home page. This search can be easily modified or altered to make the search parameters either more narrow or more broad.
Read the Product Description Thoroughly
As is the case when purchasing anything on eBay, it is important to thoroughly read the product description of any item prior to committing to a purchase. Simply reading this description can supply valuable information about a product's history and if there are any special considerations, such as damage or wear and tear. Seller feedback can similarly provide information about where the product is located, and how many other items the seller has sold previously.
Conclusion
A golf trolley bag is a highly useful piece of equipment that allows a golfer to carry their clubs, balls, and other items on a trolley or cart. This makes it possible for the golfer to avoid the injury or strain that might come from carrying a heavy bag. Many golfers who prefer the trolley style of bag, enjoy travelling to different golf courses around the world in order to try to hone their abilities in a new location. For this reason, there are golf trolley travel bags. These bags are extremely helpful for golfers who travel, especially those who travel by airplane.
When purchasing such a bag, it is important to evaluate what kind of travel bag is necessary, as there are both hard cases and soft cases to choose from. In order to maximise the golf experience, it is also important to find a bag that has the right amount of pockets and dividers in order to properly keep one's equipment safe and accessible. Keeping all of this information in mind can help ensure that a golfer's mind is on his or her game rather than on bags and equipment.