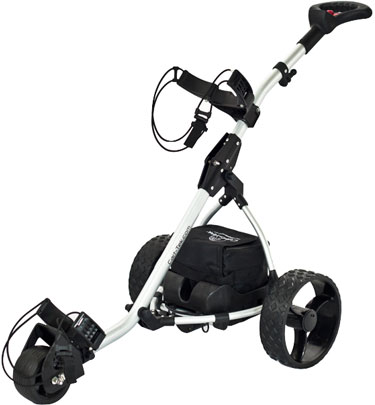 Golf trolleys can be a valuable part of a player's equipment. In addition to carrying a player's clubs, trolleys are often designed with holders for a drink, keys, and other possessions. To get the most use from a golf trolley, it is important for its wheels to turn easily. Tyres that are exposed to mud and wet grass can cause a trolley to become difficult to pull or navigate. It is also time-consuming to clean wheels after playing in wet conditions. To keep wheels clean and helps users pull their trolley across wet ground, several types of wheel covers are available.
Begin shopping by deciding on the type of wheel cover that is needed. Studded covers can be used to gain traction on soggy ground, while rain covers help keep wheels clean. Buyers can also find replacement wheels that are designed specifically for wet conditions. Be sure to choose items of appropriate size, and look for product reviews to select the most durable and efficient trolley wheel covers available.
Covers can be purchased from sporting good stores, specialty golf shops, and online sellers. Several websites are devoted to golf accessories and merchandise, and have a selection of covers to choose from. eBay and other online marketplaces have covers from both private and commercial sellers. Shop around to see the full range of items available, and compare retailers to find the best prices. Whether it is to help a trolley maintain traction, or just to protect it from mud and grass, a golf trolley wheel cover can be found to match the needs of a buyer.
Choose Golf Trolley Wheel Covers
Begin shopping for golf trolley wheel covers by deciding which type of product is needed. Determine the size of a trolley's wheels, and choose products that fit well. Look for covers that are durable and can be used often, or purchase disposable items for one-time use. Carrying pouches are also available to help owners protect their covers and keep them in one place.
Type
There are two primary types of golf trolley wheel covers. The first is a rain protector that slips over the tyre to guard it from mud, grass, and other materials. The second is a studded wheel cover that makes the trolley easier to pull, especially in rainy weather. Consider each option to find the most useful products for a round of golf.
Rain Covers
Playing golf in the rain can cause golf trolley wheels to become covered in mud and grass. Rather than cleaning the tyres after each round, buyers can purchase rain covers for their tyres. These products are typically made from nylon, and have an elastic fitting to hold them securely around the tyre. In addition to keeping the tyre tread clean, these rain covers can also protect metal components in the wheel from rust.
As an alternative to nylon covers, buyers can also shop for disposable rain covers. These are made from an inexpensive material and can be thrown away after each use. These products are considerably less expensive than standard covers, though they can cost more to use over time. Consider how often rain covers are needed to choose between standard and disposable products.
Studded Cover
A studded cover is designed to improve traction and make the trolley easier to pull. The studs dig into the soil to increase manoeuvrability on wet ground, though these items can also be used on dry fairways. Because the weight of the trolley and the equipment it carries is distributed across the studs, contact with the ground is reduced and the trolley becomes significantly easier to pull. On manual trolleys, this can help golfers save their energy for golfing, though electric trolleys can have their battery life extended by as much as 30 per cent. Studded covers are also designed to be fairway safe, so there is no need for users to worry about damage to the course.
Size
Golf trolley wheels are created in several sizes. These can vary from one product to the next, and many trolleys with three or four wheels also have different sizes for the front and back of the unit. Before shopping for golf trolley covers, take a moment to measure the wheel size. In addition to diameter, it is important to measure the thickness of the tyre. Look for products of appropriate size to ensure proper use.
Durability
Because trolley wheel covers are exposed to a variety of weather conditions, it is important for them to be made from durable materials. When possible, examine wheel covers in person and check them for quality. It is also possible to find product reviews for items on the market.
Read Product Reviews
Before purchasing a trolley wheel cover, take a moment to look for product reviews online. Many golf-related websites and publications have reviews of products, and these can be used to determine the fit, quality, and value of a product. Shopping sites also have ratings and comments from buyers about a particular product. In some cases, dozens or even hundreds of ratings can be found. Look at customer reviews for information about the longevity of a product. Buyers commonly post reviews after owning a product for several months or years, and can provide insight into its long-term value.
Other Accessories
When not in use, wheel covers can be stored in specially-designed carrying pouches. This helps protect them and keep them in one place so they are ready when needed. Consider bringing wheel covers along on a trolley in case they are needed.
Buyers looking for an alternative to wheel covers can also find several types of wheels designed specifically for wet conditions. These can be used to replace the original wheels on a trolley, and have a design that functions similarly to studded wheel covers. They may have deep treads, or a rib-like design that is meant to minimise contact with the ground. Obtain measurements when buying new wheels for a trolley to be sure they fit properly.
How to Buy Trolley Wheel Covers on eBay
Golf trolley wheel covers and other accessories can be purchased from the sellers on eBay. To begin shopping, head to the eBay home page. There are two easy ways to search for items on the site. You may choose to enter keywords into the search field or click on category links. Both options can be used to initiate a search and refine listings, and a combination of the two methods can produce the most desirable results. For example, enter "golf trolley wheel cover" into the search field to begin. In search results, look for category links related to the search terms. These can be used to shop by brand, condition, price range, and other criteria. You may also add new keywords at any time.
Inspect item listings to ensure a positive transaction. Read all details provided by the seller, and look for information from the manufacturer such as a specifications sheet. Look at all available photos, especially if buying a used item. Be clear on the price of the wheel cover, and check for any shipping charges involved with the sale of the item. You may also wish to consider the seller's shipping methods. Contact the seller of the wheel covers if you have any questions.
Look for information about a seller before buying. The positive feedback rating indicates the percentage of buyers in the past 12 months who were satisfied with their purchase. Consider this information in relation to the number of transactions the seller has completed. If you'd like more information, click on sellers' names to see their full profiles.
Conclusion
Golf trolleys are a convenient and helpful part of a golfer's equipment. They carry clubs and other gear across the course, allowing the player to save energy for the game itself. To help users get the most from their golf trolleys, especially in wet conditions, several golf trolley wheel covers are available. These are produced in two primary types: studded covers and rain covers. Studded covers help the wheels dig into soil for traction. Also, because the weight of the trolley is distributed onto the studs, the trolley can be significantly easier to pull, even on dry fairways. Rain covers protect the wheels from mud, grass, and other materials that can slow the trolley down. They also reduce the amount of time needed to clean a golf trolley after playing on wet ground.
Buyers should check the size of wheel covers to ensure a proper fit, and look for products that are durable and long-lasting. Many reviews can be found on golf websites and shopping sites where wheel covers are sold. Find information about the performance, value, and longevity of a product to ensure a positive buying experience.
Golf trolley wheel covers are sold in sporting good stores and from golf specialty retailers. They can also be purchased on eBay and other online marketplaces. Consider the full range of wheel covers available, and select products that can improve the usefulness of a golf trolley while maintaining its appearance and condition.