Hi all if your thinking of buying a Goped or Petrol Scooter
On eBay there are two different things selling. You either get the 'Goped' or 'Petrol Scooter' on eBay listings, have a read below and i'll be explain the two difference's!
Goped Brand Scooters:
Goped's are quality, long lasting, reliable and fuel efficient scooters. They carry a Japanese Komatsu Zenoah engine (so, so reliable) as standard and come with easy folding handle bars, a solid wooden deck with long lasting grip tape and either come with solid rubber tyres (the sport model) or they come with huge pneumatic tyres (gsr's, bigfoots etc) and they are also very lightweight. When you buy a Goped there is always every single part available to buy on the official Go-ped website, from a 5mm nut to a new frame! There are also many modifications you can buy from an air filter to a new engine or new billet deck, wheels and so on. These will last you for years and give you lots of fun through out, not just 5 minutes. I strongly advise anyone whos wanting to buy a Goped or Petrol Scooter to buy a Genuine Branded Go-ped.
How to spot a genuine Goped:
They have Go-ped written on the foot deck
Go-ped Reflective Badge/Sticker on the handlebars
Go-ped Sticker sign on the frame
Go-ped sticker on the pull start
Just in case I have not given enough detail on how to sport one, heres a few pictures: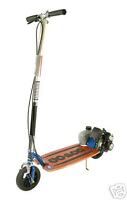 < goped sport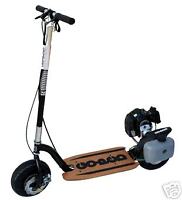 < goped gsr25
Chinese Petrol Scooters:
These are poor quality motorized scooters.
Currently on eBay there is a big flood of the low quality chinese petrol scooters. They come in a range of either 43cc, 47cc and 49cc. They generally have seats, but sometimes they may not. Also they have red and black engine's with a silver steel deck, and those pneumatic tyres. They drink a tank of fuel in 10 minutes flat and everything just genrally snaps off them. These are the most unreliable things you can buy for money on eBay. I've had one a year back and the amount of problems that i had was outrageous, heres the list:
Nuts and Bolts come loose from the engine causing it to wobble
Pull Starts Break after a few times of use
Theres no fuel filter so the Carb gets dirt in it which causes the engine to not start
If you do a lightle bit of riding off-road (just normal grass and gravel) the handle bars decide to snap, because they are are cheap and nasty metal and they have not been whirlded on propaly
If you go on a ride for longer then 20 minutes then the engine over heats, either burns a whole in the exhaust which makes a louder noise then they already make, or burns an even bigger whole which just causes it to fall off in the middle of the road.........nice!
You cannot buy spares for these either, apart from a new carb and pull start. No bolts or anything because when they do fall off they just snap on the inside and you cant tighten them up anyway because they are hidden underneath a parts of the frame.
The handles/grips are screwed on and any slight bit of vibration they fall off, can be dangerous.
Im sure you all get the point about these chinese petrol scooters, but just so you know heres a picture: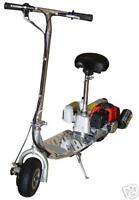 < chinese petrol scooter
Thanks all for reading my guide and I hope you all found it usefull.