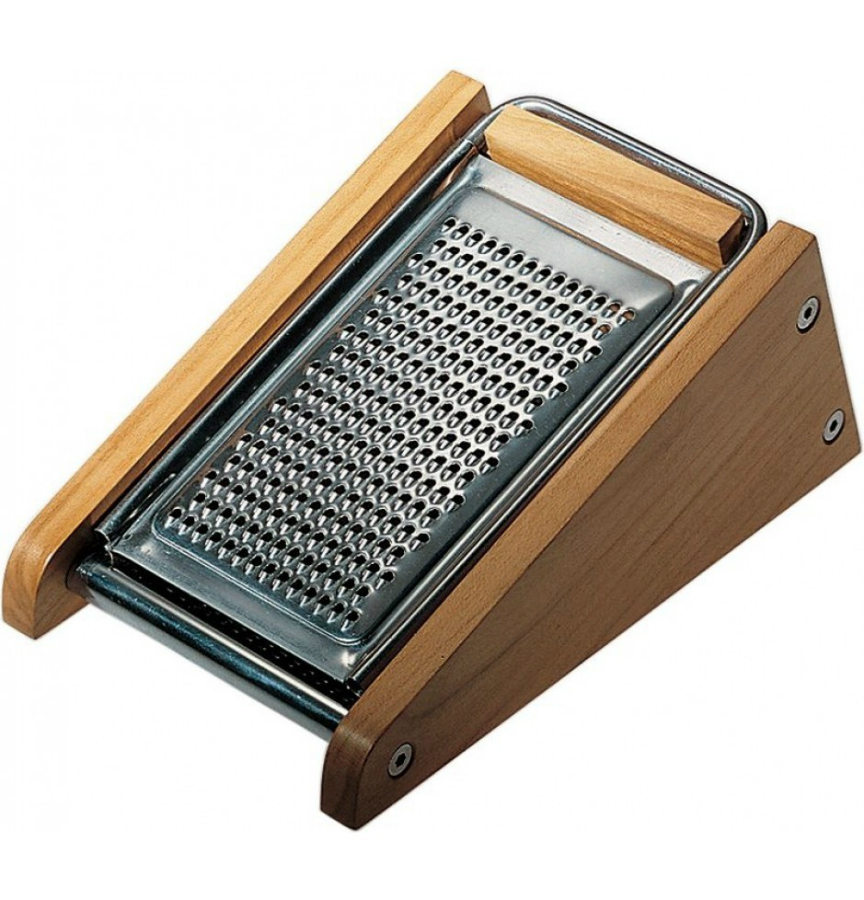 The humble domestic cheese grater has existed in various forms since the 1540s, when François Boullier, who is thought to have been somewhat eccentric, is said to have invented the device. He developed the idea of the grater to enable people to use up the hardened ends of blocks of soft cheese that had previously been discarded as unusable. There were also large stocks of cheese being held in store by the dairy farmers of the time who, having experienced a drop in demand for their meat products, were converting to dairy production. A great deal of this cheese was hardening off in store and was becoming unusable but could be brought into use by grating. Cheese, indeed food of any kind, was regarded as very valuable in the 1500s, and waste was frowned upon, hence the grater quickly became popular. This first incarnation of the grater, designed by Boullier, was made out of pewter. There is a counter claim made that the inventor of this useful piece of kitchen equipment was in fact one Isaac Hunt, an American. In the US, the grater is often referred to as a shredder. Now ubiquitous, these instantly recognisable objects have become an indispensible item in most kitchens.
About Graters
There is a very wide range of graters available to suit all purposes and pockets; from aesthetically pleasing professional grade objects crafted in high-grade steel and handcrafted wood, to functional budget models. A grater of some kind is seen in most kitchens these days, and they are an important item that is used regularly during food preparation. Not only for use with cheese, a well-designed grater is able to deal with many other foodstuffs, including but not limited to, citrus fruit, nuts, spices, such as ginger and nutmeg, potatoes, and coconut. Deciding on the type of grater to buy involves identifying the primary purpose for which it will be used. If it is only going to be used for the occasional cheese recipe, a simple design may be the best; more adventurous chefs would perhaps benefit from a multi-function grater that can be used for a number of different ingredients. All these types of grater are offered online and in shops, and a little research to determine the most appropriate design is worth the time it takes to select correctly from what is a very large range of products. Some graters have a specific purpose, such as nutmeg graters, which are generally compact in size, with small grating holes. They are usually made from good quality metal to avoid tainting the flavour of the grated ingredient. Others have multiple grades of grating surfaces and come in a range of sizes.
Types of Grater
There are many types of grater available that serve various purposes in the kitchen. They are made from several different materials and there is a wide choice of designs from which to choose. The commonly seen and most popular types of graters are detailed below.
Metal Graters
From simple, hand-held flat metal graters with just one size of grating slot, to free-standing, multiple-sized box graters with catching trays, these graters made of metal are functional and easy to use. Larger models may require extra storage space, but the multi-functional nature of a grater that can grate large blocks of cheese coarsely, as well as fine-grate citrus zest or nutmeg, more than makes up for the space it requires. Metal graters are made from rustproof, hygienic stainless steel, which provides a very sharp and effective cutting edge that makes fast work of the most commonly grated ingredients. Small flat graters can be used to add cheese toppings to dishes or plates of food at the table, and for adding chocolate or nutmeg to desserts or speciality drinks. Available in a range of colours, many metal graters are built into a sturdy, safe plastic frame, which makes them easy on the eye as well as the hands.
Integral Boxes
Some graters incorporate a box into which the grated food collects. This is not only practical for the busy cook, but with the addition of fitted lids, allows for the safe storage of food after grating. This is particularly useful when grating large quantities of foodstuffs such as cheese, which can be prepared in advance and refrigerated for use at a later date.
Ceramic Graters
An interesting twist to an old favourite, ceramic graters are objects that are both pleasing to the eye and very functional. Diamond-hard ceramic points in the centre of a wide, flat bowl offer an efficient grating surface, and the food and juice collects in the dish, minimising waste and mess. These graters are particularly useful for ingredients with a high liquid content, such as ginger, but can also be used for other ingredients equally well. These graters are attractive objects in their own right, and can be obtained in a number of colours and patterns and shapes, although many are simply designed in a professional looking white, glazed finish.
Rotary Graters
Some ingredients, such as chocolate and some hard cheeses, can become overly warm when held in the hand for long periods, which makes them difficult to grate properly; this problem can be overcome by using a rotary grater. Like a mini processor, the integral drum can be filled with the ingredient and a handle is turned, grating the food with minimal contact with the hands. These graters often come with an interchangeable drum that allows for slicing and shredding as well as grating, making them a multi-functional tool that would find a use in any kitchen.
Electric Graters
Electric graters range from battery operated models, which can provide an easy and manageable option for those with mobility problems or lack of grip in their hands, to fully electric machines that are incorporated into food processors. The more portable battery operated graters can be used anywhere in the kitchen or even at the dining table where cheese can be added to any dish or chocolate grated over desserts just before serving or eating. The larger, stationery machines are better suited to grating quantities of cheese as an ingredient rather than as an accompaniment or garnish, although the speed and efficiency of electric graters means small amounts can be grated as and when they are needed, and the resulting grated ingredient can be decanted into a serving dish for use at the table. As with most mechanical graters, these devices disassemble for ease of cleaning, with the majority of parts being dishwasher safe – obviously excluding the motor or battery compartments, which are normally made of resilient, wipe-clean materials.
Finding Graters on eBay
Individual items are easy to find through the use of eBay's menus. It is possible to perform a general search across all categories or to refine the search by clicking the relevant category – for graters, go through the Home & Garden menu, on to Kitchen, then Food Preparation & Tools, and finally to Graters through the panel at the left of the screen. Alternatively, typing "graters" into the search box will direct the search to the relevant section, from where it can be refined further by category. To further narrow down the search, look to the checkboxes on the left hand side of the page. A possibility would be, for example, under Condition, to clickNew if the grater is to be unused. Another possibility would be to select the Type of grater, such as Flat Grater Conducting some product research in advance can make the whole process of searching a simpler task. Knowing the most relevant keyword(s) for the search, and identifying the uses to which the grater will be put, eg, cheese grater, nutmeg grater, can quickly help to refine the search and will enable a potential bidder to easily trace the perfect item. eBay does group together similar items to make searching for the ideal grater very easy and quick. The interactive menus are designed to guide a searcher to the right selection of listings by allowing the search to be refined by a number of criteria – for example, price, make and model, material or colour.
Conclusion
There are thousands of graters listed on eBay of all types and designs. Deciding on the right one to purchase is an individual decision that needs to be reached as the result of careful consideration of that individual's requirements. The commitment of eBay to customer satisfaction ensures that users of the site can be confident of finding the right grater for their specific needs.