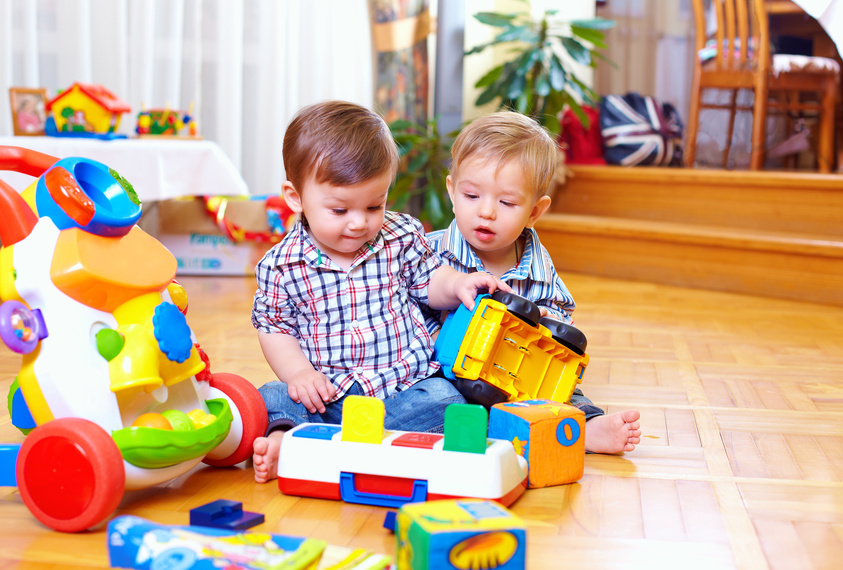 From a very early age, babies enjoy engaging in play. Play stimulates their brains, encourages smiles, and helps them interact within their environments. Educational and fun, baby toys are great gifts for little ones as they grow. Choose the right baby toys based on the baby's age so he or she can get the best benefits from playtime.
Toys for Newborn Babies

Brand-new babies lack the motor skills they eventually develop, but that does not stop them from enjoying their toys. Some suggestions for newborn toys include swings, mobiles, which babies love to look at while they are lying in their beds, and soft, plush toys to cuddle, like stuffed animal rattles that make noise when you shake them. Good choices for newborn babies up to 3 months old include play mats, which offer a variety of hanging toys babies can reach for and play with, and teething toys like plastic keys, teething rings, and teething books.
Toys for Babies 3 Months Old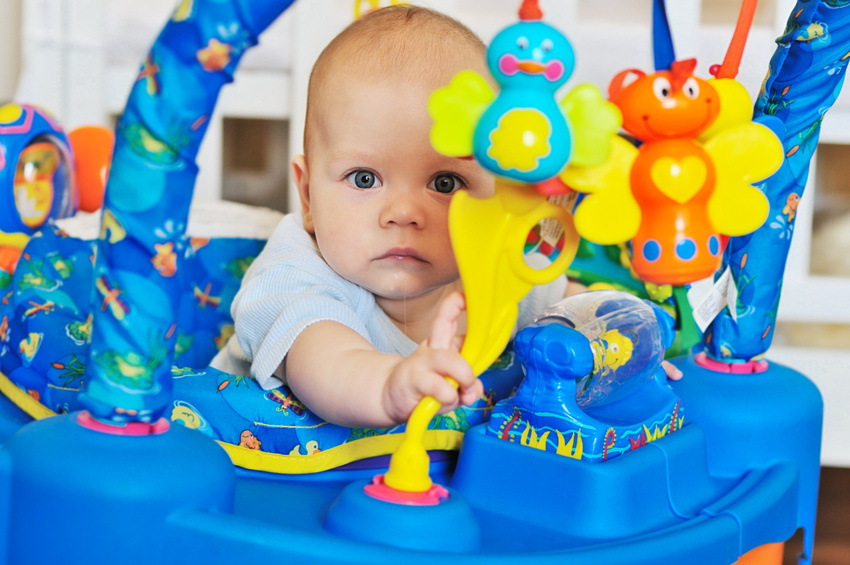 For growing babies between 3 and 6 months old who are becoming more aware, any light-up toy is fun, such as a chunky toy phone which makes noises and lights up when baby presses the buttons. Shape sorters, ring stackers, and musical balls are fun. Teething beads and blocks that connect are a colourful way to play, and little ones love musical stuffed toys, like the VTech series for babies. Gift a baby who loves bath time some bath toys, or a baby who enjoys keeping busy, a set of interactive activity keys, which are oversized and have a different activity on each key. Many baby toys clip on to pushchairs so babies stay busy while mums are on the go.
Toys for Babies 6 Months Old
From the ages of 3 to 6 months, babies change a lot. They become more interested and engaged in their environments, and their curious minds need toys to entertain them. Some good choices for babies this age include board books to look at and 'read', musical books that read to babies, stacking and sorting toys, like stacking cups, and play gyms or activity centres with many activities to choose from. Blocks, musical instruments, shape sorters, and toy sets like talking kitchens and tool benches are fun and interactive ways to play in the nursery.
Toys for Babies 1 Year Old
Babies approaching or at their first birthday are more mobile. Riding toys and walkers help teach them to stand and walk on their own, and they are fun to play with. More sophisticated electronic toys keep babies occupied, such as microphones, toy radios, and pretend 'tablets' with games, songs, and stories. Pull toys work for kids this age, especially if they are walking and pulling toys without assistance. Puzzles with big pieces help kids learn hand-eye coordination. Kids love mimicking Mum and Dad, so buy them baby versions of their own mobile phones complete with sounds.