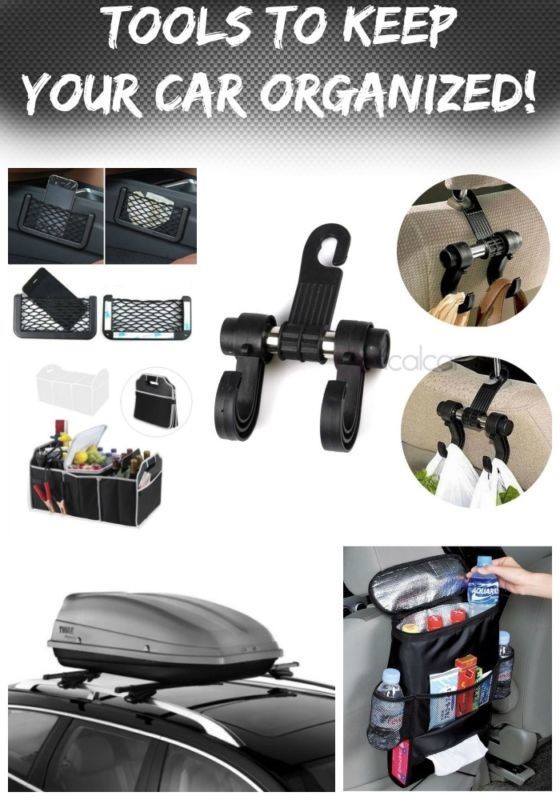 If you are anything like me, you spend a lot of time in your car. I have three active boys who I am constantly driving from activity to activity. Between that and our numerous road trips, needless to say, my car can be quite disastrous. This kills me because I have always loved a clean car. Here are some great tips and tools to help us all reclaim our clean and organised cars!
Seat Back Organizer
It never fails, you are looking for the box of tissues and it has slid to the back of the car. Or your little one wants their sippy cup. Doesn't matter how organised you are, the right thing that they need right now is not where it should be. These seat back organisers keep all the necessities at arms reach - yours and your little ones in the back seat! Ebay has a literally thousands of variations of seat back organisers, I am certain there is one that will do wonders for your car!
Boot Organiser
The boot is a breeding ground for a messy disaster! A boot organiser will give everything its proper home. Stop those balls from rolling around, clunking from side-to-side. Know where the jumper cables are should you need them! Best of all, they fold down nice and small when they are not being used! A boot organiser is a must have for every car....well, every car with a boot!
Shopping Bag Hangers
It drives me crazy when I go shopping at the supermarket and I put all the bags in the back of the car and by the time I get home all of the items have spilled out all over the boot. The boot organiser could totally help with that, but these bag hangers are the bomb! That's right, these bad boys hang over the seat and the bags hang from them! Genius! Absolutely love these guys!
Car Roof Box
As I mentioned, we do lots of road trips. It was all fine and dandy when our kids were little - and their things were little, but as they get older, they seem to take up a lot more space. Between the kids, the dog, the stuff....even in our people carrier, we are out of space. We invested in a
car roof box
and it has been an absolute life saver!
Phone Holder
I feel totally lost if I don't know where my phone is at all times. That's why having a designated spot in my car is a necessity for me! This phone pouch uses double stick tape, which can stick where ever you like and you can take down whenever you choose. No holes, nothing permanent. There are tons of different phone holders, I like this one because it is easy to take your phone in and out!
More from Princess Pinky Girl!
Looking for more great ideas for food, family & home...Visit Princess Pinky Girl on the web every day for ideas and inspiration. Plus, follow Jenn on Pinterest at @jfishkind on Facebook (/princesspinkygirl), Instagram (@princesspinkygirl) or Twitter (@ppinkygirl). And find more great Jenn Fishkind/Princess Pinky Girl eBay guides: follow us at http://www.ebay.com/usr/princesspinkygirl!
Check out some of my other great guides!