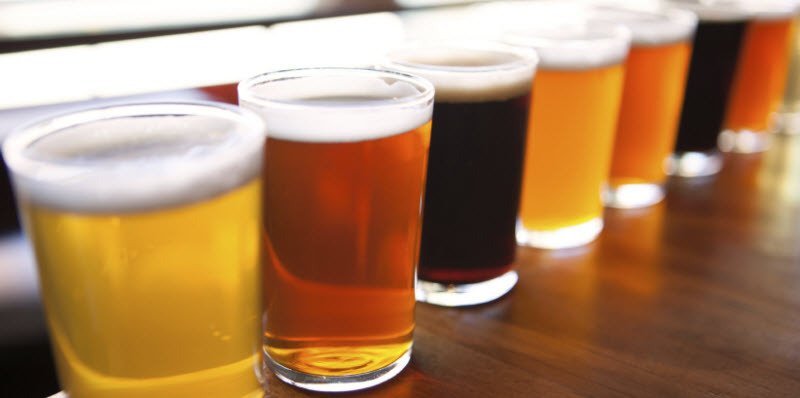 It's time to raise your glasses and toast brewers great and small. Real ales are enjoying a resurgence and we're even getting creative and having a go for ourselves. To all you beer lovers out there - the brewers, the drinkers and the entertainers - this one's for you.
Lisa Patton, Home and Garden.
Brew It Yourself
Turn your home into a microbrewery. The Brooklyn Brew Shop bring you the easy, fun way to make real beer from real ingredients. There's a choice of 5 varieties including Everyday IPA, Chestnut Brown Ale and Chocolate Maple Porter.
eBay recommends:
Beer Making Kit
Price: £41.99
Beer holster
You'll never lose your bottle again with this novelty leather beer holster to loop on your belt. Also comes in handy when the food arrives - it's a win-win.
eBay recommends:
Leather beer holster
Price: £13.95
Your personalised beer glass
What could be better than your favourite beer in your own glass? A great gift idea for the beer lover in your life, these glasses can be engraved with a personal message and come in a range of brands including Guinness and Stella Artois.
eBay recommends:
Engraved beer glass
Price: £11.99
Bar10der
Packed with 10 essential bar-tending tools in one sleek design, it makes it easy to mix, create and serve a perfect drink. Turn your living room into the hottest bar in town.
eBay recommends:
Bar10der
Price: £34.99
A well-stocked fridge
Always ready for guests, the Husky drinks fridge from Argos on eBay will make sure your beers are perfectly chilled. Just add nibbles.
eBay recommends:
Husky fridge
Price: £99.99
Beer recipes
Here's a recipe book with a difference - the Beer Making Book gives a step by step guide to 52 seasonal recipes for novices and experts to try out in their own kitchen. It also includes ideas for cooking with beer and food pairings.
eBay recommends:
Beer Making Book
Price: £10.24
Always chilled
This is the first and only beer chiller that you drink through. First freeze the stainless steel tube, then place it inside the bottle and press to create an airtight seal. And you're ready to drink your ice cold beer.
eBay recommends:
Chillsner
Price: £24.99
Legless pirate
You'll want this
quirky little bottle opener and corkscrew pirate from Suck UK
as part of your crew at all your picnics and parties.
eBay recommends:
Legless pirate
Price: £10.44