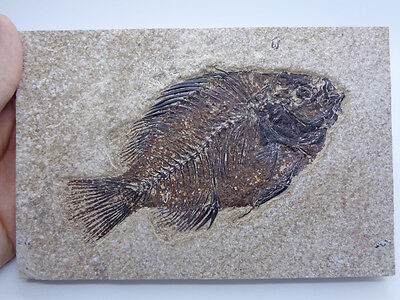 Introduction
As someone with 20 years experience, A collector of fossils, crystals and meteorites. A fossil dealer and someone who has helped identify Dinosaur and other reptile material for private museums, collectors and my local county museum, I see a lot of people misguided on ebay and will be writing guides to help better educate everybody before expensive purchases.
Please don't take my guide as a negative criticism of rival sellers, there are many reputable and respected dealers on ebay, a few of whom I would highly recommend to customers who are looking for something I can't source. However there are many who deceive buyers, maybe not even knowingly, but by their own inexperience and lack of knowledge of what they're selling. I have personally received material over the years that a wholesaler or direct contact on the dig site has misidentified or simply overlooked recent classifications, an inexperienced seller won't know any different.
Anyway, now onto the fossils. This guide will be touching on the ever popular Green River fish. Hopefully my guide helps parents and collectors alike.


Green River Fish
What are they? – Green River Fish are incredibly popular fossils, however there are MANY lower quality specimens that are found with just partial fish present. A partial has very little value, or in the case of a rare genus, greatly devalues the fossil. I mean you come across an incredibly rare Lepisosteus <i>simplex</i> garfish, but most of its tail is barely visible or the edges haven't fossilized, well you're looking at a fossil worth half what it could be worth. So people will "highlight" or simply stain/paint the shape of the tail where it should be. This will bring out the bones that DID fossilize but also give the impression that the stain is original as the fish are brown anyway. The rest of the fossil will then be lightly coated aswell to hide its use or to blend in.

Below I will break down the five types you can find out there.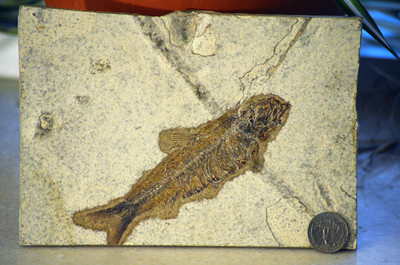 Add a caption
Note the stain AROUND the fossil on the outside of the bones?
Stained
Lets say you found a fantastic fish, good bone detail, complete shape etc. But it doesn't contrast well on the limestone. Some people will choose to apply a non-permanent stain to the fish, this will highlight the genuine fossil bone and allow it to stand out nicely on display. Stained specimens often have a tea/coffee colour to them ALL over evenly. Have your seen those little cheap oval shaped, clipped Knightia's that are very dark? ALL stained as their bone detail is so small. Stain CAN be easily removed by gently using rubbing alcohol. Now this isn't faking anything, but I do feel you should know what to look for as not everyone likes it and many aren't aware its stain due to it's various shades..
Nearly ALL ebay specimens are stained and all partially painted specimens will be stained to some shade and then paint used to match it.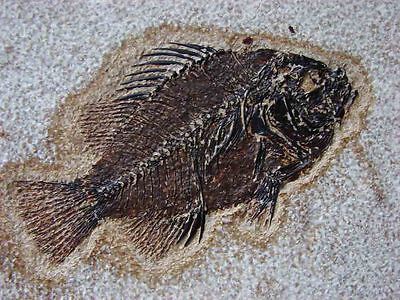 Add a caption
A natural Priscacara that has been sealed. The protective seal has bled into the surrounding matrix.
Sealed
You will see this on a lot of the 18 inch layer fish, like the one to the left. Why? Because they are more valuable, incredibly well preserved and generally a rare genus. Sealing isn't a bad thing, in fact it can be quite sensible to do for stabilisation. Sealing simply involves applying a glue-like sealant over the fossil or perhaps most of the slab to prevent any damage caused by the elements. This will also stop any bits falling off over the years.
The downside is some sealants will lightly stain the matrix or darken the fish, giving the appearance of a stained specimen. It is best to test any sealant on the back of the slab to see what bleeding effect it will have and if it dries clear, if you're at all concerned. Again rubbing alcohol will remove sealants if you really don't like the finished look. I personally don't mind them and most sealant leaks are far lighter than stains. The specimen above is beautiful.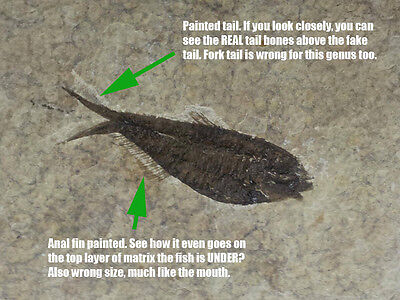 Add a caption
Fake painted tail and anal fins on a 90% real Diplomystus. Fish was then stained to hide the painted parts.
Painted
Now paint is the highly frowned upon practice of "enhancing" a fossil by painting on missing parts, sometimes more than half of the fish!
The most commonly painted parts are fins, just look under a microscope to see if the fin has any bone, no? It's painted.
Before I listed my own stock, I skimmed through ebay and saw more than half of the fish up for sale by others are at least partially painted. I even saw a £169 Priscacara from America that was ENTIRELY carved and painted, it's not even a fossil!? It was completely out of proportion but unfortunately it is down to you, the buyer, to know what you're buying and I'm here to help you. Rubbing alcohol will usually remove any paint too.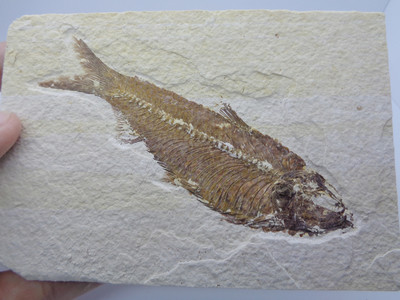 Add a caption
100% Natural Knightia eocaena. No stain, paint or sealant. (From Dino Deals UK)
100% Natural (from Split Fish Layer)
These fish are usually quite a light colour. You can clearly see the ribs and fins to the edge of the body and there will be no colour on the outside of them as they haven't been stained. I have attached a picture of a specimen from my own stock as an example.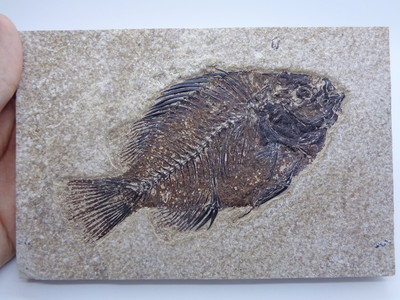 Add a caption
100% Natural Priscacara. No stain, paint or sealant. (From Dino Deals UK)
100% Natural (from 18 Inch Layer)
This is a little bit more difficult as the fish are naturally quite dark and the limestone is also much more varied in shade down here. Again it is quite common to seal these specimens due to value and that can sometimes give the impression of a light stain. I have attached a picture from my stock of an unstained, unpainted, unsealed specimen. Note the lack of colour between the tail fin bones? That's because it hasn't been stained. You can compare it to the sealed Priscacara picture a few sections above.

I own one, can I test it or remove the dye?
YES, but this should be done carefully. Simply rub some rubbing alcohol onto a safer part. Does A LOT of colour come away? Then it was stained to highlight it. Does it look almost the same but some slight colour change or less shine? It was likely sealed for protection. Do any parts of the fish completely vanish? Sorry, those were never real parts and were completely painted.


Conclusion
As you can see, not all forms of enhancement are bad, but painting is, especially the crooks charging you £30 for a "natural huge Knightia" that is not natural and mostly painted. I still feel you should be told of any staining or sealing as you may wish to do it yourself but aren't sure if it has been done already.
Stick to trusted sellers, though still keep a cautious eye as not every big seller is an expert in every kind of fossil. I have seen a major name who routinely misidentifies Knightia eocaena as Knightia alta due to the slightly higher value, also another one selling a completely fake Priscacara serrata. My company Dino Deals UK will ALWAYS advertise any staining and will NEVER stock painted specimens. I have a direct supplier who owns a quarry and preps them, hence my excellent prices and specimens. I'm not buying off a middle-man, who has stock from multiple suppliers and isn't sure what is what.
Hopefully my guide has helped you in your purchase decision, educated you on the subject and made collecting a little bit easier.
Any questions? Need help regarding a purchase of a Green River fish or just need purchase advice? Just drop me a message via ebay and I'll do my best to help you. Please keep an eye out for future guides and give my ebay store Dino Deals UK a look, maybe even favourite it to stay up to date on my products.

Many thanks,
D. Bartlett of Dino Deals UK