Its disappointing to be writing this and for someone to be reading this but there are huge scams in the clothing market on ebay. THis is just a quick example of a couple. Last night i had a few friends round. One of my friends girlfriends had a pair of the new gucci trainers which he bought for around £300 from house of frasers the other day. I was lookin at them on ebay as i thought they were quite cool. But after inspecting his girls i realised how much of a sucker i was! There was so many obvious mistakes on the FAKE ones sold on ebay. For example;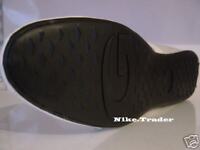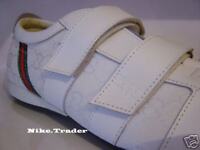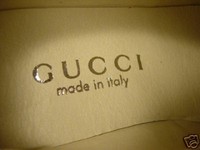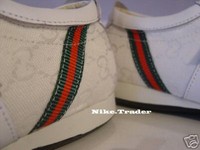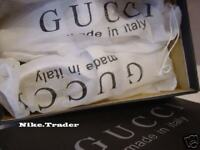 Now look at these pctures of a fake pair:
The sole is like that but on the fake ones there is a big 'G', where as on the real ones there is a line going from the toe to the heel. The velcro straps. They are rounded at the ends a bit and also there should be an imprint saying 'Gucci' with 'made in italy' under it and a (C) for trademark over it. The fakes have managed to achieve this but they have it higher than normal for some reason. It should be nearly at the bottom of the strap, where it isnt on the fake. The inside of the shoe is white, but the insole should be black with just Gucci imprinted. Made in italy is printed horizontal to the gucci writing. The fakes have used gold instead!?? Look at the next picture. Are you telling me that your getting a £300 pair of shoes with that quality of stitching? Come on! Gucci ensure their shoes are perfect! That is not perfect! And finally the dustbags. You should only get ONE dustbag and it does not have made in italy on it and is made from a much better material.
The next subject was that of ebayers selling designer tops such as armani tops or dolce and gabbana tops. What they do is get you to bid your highest amount so they can raise it and offer you it again. In a normal sale someone sees a top (which is probably fake anyway) for a good price and puts an offer on it. Everythings happy days but next time you check its been beaten. So you bid again and again, until the price is too much so just leave it. Next minute you get an email from the seller asking if you want to second chance buy the item for your highest bid. EH NO THANKS!! What they do is have different accounts or get thier mates too bid on their clothes so that they can raise the price and then the average joe whos lookin for a bargain gets shafted! DONT FALL FOR IT!!
Hope this has been handy for you, and good luck!
PLEASE CLICK ON WETHER THE GUIDE WAS HELPFUL TO YOU OR NOT! THANKS! :P