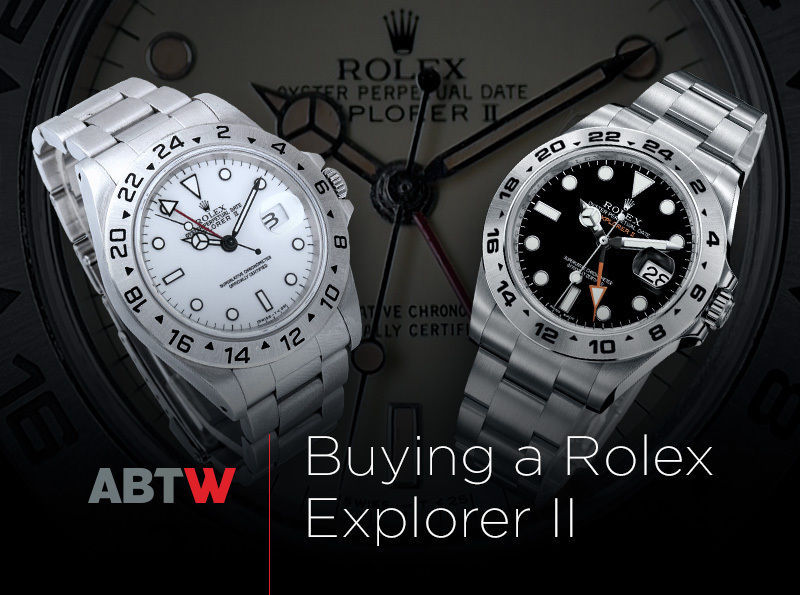 We recently wrote about the
great Rolex Explorer
and while this was the perfect choice for some there may be some of you that wanted something a little beefier that may not be as common as a
Submariner
. Have no fear. Today we will discuss buying the sporty
Rolex Explorer II
and why this watch might be just what you've been looking for.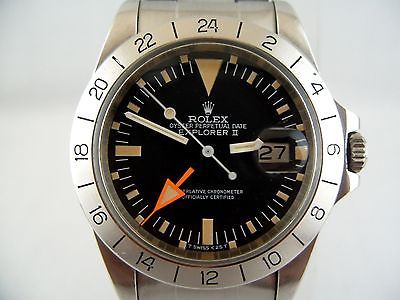 A formative successor to the Rolex Explorer, the Explorer II begins the 'tool watch' ethos of the former and takes it up a notch. Starting with a bigger case, the Explorer II sizes in from 40mm-42mm in stainless steel with either a black or white dial. Designed with cave exploring in mind, the Explorer II features either a red or orange hand that indicates AM/PM. The bezel is stationary so that explorers wouldn't accidentally knock it around and lose track of how much time had passed in extreme darkness. The first Explorer II Ref.1655 was released in 1971 and this run lasted until 1985. Pieces from this period featured black dials and either 1570 or 1575 movements, identical to those found in the GMT-Master at the time. A
Ref. 1655
can be found for well above £10,000, especially the early 70s pieces. Some collectors pay north of £17,000 for these first Rolex Explorer II's depending on the condition.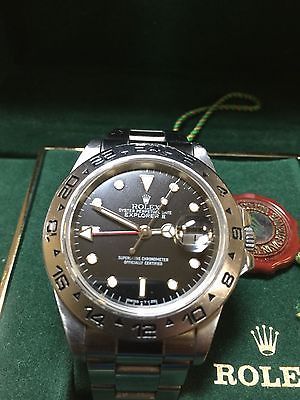 Though not hugely popular during this initial run, the Explorer II did begin to achieve somewhat of a following and by 1985 Rolex updated it with the Ref. 16550. At this point Rolex began using sapphire crystals on the Explorer IIs. This run lasted only until 1989 though and some of the dials from this period had 'issues'. Though they were a nuisance at the time, these 'issues' only increase collectability today. The white dials had a tendency to turn a creamy colour rather quickly for a new watch and some of the black-faced dials experienced cracking in the finish. Many owners sent their watches back in for repair but the ones that were left untouched will fetch a higher premium so just be aware of this should you come across one.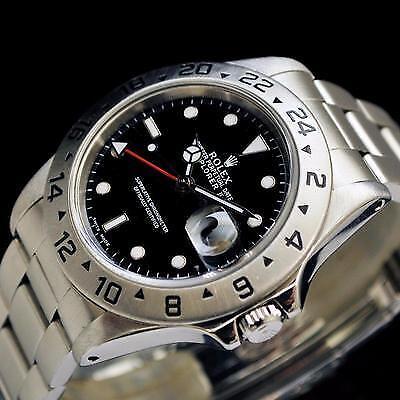 In 1989 Rolex released the
Ref. 16570
. The new reference featured Rolex's newer 3185 calibre and this run lasted until 2007. A decent condition Ref. 16570 can be found for nearly as low as £3,000 if you are patient and keep an eye out for it. A lot of collectors love the 3185 calibre and this was featured in all of the Explorer II's in this period until 2007 when Rolex updated the Explorer II again. This time they implemented the Calibre 3186.
As with most Rolex's, the design of the Explorer II stayed pretty much the same while most of the improvements over time were related to the movement. In 2011, Rolex updated the Explorer II with
Ref. 216570
and upping the case size to 42mm and outfitting it with the 3187 movement. Today you will find the Explorer II offered with either a white or black dial and a brand new model will cost you around £6,700.
Do your research and decide which aspects of the Explorer II you like most and see what others have to say about the variations in the movement, particularly between the 3186 and 3187. If you are buying a pre-1985 Explorer II remember that sapphire wasn't used before that point so you may be dealing with unoriginal dials that have been replaced or swapped out with other Explorer IIs. You want to ask as many questions as possible and as always, get lots of pictures! This is a great tool watch with a pretty huge following. Once you have made your decision, enjoy your new watch! Go explore some caves or go hike the Appalachian Trail! This watch was made for the explorer in you so by all means, take it outside every now and then.