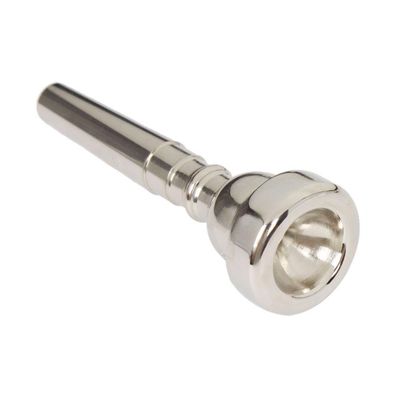 Brass instrument mouthpieces generally are very similar in design and function. For example a trumpet mouthpiece and a cornet mouthpiece, while not compatible, perform the same role. They have traditionally been formed from solid brass and coated with either silver or gold. Less common materials trumpet mouthpieces are made from include plastic, stainless steel and titanium.
The mouthpiece has a significant impact on the sound made by the instrument. Most trumpet players start out with a standard 7C mouthpiece. The cup, backbore, shape of the throat, and the inner rim diameter all affect the sound. Combinations of size and shape create a tone that is darker or brighter, lift or lower the pitch of the registers and raise or reduce volume.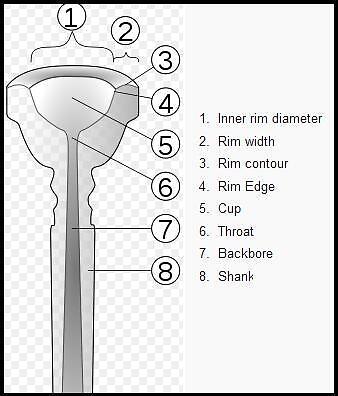 When considering a new mouthpiece to purchase price maybe important but you must also think about the type of sound you want to produce. The adjacent diagram can help you identify the different parts of your mouthpiece. While not exhaustive, the following list broadly reflects some of the main differences that can be found in varying mouthpiece designs:

Mouthpiece Rim - generally a wide rim increases endurance while a narrow one improves flexibility.

Mouthpiece Cup - a larger cup increases the volume; a shallow cup brightens the tone, while a deep cup darkens the tone.

Mouthpiece Throat - a large throat increases the volume and sharpens the high register, a small throat flattens the lower register and increases resistance.