I have been amazed at the increased number of counterfit clothes i have come across on the internet in the last year or so not just ebay but the internet in general.
1 of the main counterfit /fake clothing is of course designer clothing and this guide will hopefully help you or indeed wise you up on spotting the genuine lyle and schott clothing from the cheap fake clothing that sellers are selling and i can assure you is very poor in standard to the real mcoy.
Firstly 1 golden rule when buying lyle and schott if its cheap ask yourself why its cheap,9 times out of 10 if its very cheap its probably fake.
second thing to look at in my opinion is the size of the badge now i know this is hard in some photos but most sellers will show the badge in there photos if they dont there not showing it for a reason..... normally the fake tops have slightly bigger badges as you will see in the 2 photos below.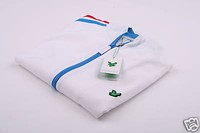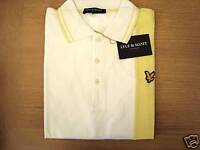 In these examples i personally think its pretty obvious from the picture quality but this is not always the case as not every one has a good camera e.t.c but take a look at the top to the right size of the badge and also the colourway lyle dont make that courway, now look at the top to the left the badge is smaller and of much more quality.
the top below is real as you can probably tell from the logo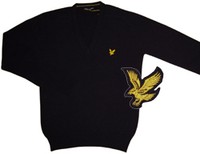 also when buying look for the size and the label inside you will notice on fakes the size is to the left or right of the label and on the genuine it is underneath the label
also look at the tags these can be a dead give away in the colour difference and size e.t.c
hope this little short guide helped in some way