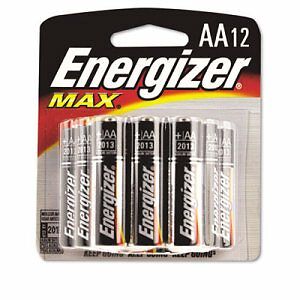 Batteries are used in all sorts of everyday items, from remote controls to clocks and children's toys to cameras. Batteries may be categorised into two groups: primary batteries, which are single use only, and secondary batteries, which are rechargeable. Within these two categories, there are different types of batteries that buyers may choose from. Each type offers a different level of power.
When buying batteries online, a buyer should be aware of the size of batteries that he or she requires. In order to use rechargeable batteries, one requires a battery charger. The type and size of batteries one wishes to recharge determine the type of battery recharger required. Some chargers are more intelligent than others when it comes to how they recharge the batteries. Buyers should also consider how much they would like to spend on a charger, as this can influence the purchase.
Buying batteries and chargers online can offer significant cost savings. eBay is an online auction site that offers a wide range of batteries and chargers for sale at competitive prices.
Shopping Online for Batteries and Chargers
To shop online for batteries and chargers, one may choose eBay, an auction site that has a wide range of items available for sale from sellers in diverse locations. On eBay's homepage, a buyer may simply type in the term for the desired item into the search bar. For example, one who is looking for batteries may just type "batteries" into the search bar. If a buyer wants to search for something more specific, like an AAA charger, then this term may be entered in the search bar. Buyers may prefer to sort how a list of requested items appears on the screen. Items may be sorted by eBay's categories based on the best match, auction end time, new listings, and price.
Types of Batteries
As mentioned earlier, batteries may be categorised into primary batteries and secondary batteries. They differ mainly based on the extent of their usage.
Primary Batteries
Primary batteries, or single use batteries, are commonly used to power a wide range of everyday items. Once their power has been exhausted, they are disposed of. Single use batteries are inexpensive and, depending on what they are used to power, can offer many hours of battery life. Single use batteries come in a wide range of sizes and types.
Types of Primary Batteries
One of the reasons why batteries of the same size can differ in price has to do with what they are chemically made up of. Some battery types offer greater power than others, some are meant for heavy-duty use, while others are designed to power certain types of products.
| Type of Primary Battery | Description |
| --- | --- |
| Zinc-Carbon | An inexpensive single use battery that offers 1.5 cell voltage. |
| Zinc-Chloride | Often referred to as heavy duty batteries, these are commonly used and inexpensive to buy. They offer 1.5 cell voltage. |
| Alkaline | Have 1.5 cell voltage and are moderately long-lasting batteries. Tend to be a bit more expensive than zinc based batteries. Are suitable for use in both low drain and high drain items. |
| Nickel Oxyhydroxide | With a cell voltage of 1.7, nickel batteries are ideal for use in items that drain power at a high rate. |
| Lithium-Ion | These batteries are relatively expensive, are high performing, and offer 1.5 cell voltage. |
Buyers often find that some types of batteries are useful to power particular items. For example, lithium-ion batteries are often used in digital cameras. Buyers should also note that there are differences in prices amongst the various battery types.
Secondary Batteries
Secondary batteries, more commonly known as rechargeable batteries, are often more expensive, but can offer significant cost savings over time. Rechargeable batteries can be charged up again using an electrical power source once their charge has been exhausted. The benefit of rechargeable batteries is that they can offer significant cost savings over time. Another benefit is that the environmental impact is lower than that of single use batteries, as rechargeable batteries are reused over and over, instead of being disposed of after one use.
Types of Secondary Batteries
There are several rechargeable battery types, and each provides differing amounts of capacity and discharge rates. Some types are designed for use in particular appliances. The following table provides a list of the common rechargeable battery types and a description of each.
Type of Secondary Battery

Description

An inexpensive battery type with moderate energy density. Is not commonly used.

An inexpensive battery that performs better than alkaline batteries. Has a high energy density.

Nickel Zinc

(NiZn)

Is a relatively new type of rechargeable battery. This moderately priced battery suitable for use in high drain devices. Available in limited sizes.

Lithium Ion

(Li-Ion)

An expensive type of battery with a very high energy density. Commonly used in laptops, mobile phones, and high-end digital cameras.
In order to purchase the type of rechargeable batteries suitable for a purpose, a buyer should consider the appliance in which the batteries are to be used. Shoppers should also note that there are limitations in size for some types of rechargeable batteries.
Battery Sizes
Batteries, whether single use or rechargeable, come in a range of sizes. Different appliances are powered by various sized batteries. For example, a small digital camera may take four AAA batteries, while another brand of digital camera may take two AA batteries, or even a Li-ion battery. A buyer needs to know the required battery size before searching online for batteries. The sizes required for the majority of everyday battery needs are readily available in both single use and rechargeable varieties. The more common battery sizes are listed in the table below.
| Battery Size | Description |
| --- | --- |
| AAA | Commonly used type of battery in many electronic devices, including remote controls, digital cameras, and MP3 players. They come in single use and rechargeable varieties. |
| AA | Cylindrical battery, same length as C battery, but slimmer. Commonly used in a range of electronic appliances. The AA battery accounts for over 50 percent of the battery market. |
| C | Cylindrical in shape, larger than AA but smaller than D sized batteries in their width. Shorter in length than D batteries and same length as an AA battery. Are used in moderate drain appliances, such as children's toys. Commonly used and available in single use and rechargeable varieties. |
| D | Large cylindrical shaped battery often used in high drain appliances such as flashlights, portable stereos, and megaphones. Slightly longer than AA or C batteries. Available in single use and rechargeable types. |
| 9-Volt | A rectangular shaped battery with positive and negative terminals at one end. Commonly used in smoke alarms, remote controlled toys, and pocket radios. |
| Half AA | Has the same diameter as an AA battery, but is half the size in length. Used in small electronic appliances. |
| AAAA | A slim battery, commonly used in small appliances such as computer styluses, penlights, and some calculators. Not as commonly used as AAA or AA batteries |
Other battery sizes are also available, but are less common. These types include button batteries that are commonly used in watches, as well as larger batteries used in a range of applications.
Battery Chargers
A battery charger is a device that one plugs into a power outlet. It restores energy to a rechargeable battery by forcing an electric current into it. There are various types of chargers that recharge different sized batteries. Chargers also differ in intelligence capabilities.
Battery Charger Types
Slow rate battery chargers take several hours to recharge a battery and are commonly used for recharging AAA or AA batteries. High rate chargers can charge a battery in less than one hour. High rate chargers tend to be used for larger applications, such as electric cars.
Battery Charger Sizes
When a buyer is looking to purchase a battery charger online, he or she needs to consider what size batteries need to be recharged. Some chargers only charge one size of battery, while others can charge several different battery sizes. Buyers may opt to buy a battery charger that only charges two or four batteries at a time, while others may prefer a charger that charges eight or more batteries at a time.
Battery Chargers with and without Intelligence
There are a few different types of battery chargers to choose from, and each varies in price. The type of battery charger intelligence is predominantly dictated by how much a buyer wishes to spend.
Intelligent Chargers
Intelligent chargers are the more expensive type of charger available. An intelligent, or smart, charger, is able to charge a battery based on the battery's condition. This type of charger is designed to eliminate the problem of undercharging or overcharging rechargeable batteries.
Trickle Chargers
A trickle charger is designed to charge smaller batteries. It provides a low-current charge. Trickle chargers are not commonly used. This type of charger is available with intelligent charging abilities.
Timer-Based Chargers
Timer-based chargers are often sold in conjunction with a set of appropriately sized rechargeable batteries. They charge batteries for a predetermined amount of time. Choosing to recharge smaller capacity batteries in a timer-based charger can lead to the batteries being overcharged, while charging larger batteries would lead to these being undercharged.
Simple Chargers
A simple charger provides a constant supply of power while it is plugged into a power outlet. The output is not based on the length of charge or the battery's charge capacity. A simple battery charger is the least expensive option. However, it tends to take longer to charge a battery and can damage a battery if left to charge for too long.
Other Types of Chargers
Buyers can also find other types of chargers online. Mobile phone chargers, laptop chargers, and other mobile device chargers are all available for sale online at websites such as eBay. These types of chargers may be powered by plugging into a power outlet directly, or they may have USB connection and can be charged through this type of connection.
Buying Batteries and Chargers on eBay
Once a buyer has found the suitable batteries or chargers to purchase on eBay, it is recommended that the buyer takes some time to read the listing descriptions carefully. Listings provide information about the seller's preferred payment methods, which may include PayPal or credit card. Delivery options and costs should also be considered and added to the purchase price. A buyer is also well advised to read the feedback a seller has received from other customers as well as the seller's returns policy.
One may also choose to only work with eBay's top-rated sellers. Reputable sellers on eBay are identified by their top-rated seller status. These sellers are easily recognised by the badge located next to their item listings. A seller who has been awarded top-rated seller status has consistently received 4 or 5 star ratings and excellent buyer feedback. These sellers also offer accurate listing descriptions and are known for their reliable delivery of products. Working with reputable sellers on eBay adds another layer of confidence in the buying process.
Conclusion
Batteries are a commonly used item that are ubiquitous in everyday items such as appliances and toys. Batteries are available as single use or rechargeable products. A buyer can choose from different types of batteries available in different sizes and price points. Rechargeable batteries are a popular option, as they not only offer significant cost savings in the long run, but they are also considered to be more environmentally friendly than single use batteries. Buyers who use rechargeable batteries also need battery chargers so that the batteries can be reused.
Buying online is a useful way to purchase long-lasting quality batteries and chargers at competitive prices. With its plethora of product options in the categories of batteries and chargers, eBay is a great resource that one can avail of when shopping these products. The website's simple and easy-to-use search methods, secure payment options, and top-rated sellers are among the many features that enable shoppers to buy with confidence.