I adore Mac *Makeup Art Cosmetics*and detest counterfeit makeup of any kind!
hence i decided to write this and my other eBay guides so YOU buyers,can make informed choice about what YOU buy :)

This new guide is EXCLUSIVELY for Mac Hello Kitty Limited Ed,Heatherette,Viva Glam Cyndi&Gaga,Liberty of London, as there is increase in sales of these fakes!

Mac Hello Kitty limited edition,was released by Mac for SPRING 2009.I will include photos but for now i will describe all the products that have been released for this collection.All authentic MAC makeup ALWAYS has UNIQUE shade/colour name.The fake HK ive seen have random numbers 01,02 so on !To save time i will use the HK,abbreviation.
HEATHERETTE COLLECTION was released in march 2008,as only mostly fake Heatherette lipgloss,and lipstick is sold on eBay i wont go into all the details of this collection.Mascara and LIQUID EYELINER was NOT a part of this collection!If you see these for sale then they are FAKE!

4 COLOURS of Lipsticks in HEATHERETTE Ltd Ed:
Fleshpot Light neutral beige (satin)
Hollywood Nights Fuchsia pink (satin)
Lollipop Loving Midtone coral with green gold iridescence (glaze)
Melrose Mood Pastel pink


4 shades of LIPGLASSES


Bonus Beat Sheer yellow beige with gold pearl
Sock Hop Soft midtone coral
Starlet Kiss Pastel pink
Style Minx Fuchsia pink


VIVA GLAM CYNDI Lipstick was released in honour of Cyndi Lauper and it came in 1 shade only:Red Coral

ViVA GLam Lady Gaga Lipstick was released in shade :LightBluepink- lustre only
VivaGlam Gaga Lipgloss 1 shade was made ;Lightpale pink
Latest release of GIVE ME LIBERTY of LONDON:
Only 4 i repeat 4 shades of lippy were released within this collection :)
1)Peachstock**
2)BloomingLovely**
3)PetalsandPeacocks**
4)EverHip**
so if you see Liberty of London,LIPSTICK/Lipglass sold in any OTHER shade that these above,they 100% fake/replica!Like seller;Lewis0154,clearoff11,2449richard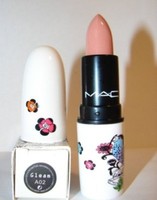 <<Fake Liberty of London Lipstick*Gleam* was NOT a shade included in this collection seller:clearoff11,sells these in vast amounts!

MAC GIVE ME LIBERTY of LONDON 4
LIPGLASS SHADES:
1)English accent*
2)Franklyfresh*
3)A differentGroove*
4)Perennial Highstyle*
MAC Give me Liberty of London 4 Eyeshdow shades:
1)Dame'sdesire medium purple

2)Boughgrey*soft grey
3)Birds&berries*frosty blue teal
4)FreeTobe*soft pinky coral photo below curtesy of :Indie250

Below are replica MAC Liberty of London Eyeshadows sold by:Tlccosmetics,2449Richard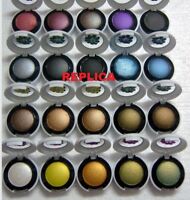 THE HKitty COLLECTION INCLUDES:
6 LIPSTICKS SHADES:
Cute Ster *Big Bow *Fresh Brew*Fashion Mews*Straying'Frosty*Fashion friends
6 LIPGLASS SHADES:
1)Sweet Strawberry.2)Mimmy3)Nice to be nice4)She Loves Candy5)Fast Friends6)Nice Kitty!
2 TINTED LIP CONDITIONER:Popster*Pink Fish*
EYESHADOW QUADS *2PALETTES were released in this collection.

name of the PALETTE: LUCKY TOM*shades are named:

Stylin*Lucky Tom*Paradisco*Creme Royale.
the other QUAD PALETTE: TOO DOLLY*shades are named:

Too dolly*Stately black*Romping Rich*Yogurt!
the above eyeshadows are ROUND in shape!Mac has never made HK,in rectangular or square type eyeshadow for this collection.

GLITTER EYELINER 4 SHADES!
Glitterpuss,Her Glitz,Kitty Power,GirlGroove.
PIGMENTS 2 SHADES!
Milk*Deep blue Green.
BEAUTY POWDER 2 SHADES!
Tahitian Sand*Pretty Baby.
BEAUTY POWDER BLUSH 2 SHADES!
Fun &Games*Tippi!
REFLECTS GLITTER x2 SHADES:Glitter blue*Glitter Pink!
PLUSHLASH MASCARA 1 SHADE!
Plushblack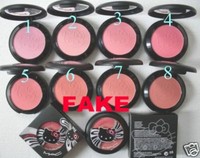 <<FAKE Mac Blusher 8 shades!No shades names just numbers!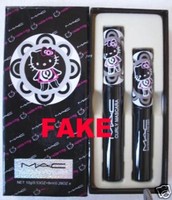 <FAKE combo of Mascara&Liquid EYELINER.Never released by Mac!This fake is very popular on ebay!Lots of listings for these !Sold byBishopbeauty, in vast amounts!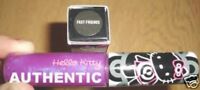 <Authentic Mac HKlipglass,shade name clearly visible!
<COUNTERFEIT HKitty Eyeshadow palette!Sold recently by;KELLYH3488, Louisetherockchick,

Authentic Mac HK,eyeshadow palettes consist of 2 eyeshadow PALETTES made as QUADS ONLY name of the palettes:Too Dolly and Lucky Tom!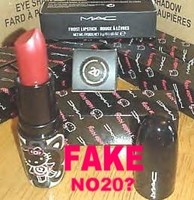 <FAKE no 20 HK Lipstick no 20!!?seller:ambooandy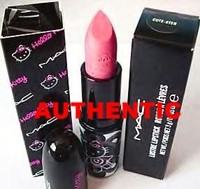 <AUTHENTIC HK Lipstick Shade clearly visible*Cute ster*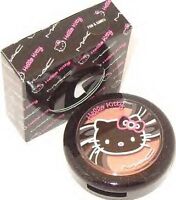 <AUTHENTIC HKitty,Beauty Powder.Sticker on right corner of the box with UNIQUE shade NAME!
Legitimate sellers usually can purchase large amounts from MAC CCO (cosmetic company outlets)with their PRO CARD!!The
OTHER VAST amounts of counterfeit HK,usually come from dubious source mainly websites which specialize in sales of VAST amounts of FAKES!
Ebay settings,won't permit links to these websites on my guide.
List of sellers of these fake Mac HKitty/Lady Gaga/Liberty of London:
Alanm987 -all their MAC lipstick are replica

Louisetherockchick-fake MAC HelloKitty gloss&fake Dazzleglass

Terri.mc1309-fake Mac VenomousVillain Lipstick with NUMBERS,fake Mac pigments
Dawn_d1970-same as above,also sells fake BeneFit makeup
Pinklady1987 - fake MAC Lady Gaga
Summerban - fake MAC brushes,other fake MAC
Streetangel69-vast amount of fake HK lipglass,complete with NUMBERS
Bishopbeauty- fake Mac HK,eyeliner&mascara
Shaman-007 same replica MAC HK
Tlccosmetics-fake Dazzleglass&Liberty of London eyeshadows

Ambooandy- replica HK Lipstick etc
1976Pinkorange- replica Mac HK eyeshadows
xwendyxg -fake HKitty, and Dazzleglass
Candicef-50 all their Mac is counterfeit!
suzie2106-all their MAC HK/Lancome is fake
treasure.treasure -all their Mac HK is counterfeit
Ok just to remind you,all Mac makeup always has UNIQUE shade names!They never just called black , pink or have NUMBER instead of proper shade name .If you see listing with NUMBER ONLY or vague description you know what to think.Ask the seller for proper shade name>ie name on the box or sticker,do not be deluded that these are SECONDS hence they have no stickers or UNIQUE shades names!GENUINE SELLER will find time to answer your QUERY!
FAKE
cosmetics can contain high levels of heavy metals (such as
LEAD,MERCURY&HYDROGEN PEROXIDE
) and can not only irritate the skin but encourage premature ageing as well as poisoning.
The counterfeiters just COPY all the INGREDIENTS/INFO onto the box etc,their aim is to make money!Your wellbeing is of non importance to them!So in a nutshell....the fakes are untested,they are usually made in poor sanitary conditions etc.



If you buy a fake,do your research and email the seller,report them to ebay and Paypal.Selling counterfeits is against eBay rules!It is also illegal under the Trading Act 1994!

If you find this guide helpful please VOTE :)
Thanks