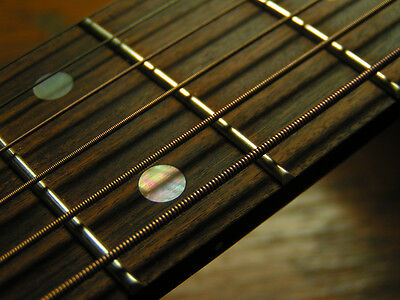 This is a brief guide to maintaining your frets and fretboard with a little background information too.

The majority of guitar fretboards (or fingerboards) are made of rosewood, maple, or ebony. These are hardwoods which can withstand the pressures of constant playing.

Fret wire comes in different sizes and needs to match the type of guitar. It also needs to withstand plenty of use and steel or a nickel/silver combination are often used.

Frets allow the player to stop the string consistently in the same position, and do not dampen string vibrations so much as only fingers.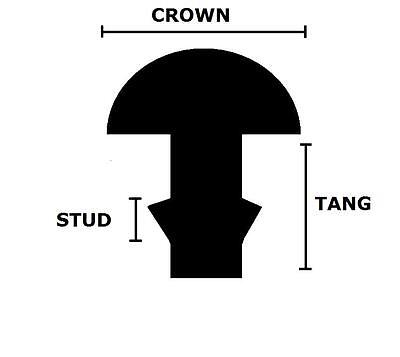 The wire itself is not completely round. It is rounded on the surface (this is what you can see when you look at the guitar) this is called the crown. Below is something like a small trunk called a tang which has small barbs to help attach it securely to the fretboard. The below diagram shows the side profile of fret wire.
When repairing guitar frets, correct cutting is important. New guitars do not usually require fret repair, but occasionally some have rough edges, these may need filing or replacing to ensure a smooth fret surface for the player.

The majority of repairs happen to older frets. To begin with you will need to carefully remove the old frets from the fretboard slots using fret pullers or cutters. Gradually work the fret wire out of the slot, this is usually done best by taking hold of the fret crown with the pullers and working from the either side into the middle. Be patient with this process, if you are too hasty you could damage the fretboard.
When buying fret wire you will need to make sure the size and tang depth matches your existing guitar fretboard slot. You can also buy fret wire in straight sections or in curved loops. Before installing the fret it should be arched. Take the fret wire and cut a section slightly longer than the particular fret (slot) you are replacing.

Then you will need two cuts to make them fit a guitar. Firstly the tang (which acts like a fishing hook) which rests in the fretboard and holds the fret in situ, must be cut first. The top of the fret is then cut flush to the binding along the side of the guitar's neck.
Then use a hammer with a rubber end to tap the fret securely into the fretboard slot. Start by tapping the fret at either side of the slot and then tap in the middle. This normally does not require banging. After this is done filing maybe required to smooth any rough edges, use care to avoid damaging your instrument. Repeat the process for any any frets that need changing.

A good suggestion is to check out some guitar fret repair videos on Youtube as this will visualise better what needs to be done.