Guitar Hero Microphones
If you want a microphone for any of the Guitar Hero games, Rock Band games or even Singstar Games you don't have to get a specific PS3 Guitar Hero Microphone or XBOX Guitar Hero microphone as they are all universal with a USB connection so as long as it is the proper branded version with a USB plug as shown below: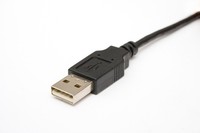 It will work with your console. This is a handy tip as most people search on "ps3 guitar hero microphone" and end up paying more. I bought a microphone from the XBOX version of the game and it works perfectly with my PS3.