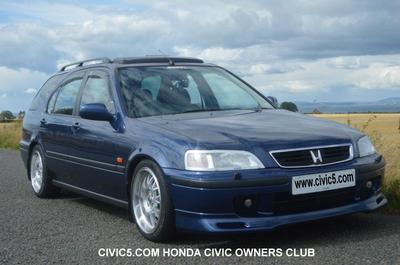 Honda Civic 1995 - 2000 5 door hatch MA8 MA9 MB1 MB2 MB3 MB4 MB6 MB7 MB8 and Aerodeck MB9 MC1 MC2 MC3 info
DO YOU OWN A HONDA CIVIC MA MB MC? LOOKING FOR INFO OR PERFORMANCE PARTS? THEN VISIT civic5 FOR ALL THE ANSWERS YOU NEED TO HELP MAINTAIN AND MODIFY YOUR MA MB MC CIVIC.
THIS SITE IS RUN BY ENTHUSIASTS, FOR ENTHUSIASTS. WE HAVE THE LARGEST DATABASE FULL OF INFO ON THESE CIVICS, FROM WHAT PARTS CAN BE INTERCHANGED BETWEEN MODELS TO AFTERMARKET PARTS THAT ARE IN OUR "TRIED AND TESTED" SECTION. SO YOU WILL KNOW IF THE PART YOUR THINKING OF BIDDING FOR ON Ebay IS RIGHT FOR YOUR CAR. WE ALSO HAVE LOADS OF PARTS FOR SALE IN OUR FORUM, AND ALSO CUSTOM PARTS AVAILABLE
OFFICIAL TRADERS WHO OFFER DISCOUNTS TO OUR MEMBERS, AND MEMBERSHIP IS TOTALLY FREE!
WE HAVE " HOW TO" SECTIONS, WHICH DESCRIBE IN DETAIL ALMOST ANY JOB YOU WANT TO DO ON YOUR CIVIC, OR YOU CAN REQUEST A " HOW TO" TO BE POSTED IF THE ONE YOU WANT IS NOT ALREADY LISTED.
HAVE A LOOK AT THE SITE AND FORUM, AND JOIN FELLOW ENTHUSIASTS OF THE HONDA CIVIC MA MB MC 5 DOOR HATCH AND AERODECK MODELS