HOW TO AVOID FRAUDSTERS AND NON-PAYERS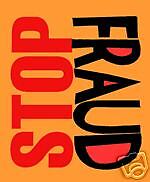 I have recently been recieving many Emails from potentialy fraudulent ebayers. I once recieved a so called email from Paypal saying my account had been hacked and they needed my Account details. They even asked for my ATM pin code. This was clearly a fraudulent email as paypal never ask for this information.
My point to my fellow ebayers is if you recieve ANY email use your common sense. If you are selling an item for over £100 and you recieve an email from someone asking for it to be shipped to Nigeria or Africa, you should immediately know that this is a fraudster, do not trust any ebayer with feedback below 10 and always check the customers history, simply check their feedback and see the items they have purchased and the value of the item. It could be they have paid for 99p items to build the community confidence in order to fool the seller/buyer.
When i first started ebay, i was a victim of this. They sent me a cheque from "LAGOS IN NIGERIA" to the value for £500 for a PC that i was selling. When it came for me to cash this cheque my Halifax branch closed my account as they believed i was commiting fraud. As i was new to ebay i placed TOO MUCH trust on him. Clearly i didnt use my common sense.
THE PURPOSE OF THIS GUIDE IS TO HELP MY FELLOW EBAYERS AVOID FINANCIAL LOSS AND AVOID A WHOLE DEAL OF AGGRAVATION. I KNOW SOME OF YOU WILL DISAGREE WITH MY POINTS, BUT IT IS A START AND I THINK ALL EBAYERS SHOULD WORK HARD TO MAKE EBAY A SAFE PLACE TO MAKE SECURE TRANSACTIONS, AS IT IS A GREAT PLACE TO SHOP.
Things to Avoid
Never respond to emails concerning Western Union money transfer, Use paypal which covers the buyer/seller up to £500

Do not accept cheques from non reputable sellers

Do not trust ebayers who ask for the goods to be sent to Nigeria

Never pass out your account details in response to an email or to a seller or even if it seems genuine Paypal never ask for your account details and your ATM pin.

Mainly forgetting to use your common sense, if something seems to good to be true - IT IS CLEARLY fraud even if it is a powerseller

Not reading the listing properly, there may be a part in the advert which will give it away what they are trying to do.

Do not accept cheques for goods which are worth a lot of money, take postal order or Paypal.
Things to do
If it is a high value item you are buying or selling. Check the history of the person who is interested. This can be done by clicking on the Community tab on the top of the website and then by typing in the username of the person. This will bring you the full history of that person. Check the items the customer has bought or sold and the value of the content etc
Check the customers ID history
Check customers/buyers feedback
Change your ebay preferences in the account section and select the option which Bans people who have below 5 feedback from bidding on your item (THIS WILL STOP LOADS OF NON PAYERS AND POTENTIAL FRAUDSTERS)
CLEARLY STATE the Postage fee on the advert and the exact amount of VAT they may have to pay - To avoid nasty surprises for the customer (this is the main reason we have non paying buyers) be consistent and possibly state a returns policy
Accept Paypal and send only to a confirmed address wherever possible to avoid costly and time consuming chargebacks
Immediately notify ebay of Any suspicious emails recieved, if payment is not recieved use the Dispute Console ebay will be able to refund the advertising costs if you do so
Download the free Ebay toolbar account guard to protect your password. click here for more info http://pages.ebay.com/ebay_toolbar/
Describe your product clearly and state on the advert in big writing that you are not interested in shipping to Nigeria regardless of the false reason they give you. "They have an ill sister", "for a birthday present" or "it is a gift". They all have feedback below 10 and are clearly fraudsters
Accept postal orders in GBP
Keep a track of the transactions taking place with your bank or paypal account
Change your password every few weeks or months as somebody may have already obtained your password.
To avoid non paying bidders, when advertising your item remember to select the box which says "Require Immediate Payment for Buy it Now" - this way you dont need to chase up the buyer for payment when listing ends as they will not be able to complete the transaction without sending payment.
If somebody is selling an item which seems too good to be true, simply avoid it because thats exactly what it is. I keep on repeating this as people forget this.
Update!!
I have been contacted by a fellow ebay member and she has requested me to make you aware of another method of fraud used by scammers so you do not fall victim to what she has. (I would like to thank carolinescreations07 for sharing her experience with us)
There are some sellers that have taken payment for items but do not deliver. However after being reported to eBay and Paypal and being warned/contacted by them, they send out an empty parcel with packing foam inside of it to the buyer to make it appear to eBay that they have sent the item. In which case it is difficult for the Buyer to prove that the parcel was in fact empty upon delivery. The only solutions I can think of are to check parcels upon delivery, that way it can be rejected if the parcel is empty or has been tampered with. Buy from reputable sellers with good feedback. It is best to purchase items from eBay stores, therefore you have some sort of comeback as the eBay stores are regulated by laws. If you are buying used items from normal sellers, make sure the sellers' feedback exceeds atleast 10 or 15 (not the overall feedback which includes his/her buying score).
Look out for negative comments, most importantly use the eBay dispute console when communicating with the seller in the case item is not recieved. This way all comments are recorded and Paypal should side in favor of the Buyer when recovering costs.
I HOPE YOU HAVE FOUND THIS GUIDE USEFUL, I DONT MIND ANY SUGGESTIONS. SIMPLY CONTACT ME AND I WILL ADD MORE POINTS TO THE GUIDE. LET US STOP FRAUD. I WOULD APPRECIATE IF YOU SELECT WHETHER YOU HAVE FOUND IT USEFUL OR NOT.
THANKS FOR READING
I have found another Guide on ebay which has many other points you can use in order to combat fraud, simply click on the link below...
http://reviews.ebay.co.uk/HOW-TO-PROTECT-YOURSELF-FROM-FRAUDSTERS-SCAMMER-ON-EBAY_W0QQugidZ10000000000096285