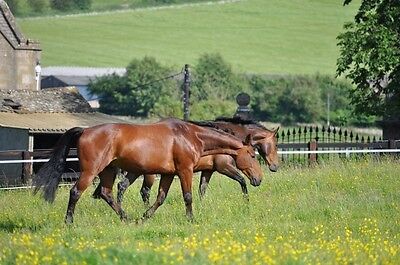 Basic manners when buying
Everyone involved with horses will know that when it comes to selling horses and tack you will be plagued by time wasters. All I would ask is that adopt the following:-




1) if you are serious about bidding on an item then put it in your watch list or place a bid. Don't put it on your watch list to simply compare my listing to that of your own.

2) Only bid if you are going to pay for an item within four days. After the fifth day I will report you as a non-payer and re-list the item.

3) I will ship to the UK only. It means exactly that. If you live abroad and want to bid on an item please email me first to see if I'm prepared to ship to your country. Some people simply don't realise that the cost of shipping abroad exceeds what it would cost to buy the item new. Use a little common sense is all I ask.

All my listings are as described. I have only bought top brands and never any foreign inferior leather or shoddy tack. I have taken great care of my tack over the years and the price listed reflects a fair price based on what I paid for the item, its age, the amount of use it has had and its condition. Every item has been cleaned before posting and great care has been taken to make sure it arrives in the same condition it has left me.

All items posted are sent either First Class Signed For or Second Class Signed For for the bigger items. My two saddles listed will be sent via Courier and they will be insured in transit to make sure they arrive at your door in the same condition they left mine! Unlike many people on eBay who charge excessive postal rates, for those who have bought from me will verify, I don't make a penny from the postage - I actually end up paying most of the postage out of my own pocket when it comes to items that don't fit through your letter box and then eBay stings me again by charging me a fee on it!

Finally, I am not a business seller. I have been riding since I could walk and have owned horses all my life. Sadly through an adverse MRI scan and damage to my neck and spine (not from horses) I can no longer ride or put myself at risk handling horses. Everything listed has to be sold. That's the easy part. The hardest part will be what comes next - the horses.