Thanks for checking out my guide, if you find it helpful please vote yes or no at the bottom of the page - thanks!

HERES A QUICK GUIDE ON HOW TO HANDCRAFT A BASIC CUPCAKE FROM POLYMER CLAY (FIMO/SCULPEY)
FIRST CHOOSE A NICE BRIGHT COLOUR FOR YOUR CUPCAKE BASE, IVE CHOSEN A TURQUOISE COLOUR. ROLL IT INTO A CYLINDER SHAPE: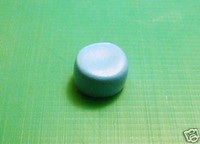 NEXT DECIDE IF YOU WANT TO MAKE A PLAIN CUPCAKE OR A CHOCOLATE CUPCAKE, IM MAKING A CHOCOLATE CUPCAKE SO IVE TAKEN SOME BROWN CLAY AND FIRST ROLLED IT INTO A BALL THEN PRESSED IT DOWN ON TO THE WORK SURFACE TO MAKE A ROUNDED MUSHROOM SHAPE:
NOW PLACE THE MUSHROOM SHAPE ON TOP OF THE CYLINDER, TAKING CARE TO MAKE SURE ITS CENTRED: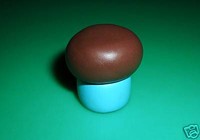 NOW FOR THE ICING, IM USING WHITE BUT YOU CAN CHOOSE ANY COLOUR YOU LIKE. ROLL IT FLAT BUT NOT TOO THIN AND USING A FLOWER CUTTER THAT IS SLIGHTLY BIGGER THAN THE TOP OF YOUR CUPCAKE CUT OUT ONE FLOWER SHAPE: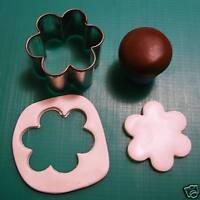 PLACE THE FLOWER SHAPE ON TOP OF YOUR CUPCAKE MAKING SURE IT IS CENTRED, THE EASIEST WAY TO DO THIS IS TO PLACE THE FLOWER SHAPE FLAT ON YOUR WORK SURFACE, TURN THE CUPCAKE UPSIDE DOWN AND PLACE IT IN THE CENTRE OF THE FLOWER, MAKE SURE IT IS PRESSED FIRMLY AGAINST THE CUPCAKE SO THERE ARE NO GAPS AROUND THE EDGE: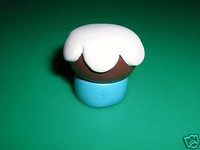 NOW USE SOMETHING LIKE A TOOTHPICK OR MODELLING TOOL TO MAKE THE LINES AROUND THE CUPCAKE BASE, HOLD THE CUPCAKE AT THE TOP AND BOTTOM SO YOU DONT PRESS ON THE LINES YOU'VE ALREADY MADE: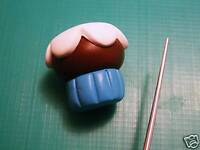 NOW FOR THE CHERRY, ROLL A BALL OF RED CLAY, THEN USING A BALL TOOL MAKE AN INDENTATION IN THE CENTRE OF THE TOP OF THE CUPCAKE FOR THE CHERRY TO SIT IN: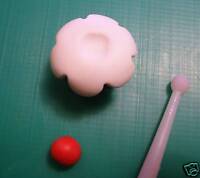 PLACE THE CHERRY GENTLY BUT FIRMLY INTO THE INDENTATION: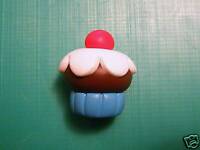 NOW YOU NEED TO MAKE THE FIXINGS SO IT CAN BE USED AS A CHARM OR PENDANT. TAKE A SMALL MEASURE OF THICK WIRE (GOLD OR SILVER PLATED) AND USING SOME ROUND NOSE PLIERS BEND IT IN TO A "U" SHAPE: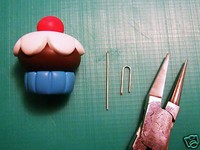 USING EITHER YOUR FINGERS OR I FIND IT EASIER TO USE PLIERS, CAREFULLY PUSH THE WIRE IN TO THE TOP OF THE CHERRY: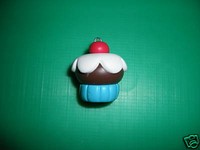 THERE YOU HAVE YOUR CUPCAKE! JUST BAKE IT IN THE OVEN ACCORDING TO THE INSTRUCTIONS ON YOUR CLAY AND WHEN COOLED VARNISH WITH SEVERAL COATS OF GLOSS POLYMER CLAY VARNISH FOR A FANTASTIC LITTLE CHARM OR PENDANT!

IF YOU FOUND THIS GUIDE HELPFUL PLEASE LET ME KNOW BY VOTING YES OR NO, OR IF YOU HAVE ANY QUESTIONS PLEASE DONT HESITATE TO CONTACT ME. IF I GET A GOOD RESPONSE FROM THIS GUIDE THEN ILL BE HAPPY TO PUT TOGETHER MORE GUIDES.
YOU CAN VIEW SOME OF MY JEWELLERY IN MY EBAY LISTINGS OR ON MY ETSY WEBSITE:
ANGELDELIGHTS2007.ETSY.COM
MY SHOP NAME IS VINTAGE CANDY