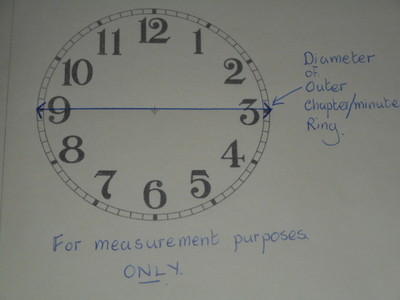 QUICK & EASY INSTRUCTIONS
To find the diameter of the Outer Minute Track measure with a ruler from the edge of the Outer Minute Track at No.3 numeral across to the Outer Minute Track at the No.9 numeral (see diagram) - make a note - (if the hands are still insitu and it is difficult to measure across, measure from the Outer Minute Track at the No. 3 numeral to the centre point and double the measurement.
Measure the size and shape of the original - make a note.
Make a note if the centre hole is punched out of the new dial.
If your dial has a 'seconds' or 'alarm' dial. - Note the position and measure from the main dial's centre hole to the centre of either the seconds dial or the alarm set dial. Also measure the diameter of these dials. Assess what is available for sale.
Note the type of numerals you require - for example Arabic or Roman. If you need an exact height of numeral, measure the No. 1 numeral (see diagram below), take a note & ask if not stated.
Decide on the background colour and finish - for example white, cream, ivory and either matt, gloss or aged effect. The Gloss finish gives the effect of an enamel dial, the Matt finish gives the look of a painted dial.
Make a note if the clock's original dial has a Tradename on it - for example Ansonia, New Haven, Gilbert etc. Some dials have the country the clock is from, take a note of this, and see what is available.
Assess if you need to buy and fit new keyhole grommets.
If you are measuring for a Calender Dial- the measurements are the Minute Track and the overall size of the paper.
Make a note of any questions you need to ask. Take a photo of the original dial if necessary. (Do not send your original dial).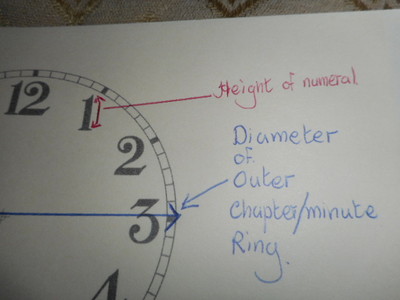 FITTING NEW PAPER CLOCK DIAL
Buy an adhesive that is suitable for sticking the paper dial to the clock surface - for example wood, metal etc.. Most adhesive manufacturer's supply different types of adhesives for different surfaces, and will give advice on which is best for you to use.