WHAT DO THE FRAME MEASUREMENTS MEAN ?
The best way to get the right frame size is to look at the dimensions from a pair of glasses you currently own. They do not need to be exact, but the closer they are the more likely your new glasses will be equally comfortable. On the frame itself you will usually find three measurements, the first two are separated by a square or rectangle.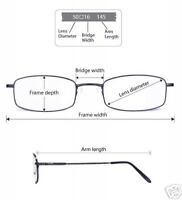 COPYRIGHT NOTICE. Copyright © 2005 - 2006 www. SpeckyFourEyes.com Ltd., All rights reserved. The name 'SpeckyFourEyes®', logo, 'eyePod™ 'just click and you'll see™' plus products and promotions belong exclusively to www. SpeckyFourEyes.com Ltd and are protected from copying and simulation under trademark and copyright laws.