Alpaca Fur Care and Cleaning
Normally you will find that alpaca is quite durable and easy to care for. It does not yellow or fade, nor does it attract much dirt or dust. To remove dust you may vacuum it or shake it out as often as you wish, but avoid immersing your rug in water. Machine washing is not recommended since it can cause stitches to pop and also the natural oils in the fur and hide will be drawn out, causing the fur to be a little less soft and the hide to be a little less flexible. Occasionally you may want to "freshen" your rug, by dusting it with ordinary baby powder and giving it a brisk brushing.

For liquid spills: after blotting up as much of the spill as possible, rub with cornmeal and brush. You can also spot-clean stubborn stains using a mild detergent and water, then drying with a blow dryer. Make certain that you don't get the leather wet by using so much liquid that it penetrates through the fur, down to the leather.

Alpaca rugs cannot be used as bathmats. If they get too wet, they can shrink, shed, and smell.

If a general cleaning is necessary after several years, your rug may be taken to a fur cleaner for specialized dry cleaning. Regular commercial dry cleaning is not recommended.
Brushing
You may brush alpaca fur with either a wire pet brush or a hairbrush. This works particularly well when it gets matted from sitting or laying on it.
Storing and Preserving
Should you wish to store your alpaca fur rug, avoid direct sunlight and store it in a cool airy place.
Storing your alpaca rug in plastic bags for any length of time is not advisable. You want your fur to be able to breathe and using plastic bags prevents this.
In addition, condensation may occur in warm conditions if plastic is used.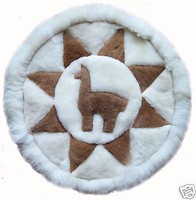 Alpaca Garments Cleaning
There are two ways of washing your alpaca garments. We recommend hand washing or dry cleaning. We do not recommend the use of a washing machine. Most products like sweaters, ponchos and hats require only the first type. Other products (structured coats, cloaks, finely woven items or accessories) should only be dry cleaned.
Hand washing
Use cool water and a mild soap or shampoo.
Never use chlorine bleach. Woolite is not recommended.
Remove any excess water carefully, avoiding any wringling or twisting.
Dry the product in a flat position in the shade. Block the product, reshaping it to its original dimensions.
By hand, carefully remove any wrinkles and straighten seams and facings. Never use a brush.
After the garment has dried, touch up with a cool iron as needed.
Dry Cleaning
Inform the cleaner of any spot or stains.
Ask the cleaner to use a fresh solvent in low heat and a process that does not involve tumbling.
It is recommended that you go to a dry cleaner that has previously dealt with alpaca.
Storing and preserving your garments
Before storing, make sure that the item is fully dry.
There are various techniques to avoid damage resulting from the presence of moths. It will be better if you store the product in a sealed cedar chest, a freezer (in a zip lock bag) or any moth protected environment.
Sachets using dried lavender are also useful.
We hope that the above instructions will be useful for you.