ALL OUR 2 PART NCR PAPER IS SUPPLIED IN THE BOX REVERSE COLLATED AS LOOSE SHEETS.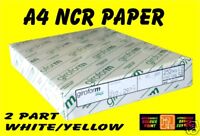 When you open the box the first sheet you see will be the tinted sheet (either YELLOW, PINK, Blue or Green depending on which item you purchased). This sheet is actually the bottom sheet of the 2 part set once you have printed the set. Depending on which type of printer you have it may be necessary to do a test run to check which way up you have to place the sheets in the feeder. After printing make sure the WHITE sheet is on top of the coloured sheet before testing by writing on the WHITE top sheet. If you have printed on the correct sides of the paper you should have a black copy of your writing on the coloured sheet.
When setting your printer to print if you are using a Laser or InkJet Printer you will need to enter 2 in the number of copies to be printed in the print set up menu. If you are using a Dot Matrix Printer then place both sheets in the feeder together (manually) and just set the printer to print 1 copy. Both sheets should feed through with the top WHITE sheet being printed on with a carbon copy being produced on the bottom Coloured Sheet. PLEASE CONSULT YOUR PRINTER HANDBOOK FOR MORE DETAILS!
If you have any trouble please feel free to contact us using the contact details on our ebay pages.FIND 2 PART NCR IN OUR EBAY STORE and in our online web shop at HPS Supplies Ltd.