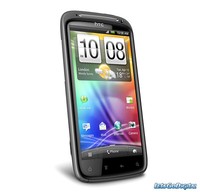 HTC Sensation
boasts of strong metal case, big screen, powerful dual-core processor and glossy user interface which make it stand out from a sea of mobile phones.
The Sensation looks very similar to the HTC Desire S, due to its rounded, aluminum case. It has an aluminum case that wraps around the edges of the phone. The Sensation's display is the same size as the HTC Desire HD's -- 4.3 inches. The display has a 540x960-pixel resolution and a 16:9 wide-screen aspect ratio, which is well below iPhone 4's 640x960-pixel screen. But the screen is beautifully bright, and text on Web pages looks sharp.
Dual-core processor,double delight for facebook lovers
The Sensation has 1.2GHz, dual-core processor. For social site lovers, the Sensation is a double delight as it has brought together Facebook and Twitter contacts with your Google address book. It also adds an automatic prompt if the Wi-Fi network you're connected to requires you to log in on a landing page.
Like most android phones, you can fill up the home screens with shortcuts and widgets. A range of beautiful widgets greets you and you can also choose from the default Android widgets or get more from the Android market.
This HTC model is supported by android 2.3 Gingerbread, the latest version of Google's operating system for smart phones. It is packed with features, including Google Maps and good email support.
Good video shots
HTC's new video store is another bonanza. It doesn't include music, but it does offer movies and TV shows. The Sensation offers 1080p video recording and an 8-megapixel camera. There's also a VGA camera on the front for video calling and taking self-portraits. The shots are clear and sharp, with good color balance.
Heavy phone, low battery life
Weighing at 148g, the Sensation is very heavy compared as compared to the surprisingly light Samsung Galaxy S 2.The battery is just ok, lasting two days without charging under light use.