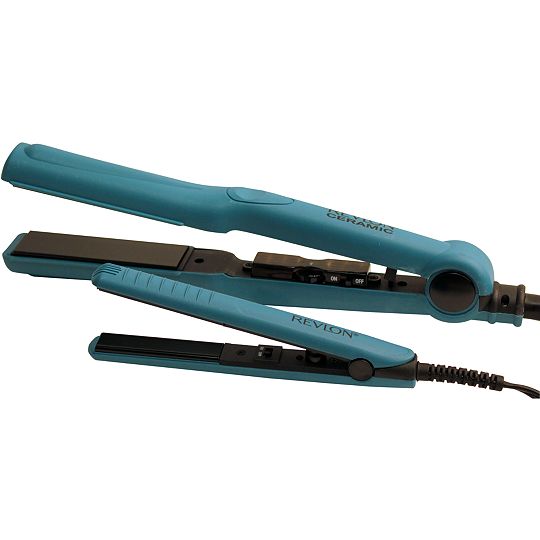 Hair straighteners offer a quick and easy way to tame frizzy, curly, or unruly hair. Heated plates glide along the hair follicles, straightening the hair as they go. As with any type of hot styling, straightening hair can cause damage. However, if a good quality straightener is used, the risk of damage decreases substantially and hair is left looking sleek, glossy, and healthy. Using a heat protection product, such as a spray or lotion, further protects hair against damage.
Buying the right hair straighteners depends on a number of features and product characteristics. The materials used in the plates affect their performance. Learn what the terms used to describe product features really mean, and which plate widths and heat settings are best for particular types of hair. Finally, learn how to choose the perfect hair straightener for a specific buyer. Hair straighteners are available from a range of sources, including electronics shops, supermarkets, hair salons, department stores, and online sites like eBay.
Materials for Hair Straighteners
The material used in the plates of hair straighteners should be an excellent heat conductor to ensure that the product performs well. Low friction between the plate and the hair decreases hair breakage. The table below lists the most common materials used and provides a short description.
Hair Straightener Plate Material

Description

Ceramic coated

Heats up quickly

May not retain heat well

Retains heat at a constant temperature

Even heat across the plates

Most popular plate type

Exclusive to Remington products

Teflon is easy to clean and ensures low friction between hair and the plates

Prevents build-up of styling products

Type of gemstone

Plates generate negative ions to lock in moisture and remove static that causes frizz

Provides a high shine finish

Strong, but lightweight

Heats up quickly and evenly
Ceramic plates are the most common type found. Some straighteners have glass plates, but these are not durable as they are damaged easily when dropped. Hair straighteners with tourmaline or titanium plates are usually the most expensive, but tend to yield the best results.
Features and Characteristics of Hair Straighteners
Understanding hair straightener features and characteristics simplifies the purchasing process and allows the buyer to make an informed decision. The following table lists common product features and provides a brief explanation.
Product Feature

Explanation

Heat up time

Time taken for the plates to heat up to the desired temperature

Describes initial heat up time and heat up time while in use

Better straighteners have a fast heat up time

Straighteners with a high maximum temperature usually yield the best results

Highest temperature setting is not suitable for all hair types

Most straighteners feature variable temperature settings

Flexibility allows users to choose the most appropriate setting for their hair

Straighteners with digital displays allow the highest level of accuracy

Can be used on towel dried hair

Excess water vaporises

Long-lasting results

Some users do not like the feel of the steam escaping from their hair

Switches the straightener off automatically after a given time

Cordless

Works on disposable gas energy cells

Does not heat up as well as mains operated models

Worldwide voltage

Can be used anywhere in the world

Mains powered, so no loss in performance

Plates generate negative ions to lock in moisture and remove static that causes frizz

Far infrared heat

Hair is heated from the inside

Less likely to damage the hair

Heat is distributed evenly, yielding faster results

Flash quick heating

Provides fast heating boost

Swivel cord

Avoids cord tangling while straighteners are in use
Some hair straighteners can also be used for curling and usually feature curved ends. Although these straighteners are more versatile, some feel that they do not straighten hair as effectively as normal straighteners. However, this opinion is not shared by all users and it is best to research the effectiveness of specific products before buying.
Plate Width for Hair Straighteners
The ideal size and width of the hair straightener's plates depends on the buyer's hair type and length. Slim plates are 2.5 to 3 centimetres wide and are best suited to straightening short hair. Medium plates are 3 to 4 centimetres wide and suitable for short to medium length hair. Wide plates are up to 6 centimetres wide and work best on long, thick hair. Buyers with fine hair can use hair straighteners with slim to medium plates, but those with thick hair should consider wide plates. As wide plates come into contact with more hair for every pass through, thick hair is straightened faster with straighteners with wide plates.
Heat Settings for Hair Straighteners
While straighteners with high top heat settings usually perform well, too much heat is damaging to most hair types. Those with fine, thin, or damaged hair should opt for lower temperature settings to limit the possibility of heat damage. Those with thicker hair can turn up the heat, but should always consult their stylist about the right heat settings for them. The best option is to choose a hair straightener with variable temperature settings that allows the user to increase or decrease the heat generated as needed.
Choosing the Perfect Hair Straightener
The perfect hair straightener depends on the budget as well as the buyer's needs. For a basic, affordable hair straightener, choose a model with ceramic plates and variable temperature settings. If the focus is on choosing a model that is kind to the hair, then select a device with ionic straightening or far infrared heating. Buyers with frizzy hair should also consider these straighteners. Those who travel often should consider a hair straightener with worldwide voltage or, if packing space is a concern, a travel straightener.
Choose a device with a swivel cord that is long enough to reach most power points comfortably. The additional cable length ensures that the user does not become tangled in the cable and that the cable is long enough to reach a mirror. Read expert and customer reviews about specific products to find one that is versatile and yields long-lasting results.
Once the hair straightener has been chosen, consider buying accessories like heat protection spray and a heat resistant mat. Heat protection products protect the hair from damage, add shine, and help to control frizz. A heat resistant mat allows the user to put the straighteners down safely while they are in use. This protects against accidental fires and provides peace of mind.
Buying Hair Straighteners on eBay
Buying the perfect hair straighteners on eBay is easy. Simply type a search phrase, such as "GHD hair straighteners", into the search field, which can be found on every page, so see the items available from eBay sellers. Refine your results by choosing the most appropriate category and item features. If you would like to further narrow or expand your search results, use the advanced search function.
Know Your Product and Seller
Before buying on eBay, learn all that you can about the item and the seller. Click on an individual item to access the item listing page, where you can view details such as the full item description, the buying options, the seller's accepted payment methods, postage and packaging costs, and the seller's feedback information. If you have any questions about a listing, click on the "Ask a question" link to contact the seller directly.
eBay's seller feedback feature is designed to allow you to see what other buyers have to say about a particular seller's products and customer service. Detailed seller ratings provide additional information about aspects such as the accuracy of the item description in the original listing and the reasonableness of the postage and packaging costs.
Conclusion
Straightening hair with a good quality hair straightener can leave it feeling silky and smooth, and looking healthy and lustrous. Although heat styling tends to damage hair, using the right equipment minimises the risk of damage. Choosing the right hair straighteners can seem tricky, but knowing what to look for makes shopping easy. Plates are made from a range of materials, with ceramic being the most common. Tourmaline has ionic properties that decrease frizz and lock in moisture to protect the hair.
The straighteners chosen should yield lasting results without damaging the hair. The most important feature a hair straightener should have is variable temperature control as most people should not use the highest temperature setting available. Straighteners that heat up quickly are easier to use. Every time the appliance is passed through the hair heat is lost, so quick heat recovery while in use is essential. If a corded device is chosen, select a long swivel cable to ensure optimum functionality. Additional features include auto shut off and worldwide voltage, which are nice to have, but not essential for most buyers. Choose a plate width that is compatible with the user's hair type for the best results. eBay sellers offer a wide range of hair straighteners at competitive prices.