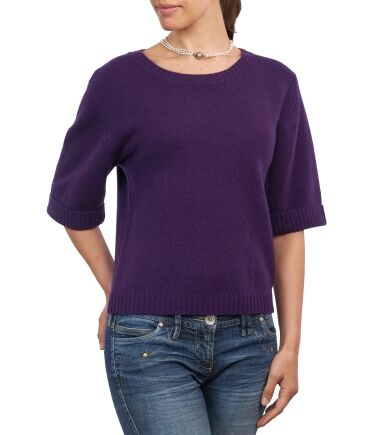 Half sleeve T-shirts can often be found in a men's wardrobe because they are comfortable and versatile clothes which can be worn with almost anything. Like their cousins, the short-sleeve and long sleeve T-shirts, half sleeve T-shirts are very popular as casual wear with people of all ages. Half sleeve T-shirts come in many designs, fabrics, colours, and sizes to fit just about anyone.
Men's half sleeve T-shirts come in a wide range of designs such as those with brand prints, witty phrases, images, and even plain ones. A design often associated with half sleeve T-shirts is the two-toned with the torso of the T-shirt being in one colour and the sleeves in a contrasting colour.
These T-shirts are a great addition to anyone's wardrobe as they can be matched with various styles of trousers, jeans, and even shorts to diversify one's look. In this guide, buyers can learn what are the different materials used to make men's half sleeve T-shirts, how to choose the perfect T-shirt, and how to buy it from online retailers such as eBay.
Half Sleeve T-Shirts Fabrics
When worn as undergarments in the 19th century, the only T-shirts available were plain white and made of cotton. They were light, comfortable, and served their purpose well. Over the years, they evolved into different styles including the half sleeve T-shirt. Though not as popular as the short sleeve T-shirt, the half sleeve design has a big fan base. Half sleeve T-shirts match well with the skater, rocker, and b-boy styles; however, they also look great on almost anybody else, regardless of their style.
The only available material for T-shirts used to be cotton. Since the invention of synthetic fabrics, however, T-shirts have become available in many types of fabrics, both synthetic and blends of synthetic and natural fibres. To help the buyer choose the most suitable fabric for his T-shirt, the most used fabrics and their features are presented in the next section.
Cotton
Cotton is the traditional material for half sleeve T-shirts. Most T-shirts are still made of 100 per cent cotton. Cotton half sleeve T-shirts are very comfortable because they are light, absorbent, and aerated. These qualities make them perfect for everyday use and also for sports.
However, 100 per cent cotton T-shirts can be less durable than those made from other fabrics because cotton may shrink after many washes. This is especially the case if the T-shirt is lightweight and thin. To prevent shrinkage, fabric finish is often applied to cotton T-shirts. To increase cotton's durability, more robust fibres, such as polyester, are mixed with cotton to create cotton blends that are more resistant while still maintaining cotton's qualities.
Polyester
Polyester is a widely used synthetic fibre for making T-shirts in general and half sleeve T-shirts in particular. The main characteristics of polyester are resistance to shrinkage and wrinkles, and good strength, which enables it to maintain its shape. It is also very easily washed and dried. All these characteristics make polyester a good fabric for outdoor wear because it allows freedom of movement while eliminating moisture from the skin. However, polyester is not breathable and can be uncomfortable to wear in hot weather. This fabric is often used in blends with natural fibres such as cotton to create a fabric with extra strength and durability.
Rayon
Rayon is a semi-synthetic fibre because although it is manmade, it is derived from plant cellulose, which is natural. This fabric is comfortable, soft, absorbent, and breathable just like cotton. It is also easily dyed, so it is easy for manufacturers to produce rayon T-shirts of various colours. However, rayon T-shirts wrinkle quite easily and do not retain their shape. Rayon is often used in blends with other fabrics.
Jersey
This is a knit fabric which was originally made of wool. Now, jersey is made of various fabrics including wool, cotton, and synthetic fibres. There are different degrees of jersey knitting such as the single and double knitting. Single-knitted jersey fabric is lightweight and very stretchable, while double-knitted jersey is thicker, heavier, and less elastic. The flexibility of jersey comes from the knitting while other properties come from the other fabrics blended with jersey during the knitting process.
How to Choose a Half Sleeve T-Shirt
Half sleeve T-shirts look great with almost any type of trousers, and are generally used to create comfortable casual outfits. To choose the perfect half sleeve T-shirt, a buyer must consider a few factors such as the fabric, design, size, and maintenance requirement of the T-shirt.
Fabric
Choosing a T-shirt with the right fabric content is essential because different fabrics have different properties which may contribute to the T-shirt's durability, texture, maintenance requirement, and price. T-shirts made of 100 per cent cotton are more expensive than T-shirts made of cotton-polyester blends but are also more comfortable to wear. T-shirts with fabric blends combine the advantages of cotton with those of synthetic materials such as polyester or rayon. These T-shirts are more durable and resistant to wrinkles and shrinking.
The fabric used to make the T-shirt is always listed on its label. Although 100 per cent cotton T-shirts can shrink, most manufacturers treat the T-shirts with chemicals to prevent the fabric from shrinking. They may also preshrink the T-shirts before selling them to ensure further shrinking is impossible. Therefore, it is always a good idea to read the labels for any information on this before buying a T-shirt to avoid unpleasant surprises regarding the T-shirt's shape after a few washes.
Design
When buying a T-shirt, a man should choose the design that fits his preference and match the style they intend to create with that T-shirt. Half sleeve T-shirts are available in many designs and any man should be able find the perfect one. The buyer should consider the T-shirt's print, colours, and neckline type. Crew necks and V-necks are most popular.
Moreover, before buying any half sleeve T-shirt, the buyer should check the garment for any tears or damages. Things to look at are the stitches, the prints, and any other decorative items, such as embroideries, of the T-shirt. If it is a brand new T-shirt, it should look perfect.
Size
It is always best to try on a T-shirt before buying it. However, the following size chart can be used as reference especially when purchasing a half sleeve T-shirt online. The width mentioned in this table is measured from the underarm to underarm across the chest, while the length is measured from the neckline to the bottom hem.
| Size | Width (cm) | Length (cm) |
| --- | --- | --- |
| S | 46 | 71 |
| M | 51 | 74 |
| L | 56 | 76 |
| XL | 61 | 79 |
| XXL | 66 | 81 |
| XXXL | 71 | 84 |
When referring to the above size chart, the buyer should keep in mind that measurements may vary between manufacturers, but most of them follow this chart even if their measurements are not identical. Buyers are advised to check the product's label for accurate information.
Maintenance Requirements
Half sleeve T-shirts with different types of fabrics and prints require different maintenance, and most T-shirts have a label indicating how to take care of them. Some can be machine washed in hot or warm water while some require washing in cold water or hand washing. It is important to take note of this label to know how to take care of the garment as washing T-shirts the wrong way can damage them. If there are no details on the T-shirt's label about the maintenance requirements of the garment, buyers should ask the seller or any staff at the shop where they purchase the garment.
Buying a Half Sleeve T-Shirt on eBay
Half sleeve T-shirts are available in various stores selling men's streetwear, department stores, and online stores such as eBay. eBay has many half sleeve T-shirts in a variety of colours, designs, and fabrics to choose from. To search for them, you only have to type what you want into the search bar on the eBay home page. For example, by typing 'men ' s half sleeve T-shirt' into the search bar, you can view all related results and browse all the items.
After finding the half sleeve T-shirt that you like, you can select it and view all the relevant details such as the available sizes, the delivery fee, and the condition of the T-shirt. You should also read with attention the seller's return policy in case you need to return or exchange the item. If there is nothing stated about a return policy, you should ask the seller directly by contacting them on their profile page. When you are satisfied with your selection, you can proceed to the payment.
Conclusion
Half sleeve T-shirts are essential garments in any man's wardrobe as they are very comfortable and versatile to wear. To buy the perfect half sleeve T-shirt, one should consider the fabric of the garment, the design, the size, and the price. Before making a purchase, buyers should always read the label on the T-shirt and determine its fabric as different fabrics have different properties. A cotton-polyester blend T-shirt is comfortable to wear but will not shrink and wrinkle as easily as a 100 per cent cotton T-shirt would. It is also important to examine the garment for any tears, loose threads, or worn-off prints to ensure that it is in good condition.
The design and size is always up to the buyer but one should always choose the T-shirt which fits well and is good looking. Anybody looking for good half sleeve T-shirts can find one on eBay because the wide variety of styles, sizes, and prices available.