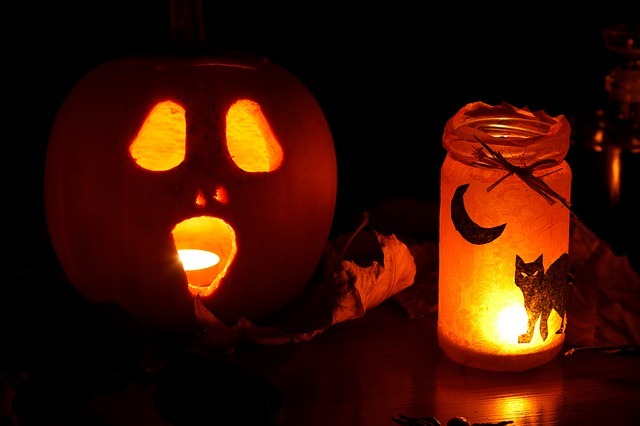 Add a caption
Creating atmosphere is the key to a fab halloween party
October 31 is fright night, and your Halloween party is going to be the biggest, boldest and bloodiest in the neighbourhood. The good news is that the Halloween decorations don't need to cost an arm and a leg – just a little planning, work and creativity, and a taste for the terrifying.
What to consider when planning your party
Take a tour of the house and consider moving items for more space.
Decide on a theme, or themes, early, and finish key preparations the day before the party.
Glow in the dark items can be used to create a spectacular room or rooms.
Don't forget your garden – it can be a great place for planting surprises!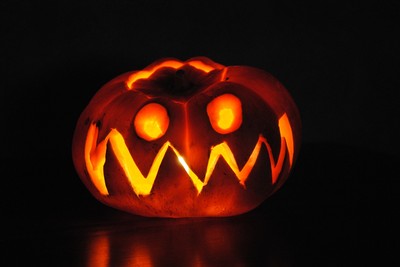 Add a caption
Get the pumpkins carved a day or more before the party
Party preparations
Before diving in and buying hundreds of items in a scattergun approach, take a tour of your house and consider whether you're going for an overall theme, or a different feel for each room.
A haunted house or boat, Dracula's castle, a graveyard, or halloween movies are good themes. Moving furniture prior to putting up party decorations will give extra room for coffins, tombs and statues.
Check whether items need
batteries
or a power supply before purchasing – the house will be dark and trailing cables are not ideal.
Anything that needs building should be completed the night before the
party
if possible, so the host can concentrate on baking/drink and decorating on the day.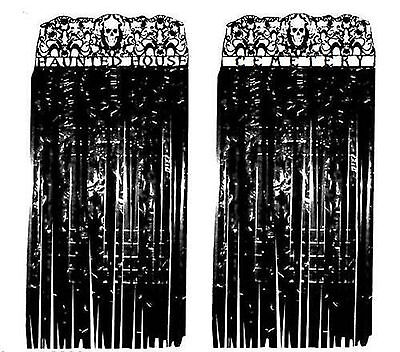 Add a caption
Halloween door curtains can be used throughout the home
Making an entrance
Red glass paint which solidifies and peels off easily is a good first purchase. Children will love creating the illusion of bloody hand prints on the windows – add a well-placed red lava-lamp for full effect.

Tattered cloths draped from the entrance/hallway give the illusion of ghoulish goings-on, or pick up some cheap Halloween doorway curtains.

Visit a car boot sale and pick up some cheap vintage-framed pictures, the more sinister the better. Take down your existing pictures and replace them with these – perhaps daubed with the same red paint.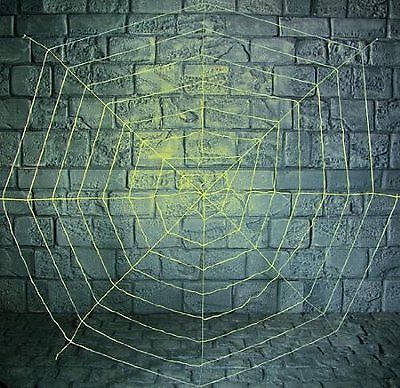 Add a caption
Halloween door curtains can be used throughout the home
A haunting glow
Watch these ethereal creations spring to life as night falls, starting with a giant 1.8m rubber web hung across the ceiling.

Brains, bones, skulls, and other grisly body parts should be scattered throughout the house or suspended from the web by black thread.

Ask an artistic friend to create personalised motifs and caricatures of guests using Halloween glow-in-the-dark spray.

Add a few giant skeletons, scream masks and possibly a few skeleton body suits for participants (you can even pick up a halloween bandana for your dog) and either a lava lamp or mini strobe lights, and you'll have a room that lights up any party.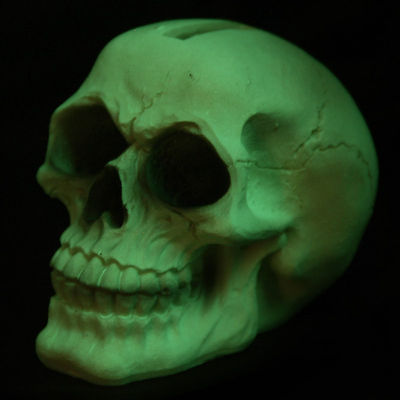 House of horrors
Don't squeeze everything into one room as it will look cluttered, and items could get broken. Instead, space things out across the house for guests to discover as the night unfolds.
For tables or shelving, a miniature halloween village display is a great touch, incorporating zombie pubs, tree houses, graveyards, and trains.
Create your own grim additions by taking any old
ornaments
that you don't want, and spraying with glow-in-the-dark paint.
You can even manufacture an horrific false room, consisting of two plastic sheets that clip to your wall to create the illusion of another adjoining space, such as an asylum.
In the right design,
wreathes
can be used for both halloween and Christmas – for example, black and white wreathes.
For the bathroom, why not fit the scary zombie halloween toilet seat grabber? A face peering from the murky water is enough to scare anyone out of their fancy dress boots. Fill your soap dispenser with red hand soap or use joke soap that turns red.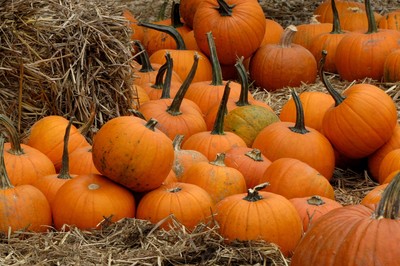 A grisly garden
It's a cold time of year but don't forget your
garden
; a couple of lit fire pits could resemble a witch's cauldron – although you'll only be baking smores and treats. Surround the cauldrons with carved orange, green and white pumpkins.
Consider a 'dark' part of the garden where guests must take a terrifying stroll; if you have a garden light that is triggered by movement, set it to turn on as the hardy souls pass through, into a scene of tombstones, cemetery signposts, 'zombie garden gnomes' and inflatable spiders.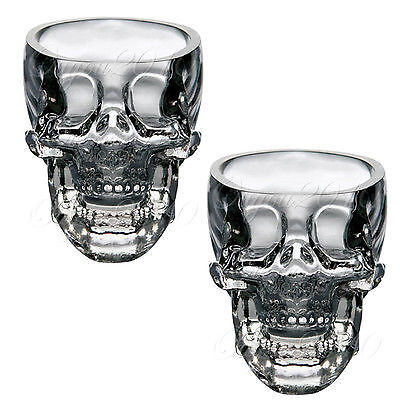 Frightful food and drink
Wouldn't that Halloween punch look that little bit more fruity served from a skeletal goblet? Wouldn't that shot of vodka taste a little crisper slurped from a crystal skull shot glass?

Complement your drink from hell with cakes served on a Gothic-style party platter, even down to the napkins.

If you can bare to see them broken, pick up some amazing stoneware dinner plates adorned with black cats, bats, cobwebs or dark swirls, some of which could be used again.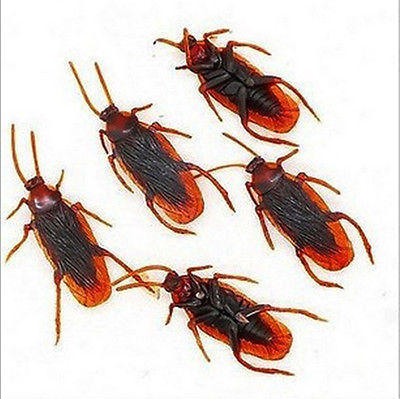 Creating fearsome fun
True fear comes from surprise, so grab some small props that can be hidden in cupboards such as rubber cockroaches, eyeballs, and severed fingers. Pop them into the punch (but don't let anyone swallow them!).

A 'horror sound machine', best used when the host is hidden in a darkened room, or a creaking corridor, will scare the toughest of souls.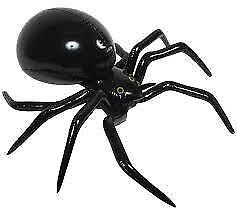 Halloween for children
Scaring children is one thing, scarring them mentally is another. So if youngsters are coming to the bash make sure there are a few nice little gifts for them, or slightly more child-friendly games and gifts.
Ideal
kids Halloween costumes
and items to keep youngsters happy include Harry Potter merchandise (such as interactive wands, hats and scarves) and temporary tattoos.
Haunted mirror toys – where a creature appears in the glass as you look at your own face – and inflatable spiders, ghosts and Frankensteins will amuse little ones.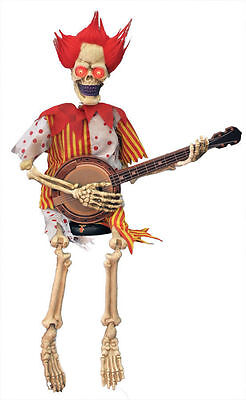 Add a caption
Banjo-playing skeletons are an impressive garden ornament
The big spenders
There's no doubt you can spend a fortune on a halloween party. If this is your aim, some expensive props include life-sized mechanical puppets of zombies, Egyptian kings and headless horsemen, which cost between £500-£1,000. Movie props, such as the Michael Jackson Thriller Wolf, will cost even more.

These are costly creatures, but think of the sheer-bloodcurdling fear of the party guest opening the coat cupboard to find a monster whose motions are triggered by movement.

At a lower cost are the various grisly creatures that make up a 'cemetery scene', complete with zombified animals and cracked tombstones. These are also ideal for your back garden, as are duelling banjo skeletons and an interactive skeleton breathing and yawning in its hammock.