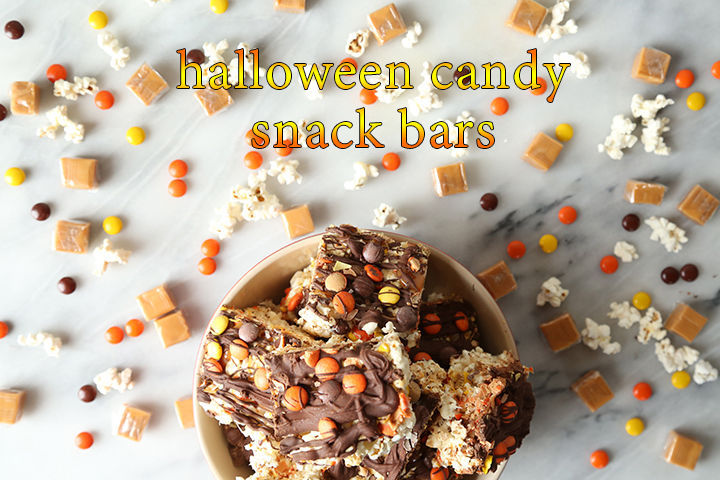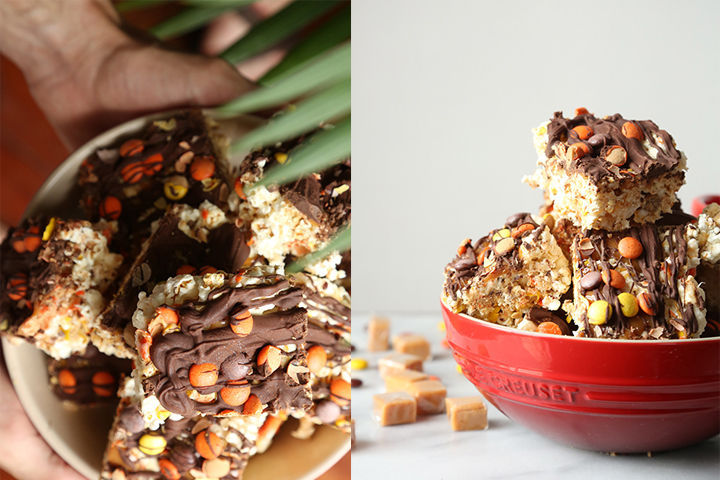 OK, yes I know we are full grown adults and I know that Halloween is like totally a thing for children and we don't have kids or really know any kids, but that doesn't matter; we're going to sit here and eat our popcorn sweetie snack bars!!!

Before every major holiday, Matt and I kinda go back and forth over what kind of themed snack we'll make for the blog. Usually the conversation starts with us just talking about our favourite foods from any given holiday and how to get a little more experimental with those foods and do something out of the ordinary.

With Halloween coming up, Matt and I were planning to make some Halloween-ready snacks and did our usual little meeting to start talking about our favourite Halloween hand-outs as a kid. Matt said his was Reese's Pieces and then I said mine was popcorn and apparently that struck a nerve with him because he thinks that's not really what kids are supposed to like. Is that weird? Am I weird?

It's not that I didn't like sweets or chocolates as a kid, it's just that I've always had a really big soft spot in my heart for artificially flavoured popcorn (you know, the kind with like the fake bright yellow colour), and Halloween was the ideal time to get that stuff, for free even! These days I'd probably never ever eat that popcorn, or if I did I'd most likely suffer from a sodium-induced headache.

Regardless of whether or not my love of receiving popcorn instead of sweets on Halloween is totally bizarre, we resolved our disagreement how we solve most of our problems: making a big pot of food and stuffing our faces. So, whether you're a popcorn lover or a fan of more traditional sweets, these bars should probably have a place on your table this October. They're sweet but not too sweet; a little salty, gooey, crunchy, and there's just enough chocolate to make it perfect. Try it out with the recipe below!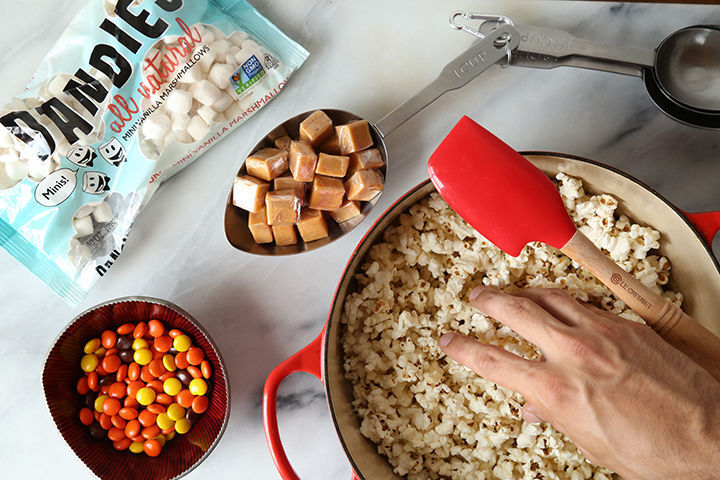 Add a caption
Popcorn, mini marshmallows, caramel candies, and Reese's Pieces make up the bulk!
Halloween Popcorn Sweetie Snack Bars (makes 12 - 16 pieces)
1 standard bag of popcorn (not buttered, not salted!), popped
10 oz mini marshmallows
250 ml Reese's Pieces + extra for sprinkling on top
5 oz caramel sweets
125 ml semi-sweet chocolate chips
3 tablespoons butter
Pinch of salt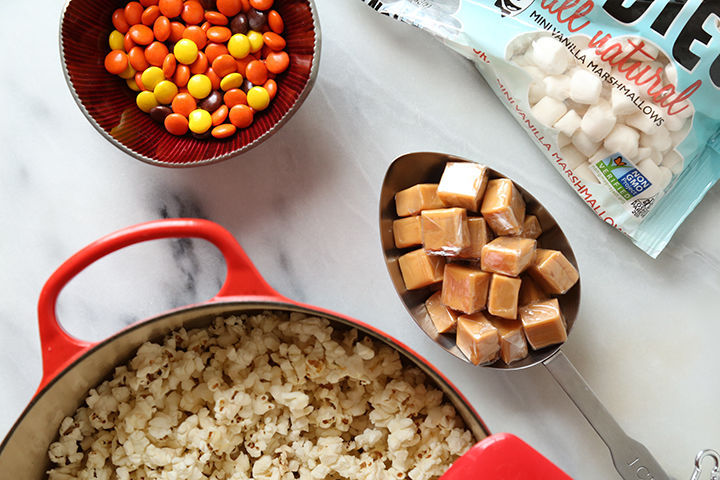 How:
Prepare a 9 x 13" baking dish by spraying it with a little non-stick spray or lining it with greaseproof paper. Set aside.
In a large pot (we used our Dutch oven!) over medium-low heat, use a sturdy wooden spoon to mix together the butter, marshmallows and salt.
Stir constantly until the marshmallows have melted completely and no longer have their shape.
Turn the heat to low and use a rubber spatula to fold in the popcorn kernels and stir to evenly coat in the marshmallow mixture.
Turn off the heat and use your spatula to fold in the Reese's Pieces, and immediately pour the mixture into the prepared pan. Use your hands to firmly press the popcorn mixture into the shape of the pan. Let cool.
Place the caramel sweets in a microwave-safe mixing bowl and melt in the microwave for 30 seconds to a minute, keeping a very close eye on it as it can burn or boil over extremely easily. Give a good stir to smooth out any remaining lumps and use a fork to drizzle swirls on top of the popcorn mixture.
Repeat the above process with the chocolate chips, keeping an even closer eye on these guys as they burn even more easily than the caramel.
Top with more Reese's Pieces and let set for 4 hours to overnight.
Cut into squares with a sharp serrated knife and serve!
These will remain fresh for up to one week if stored in an air tight container and left at room temperature.