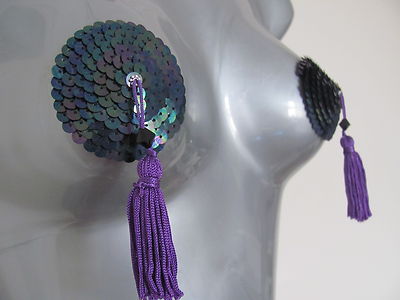 How To Make Your Own...
So, with burlesque getting increasingly popular, here is a basic method for how to make your own pasties and tassels.
YOU WILL NEED: Stix double sided sticky sheets, strung sequins, leatherette material, 2 tassels, 2 beads, some tread and a needle, scissors, a pencil...oh and something round, like a jam jar lid, as your template. All of these things can be bought on eBay- when I was making and selling these, eBay was pretty much my only resource :)

METHOD:
1)Draw around your lid twice onto the Stix sticky sheet, then cut around the circles.
2)Peel off one part of the backing sheet of both the circles and stick to the leatherette. Cut out the shapes.
3)Cut a slit on each one from the outside to the middle. Peel off the rest of the backing sheet, and fold one part over the other, where you made the slit, so that you make a slight cone shape.
4)Wind the strung sequins from the outside in, on the sticky side.
5)Thread the beads onto the loop of the tassels, and then sew onto the front of the pastie.
6)Use double sided toupee tape to attach to yourself.
7)Enjoy ;)

For a further guide, check out badbiscuit on YouTube.