Custom made modern gemstone cameo with a portrait of your loved one hand carved from your photos
This is a 'one of a kind' custom made gemstone cameo carving that can be worn as a pendant or a brooch pin. Your Family Gemstone Portrait is sculpted by hand from photographs of a loved one.
Gemstone cameo portraits look 'so alive' because the translucent nature of the Layered Agate makes the carving change in appearance with every movement.
The Cameos shown above are an example of modern gemstone cameo portraits from Gareth Eckley at Portrait Cameos.
---
Regarded as the finest Portrait Cameo Artist in North America. Gareth has been carving cameos with such precision and grace that they have attracted the attention of several discerning collectors including Her Majesty Queen Elizabeth II...Diana Jarrett, Author of 'Cameos Old and New, 4th Edition.'
---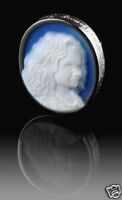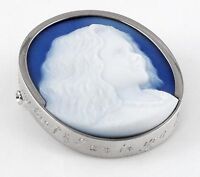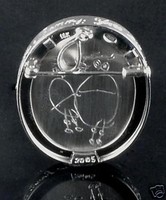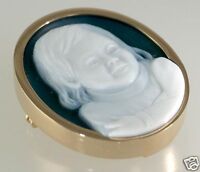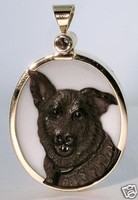 ---
Presented to Her Majesty Queen Elizabeth II
Portrait cameos were often gifts from royalty to their favorite subjects. The finest of these antique cameos, some more than 3000 years old are displayed in museums or held in private collections. The cameo shown was made by Gareth at portrait cameos. This was inspired by an original Cameo that was presented to Pocahontas by Queen Anne and King James I, England in 1616. This modern Agate Cameo was presented to Queen Elizabeth II on behalf of the Indian tribes and the State of Virginia in a ceremony on May 3rd, 2007 in Richmond, Virginia, USA.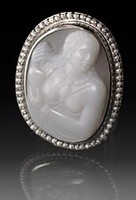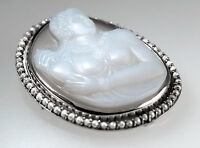 The cameo of Pocahontas carved by Gareth and set in a Platinum setting accented by American freshwater pearls.
This cameo brooch pin is now in the Queen's Private collection at Buckingham Palace, London, England.
---
Gemstone Portrait Cameo Artists
There are very few people working in this field as this is one of the hardest challenges for any gemstone carver. The combination of a highly developed artistic ability, craft skill and many years of experience are needed to be able to create life-like portraits. Gareth is the best gemstone portrait artist in North America and is the only person offering this Art to the United States and Canada.
---
About Modern Cameo Portraits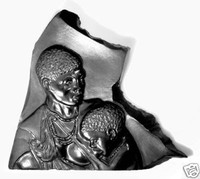 Unusual materials or creative approaches to the outline shape are a feature of the modern approach to cameo carving. Carvers challenge accepted conventions and look for ways to create drama and excitement in their work. This portrait carving is of an African woman and her baby and is carved into Black Onyx.
There are two main types of cameos, gemstone or shell. Shell cameos are carved in Italy and a visit to Venice to visit their workshops would be very worthwhile. Gemstone cameos are much harder than shell cameos and more durable. There are stone cameos 2000 years old in museums. Shell cameos deteriorate after a fairly short time.
Modern cameos are far more striking than your Victorian cameo. The colors of the gemstone are more striking and portraits can be carved into free-form shapes that really do feel fresh and stylish.
---
Layered Agates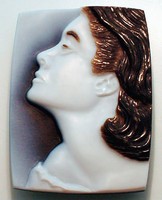 Many modern cameos are carved into layered agates. The layers are dyed to create strong color contrasts. The most usual colors used for two layer stones are white on black, white on blue, and white on red-brown. Three layer stones are sometimes made. The colors are usually black on white on black.
The layers are translucent, this allows the artist to create shading effects by removing material to allow the background layer to show through. This way a very realistic, life-like quality to a figure can be achieved.
For example thinning the top black layer on a three layer stone changes its color to shades of brown. Removing material from the white layer creates shades of blue or grey depending on the color of the base.
---
Ultrasonic Cameos
It is quite rare, these days, for subjects other than portraits to be carved by hand as agate cameos. The traditional themes of classical scenes from mythology or a standard image of a young lady, are more likely to be made with the help of the ultrasonic carving machine as a limited collection of typically 50 to 200 pieces.
These are mass produced reproductions of a hand carved cameo.
A mold is taken from the original cameo. This is used to crest a die which is placed in a vertical milling machine. Diamond slurry is placed between the tool and the stone and in seconds a cameo is produced.
Up to 10 cameos can be produced before the die becomes worn and needs to be replaced.
These agate cameos sell for under $100 and can be viewed as similar in value to a print taken from an original painting.