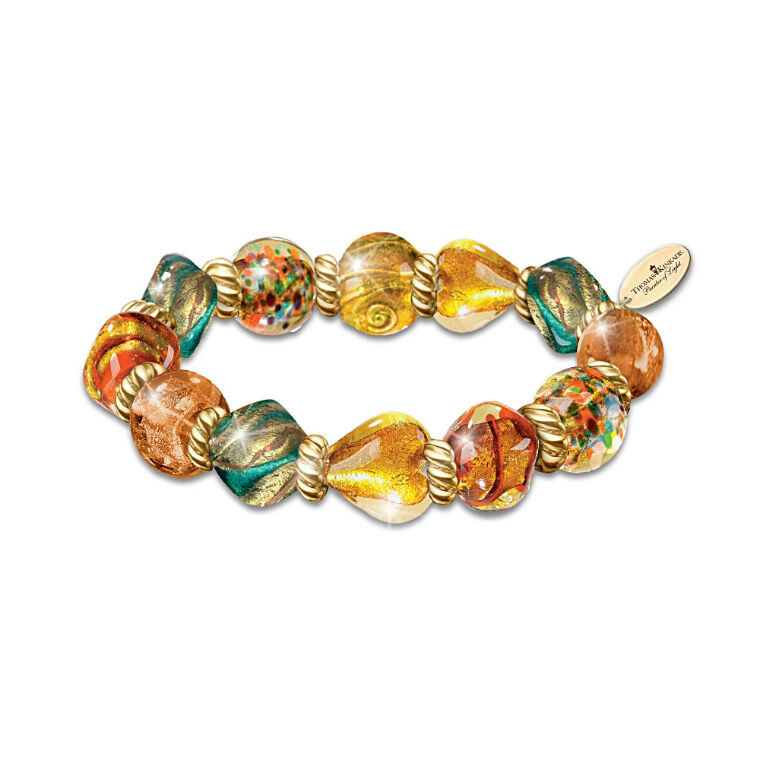 Beads have long been used as an adornment by both men and women. The very first beads were created out of prehistoric stones, teeth, bones, and shells; some had engravings that symbolised social status or political or religious views. Glass beads were first used around 2400 B.C. on the Indonesian island of Sumatra. Sumatrans made prayer beads and jewellery from the glass beads. In more recent history, glass beads were used as exchange currency by explorers and travelling merchants. Today, handmade glass beads continue to be popular amongst jewellery designers and artisans.
When shopping for handmade glass beads, consumers have many buying options that range from wound beads, to drawn beads, to moulded beads. No matter which type the consumer picks, it is important to closely look for flaws in the craftsmanship to ensure that only quality beads are purchased. Buyers familiar with the various sizes required for different kinds of jewellery should have an easier time finding exactly what they need when shopping.
Types of Handmade Glass Beads
Beads are categorised by the method used to manipulate the glass. There are three main types of beads: wound, drawn, and moulded. Knowing the characteristics of each type of bead is helpful when choosing which to purchase.
Wound Beads
Wound beads were the first form of glass beads. To create wound beads, glass is heated until it becomes easy to bend and manipulate. Then, the glass is dripped over or wound around a steel wire in an open furnace. Whilst it is still hot, the wound bead is shaped or moulded. Sometimes, the designer decorates the surface of the bead with other glass pieces to create patterns and shapes. Other times, a designer uses a tiny blade or stylus for etching and engraving. Once the modifications are complete, the wound beads are cooled slowly. It is imperative that glass cool slowly; it can shatter under sudden temperature changes.
There are several variants of the wound glass beadmaking method. The most common are the lampworking, dichroic, and hand blown glass techniques. Each of these is discussed in the following sections.
Lampworking Beads
Lampworking is a labour intensive beadmaking technique in which a torch or lamp is used to melt glass. Once the glass is in a molten state, the artisan forms and shapes it using tools and precise hand movements. Lampworking became very common in Murano, Italy, in the fourteenth century. Later, in the nineteenth century, the Venetians produced many glass beads for the African trade. Today, lampwork beads are often hand painted with bold designs.
Dichroic Glass Beads
Something that has more than one colour, especially when seen from different angles, is dichroic. When dichroic glass moves, the surface refracts and reflects light, causing the colours to change. Dichroic glass has thin metal layers pressed onto the glass surface that produce a shiny, metallic sheen. Dichroic glass beads are usually made using lampworking methods; however, the beads can also be pressed.
Hand Blown Glass Beads
Glassblowing is a technique that turns molten glass into a bubble using a long blowpipe or blow tube. Once the glass melts, the glass blower puffs small bursts of air into the blowpipe, directing the air into the centre of the molten glass. This causes the glass to inflate. As the glass cools, it slowly hardens. During this time, the glass is shaped. This process of heating, cooling, and reheating is repeated to create the desired bead. To create hand blown glass, special training is required.
Drawn Beads
Drawn beads also have ancient roots that stem from India to Africa during the second century. Although there are several ways to make drawn beads, the most widely used method involves pulling a strand of hot, flexible glass out of melted glass. To do this, a hollow metal tube is inserted into the hot glass and a long strand of glass is pulled out; this leaves a hollow in the centre of the glass strand. As the glass bead and metal cools, they shrink and a long bead slips from the tube. This long bead strand is cut into single beads. The beads are often cut into different sizes and shapes by a skilled beadmaker.
Moulded Beads
Most widely produced in the Czech Republic, moulded beads are another type of handmade glass bead. To create moulded beads, thick rods are heated to molten and placed into a machine that stamps the glass and pierces a hole into the glass. The beads are then rolled in hot sand to shape and form them. When the rods are designed with bright patterns or stripes, the beads turn out colourful. Using this method, one person can create thousands of beads in a day.
Choosing Handmade Glass Beads
Although some consumers prefer one type of bead over another, most times, people choose the beads they think are the prettiest or most unique, regardless of whether it is a wound, drawn, or moulded glass bead. It is important for consumers to pay attention to detail when looking for handmade glass beads. When shopping, consumers should carefully look for several characteristics to ensure the beads are of good quality. The following sections discuss several things bead buyers should watch out for.
Cracked beads
If a glass bead has not been properly heated and cooled, it may crack. Cracked glass beads are unusable and often split into two pieces. If considering a beading kit that has a mixture of glass beads, it is especially important to inspect each bead to make sure none are broken.
Bead release
Bead release is a clay-like substance that the tube is dipped into before the glass melts onto it. By dipping the tube into the bead release, it allows the bead to easily slip off of the tube rather than adhering to it. If not purposefully removed, the bead release sticks to the inside of the bead's hole. Then, depending on the amount left behind, it may be impossible to use for stringing.
Shapes and Designs
Usually, the shapes and designs found on glass beads are a matter of personal preference. However, sometimes a bead's shape and design affect its usability. For example, if a pair of earrings has uneven glass beads, the earrings look crooked when worn. If the design on a beaded bracelet does not line up when worn, it looks mismatched and sloppy.
Sharp Edges
Well-made glass beads have smooth edges where the bead and outer edge of the hole meet. If these edges are sharp or pointed, it makes the stringing process difficult. Sometimes, if the edges are particularly rough, the stringing material may be sliced and ruined.
Bubbles
Bubbles in glass beads can either be accidental or intentional, so knowing the difference between the two is worthwhile. Random bubbles in glass beads show bad craftsmanship. Such bubbles weaken the strength and durability of the bead. On the other hand, bubbles that form a pattern or have a specific use in the bead show excellent craftsmanship. For example, a bubble in a water design adds a unique, beautiful touch to the bead and demonstrates the artisan's talent.
Understanding Glass Bead Sizing
The type of jewellery being made usually dictates the size of the beads required. Some wearers prefer larger, chunkier necklaces, created from wound beads. Others like lighter pieces of jewellery made from drawn or moulded beads. Standard bead sizes are stated in millimetres and range from 2 to 12 mm. When creating jewellery, remember this for planning purposes. To plan for a 20 cm bracelet, use the following guidelines:
| Bead Size | Number of Beads |
| --- | --- |
| | 100 |
| 3 mm | 65 |
| 4 mm | 50 |
| 6 mm | 33 |
| 8 mm | 25 |
| 10 mm | 20 |
| 12 mm | 17 |
The smaller the bead size, the more beads that are needed to complete the piece of jewellery. To get an idea of how many beads are needed for a 16 inch necklace, consider the following recommendations:
| Bead Size | Number of Beads |
| --- | --- |
| 2 mm | 200 |
| 3 mm | 130 |
| 4 mm | 100 |
| 6 mm | 65 |
| 8 mm | 50 |
| 10 mm | 40 |
| 12 mm | 34 |
Although beads come in standard sizes, they can also be made into various designs, such as flowers, animals, or geometric shapes. If using such special shapes, be sure the beads fit together properly when stringing. It may be beneficial to mix and match bead sizes in some instances to create a more unique appearance.
Buying Handmade Glass Beads
To find handmade glass beads, check out local beading speciality shops or online beading retailers. One of the best places to locate a large selection of handmade glass beads is on eBay. Wound beads, drawn beads, and moulded beads are available from sellers all over the world on eBay. Using eBay saves time and money.
Searching for Handmade Glass Beads on eBay
To begin a search on eBay, type in exactly what you are looking for in the search box on eBay's home page. For example, enter "hand blown glass beads" to find a variety of these intricately-made beads. For a more refined search, you can use the Advanced Search feature.
Buy Handmade Glass Beads on eBay with Confidence
Buyers gain many advantages when shopping with eBay, such as many shopping opportunities all under one, safe and secure username. Registering for an account costs nothing and is easy, and eBay's partnership with PayPal allows users to protect their personal financial information and save time when completing transactions. This, combined with over 100 million users on the world's largest online marketplace, benefits buyers who wish to shop from the comfort of their homes.
Conclusion
Since being created by the ancient Sumatrans thousands of years ago, glass beads continue to be a popular form of personal adornment. Whether set in bracelets, necklaces, or rings, consumers have three types of glass beads from which to choose: wound, drawn, or moulded. Not only do shoppers want to know a bit about the types of glass beads, they should also be aware of how to find quality glass beads by taking note of several characteristics, such as bead release residue and bubbling patterns. Once the ideal beads are located, consumers should purchase the appropriate amount for the item they are making by following a few sizing guidelines.
When ready to buy handmade glass beads, check out eBay's vast selection of different styles. Also enjoy looking for other beading accessories, such as jewellery making pliers and cord. Buying from one of the many sellers on eBay gives consumers a convenient and enjoyable shopping experience.