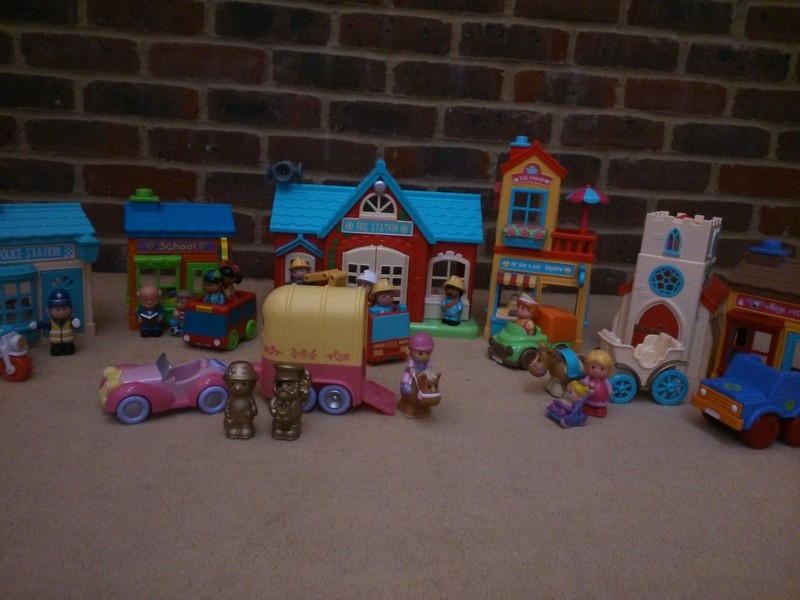 Long lasting value for money
My daughter had her first happyland at 10 months old. Easy for her to hold and bright colours, they were the perfect size for her to work on her gripping items. The variety of characters and animals easily caught her attention and she enjoyed putting the people in and out of the houses, opening doors and pressing the buttons.
She was soon talking to the people and beginning to do little role play. At her 1 year old check with the health visitor she was very advanced in imaginative play I put this down to her love of happyland.
At 3, she is developing more complex stories, voices and personalities for the people. They have their specific houses, jobs and roles within her little happyland world.
The items themselves are readily found on eBay in copious quantity. They last for years and are robust so it's one of the few toys that can be passed on and on. The thing to look out for are missing doors. A feature of happyland buildings is that the doors come off easily. If this frustrates you, keep them off and put them somewhere safe. I personally feel it's better the doors pop out rather than snap off if an item is dropped, which it will be during toddler play.
Happyland comes in a variety of colour schemes, mix and match as you wish but you'll sometimes find a job lot of one particular colour scheme on eBay that someone has painstakingly collected!
Aside from the regular town, there are fairies, dinosaurs, pirates, medieval castles and space ships. Look put for the Royal collection too.
All but one item of our happyland has been bought 2nd hand. We personally prefer the older style of boxier buildings which generally have 2 or 3 sound effects plus a lot more internal detail. Another bonus of buying from eBay.
Overall highly recommended for years of use. A wonderful open ended scope for endless imaginative play that can grow as your child does.