HAPPYLAND Toys
Happyland is a pre school range of toys introduced by ELC (Early Learning Centre) and covers all ranges of themes, including speciality ranges for example Christmas and Birthdays.

I have found the ELC Range of Happyland perfect for my daughter (now 3) since she was 1 years old, however, they are very pricey.
Range of Happyland Toys
There is a huge range of the toys for boys and girls including A Castle, Fairies, Tree Houses, Pirates but as I said before they can be really pricey unless you get a bargain when they redesign the toys and introduce a new colour version.

The best tip I can offer is to buy on ebay. The Keywords HAPPYLAND in the searchbar brings up every combination of happyland you can possibly imagine. I would usually buy new in a box so that I can give them as a gift, but have also got excellent condition odd toys when my daughter has asked for something specific (queue hunt for hedgehog happyland when it was discontinued a year ago!)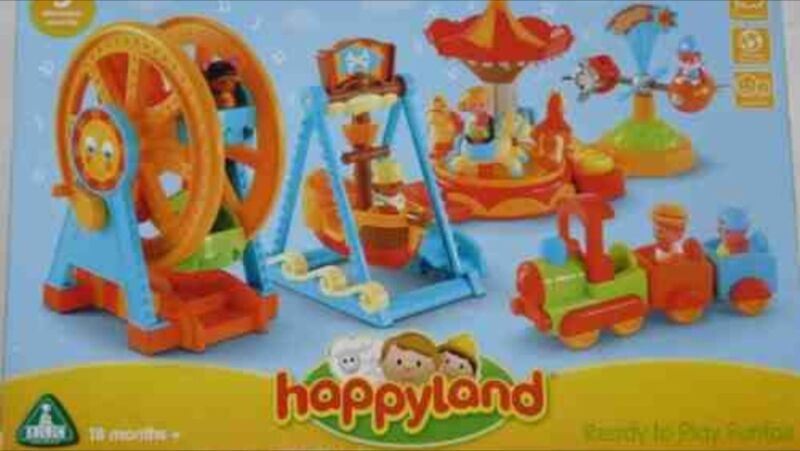 Add a caption
Happyland Fairround, discontinued & reintroduced in a different colour resulting in lots of "older style" cheap on ebay
Why I love Happyland
I love happyland for the purity of it. nothing fancy, solid, robust toys which will even go through a dishwasher when they become grubby from constant play.

Sturdy enough to go down the stairs several times (believe me this has happened), to be left in a sandpit and paddling pool for days and still survive. The colours are vibrant and appealing an cover all aspects of daily life, we have a post office a shop, a fairgroup, fairy house, castle, wedding, church. All the big toys have several noises. The people are detailed and depict all nationalities, genders and roles within society.

I love them!