For a number of years now, it's thought that metal hooks/mechanisams used in hard plastic dolls could be the cause of HPD, but then, how do we explain why hands and wrists on some hard plastic dolls become diseased before any other part of the doll? surely it would firstly attack the upper arm and shoulder area where the plastic is connected to the metal hook. I can understand the conclusion made concerning the bridge of the nose which becomes diseased , being that the eyes are directly attached inside the head with metal bars/eye sockets ect, (as shown in pic below) but I don't believe this is conclusive, I think there is more to it. I left a pair of perfectly healthy hard plastic Rosebud arms in the cold wet boot of my car for aprox two months. There were no metel hooks attached, these arms had moulded plastic hooks. I eventually remembered where the arms were, opened the boot and the acid smell hit me right away. The arms were discoloured (greeny yellow) and smelt quite strong, kept them for months, untill the plastic finally began to weep and break down. Some of the early white closed mouth Pedigree babies and walker dolls seem to be prone to the disease. The little 7" Pedigree Delight dolls with star fish hands have no metal parts, yet they are often found with HPD. It was thought that HPD does'nt attack Black dolls, unfortunately, the disease is now known to attack some of Pedigree's black dolls produced in the late 1940s. These were some of the first dolls (black & white) which were produced soon after the 2nd world war when the hard plastic materials used were still in the experiental stages for doll making. ................
I do agree with Tina the Dolly Doctor, about the early hard plastic mixture could have certian chemical problems. During the war years Lines Brother's were requisitioned to making machine guns, munitions and aircraft parts. After the second world war ended Lines Bros resumed work and became known as "Pedigree Doll's" producing dolls at their Merton factory.. A new range of dolls were produced in 1946, made from hard plastic. This was a Cellulose Acetate mixture, produced in their experimental department, probably using the same/similar mixture of chemicals newly devloped for the war years. We don't know for sure, but perhaps the early dolls are more prone to the disease because they are a slightly different chemical composition. When a doll has been subjected to extreme conditions, eg. heat, cold, damp ect. over the years this could probably cause a chemical reaction and break down in the plastic. This however, does not give much insight as to why a Rosebud, BND and other makes of hard plastic dolls become diseased. Could it be that the disease has simply spread onto these dolls from being in contact with another diseased doll, or perhaps being that other manufacture's produced far less dolls than Pedigree, these early dolls have just not come to light yet, or maybe they were distroyed years ago. One thing we do know for certian, is that even the modern plastics of today, will eventually break down in the right conditions (land fill sights), however this break down occurs over many hundreds of years. --
Check out my other guide How to Detect Hard Plastic Disease
I would like to thank thestreeker for allowing me to use photographs of their poor unfortunate black hard plastic Pedigree.
-----------------------------------------------------------------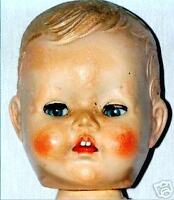 Thank you for viewing this guide.