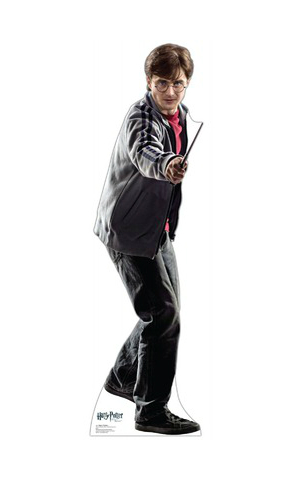 The eight Harry Potter books by J.K. Rowling are the best selling book series in history. The first one, Harry Potter and the Philosopher's Stone, was published in 1997. The films based on the books are the highest earning movie series of all time. The Harry Potter worldwide phenomenon has also taken the action figure collecting world by storm. Only twelve years after their release, examples of the first line of figures are on eBay for £200 and upwards.
In case anyone thinking about collecting Harry Potter action figures doesn't know who the central character is, here is the introduction to the Harry Potter and the Philosopher's Stone. "Harry Potter thinks he's an ordinary boy – until he is rescued by a beetle-eyed giant of a man, enrols at Hogwarts School of Witchcraft and Wizardry, learns to play Quidditch and does battle in a deadly duel. The reason: Harry Potter is a Wizard."
The Harry Potter Cast of Characters
The appeal of Harry Potter action figures is that they go way beyond Harry Potter himself. The nearest equivalent to the Harry Potter franchise is another legendary series of movies - Star Wars. The Star Wars figures from Kenner set a style which action figure manufacturers have followed over since, bendable into different poses, 8" or 3.5" high and wonderfully collectible as a set of distinctive characters. As shortages of different characters and variants in design arose, their value rose, too.
This is just what is happening with the Harry Potter line-up of characters, only at an accelerated rate. That's because there are eight books and eight corresponding films, following eight consecutive years from age 11 in Harry Potter's career at Hogwarts. Thus there is not just one Harry, Ron Weasley, Draco Malfoy or Hermione Granger but several, representing the characters as they mature.
As early ones are supplanted with later ones, the originals grow in value. That's because they are still in demand, not just from collectors but younger children newly introduced to Harry Potter books by their parents.
Collecting Harry Potter Action Figures
A factor which complicates collecting and adds to the attraction from the collector's perspective is that there have been two manufacturers of standard Harry Potter figures. Mattel made them for Harry Potter Films 1 though 4, and NECA produced them for films 5 through 8. Neither manufacturer is reissuing any previous lines. Here is a checklist of figures from the two.
Harry Potter and the Philosopher's Stone
Wave 1
Wizard Collection
Gryffindor Harry Potter
Quidditch Harry Potter
Invisibility Cloak Harry Potter
Gryffindor Ron Weasley
Gryffindor Hermione Granger
Slytherin Draco Malfoy
Remembrall Draco Malfoy*
Professor Severus Snape
Headmaster Albus Dumbledore*
Professor Quirinus Quirrell*
Creature Collection
Rubeus Hagrid
Fluffy
Mountain Troll
Notes
* - Mattel released a limited quantity of these figures.
Wave 2
Wizard Collection
Griphook the Gringotts Goblin
Lord Voldemort
Quidditch Team
George Weasley
Fred Weasley
Creature Collection
Harry Potter and the Chamber of Secrets
Wave 1
Slime Chamber Series
Harry Potter
Ron Weasley
Fred Weasley
Hermione Granger
Draco Malfoy
George Weasley
Wave 2
Wizard Collection
Quidditch Harry Potter
Quidditch Draco Malfoy
Chamber Harry Potter
Spellcaster Ron Weasley
Dobby
Hermione Granger
Professor Severus Snape
Professor Filius Flitwick
Professor Gilderoy Lockhart
Spellcaster Harry Potter
Creature Collection
Wave 3
Duelling Club
Duelling Harry Potter
Duelling Draco Malfoy
Duelling Professor Gilderoy Lockhart
Tom Riddle
Creature Collection
Notes
* - Included with Mattel's Chamber of Secrets playset.
Harry Potter and the Prisoner of Azkaban
Spellcaster Harry Potter
Quidditch Harry Potter
Deluxe Magic Harry Potter
Professor Remus Lupin
Dementor
Albus Dumbledore
Lord Voldemort
Expecto Patronus Harry
Harry Potter and the Goblet of Fire
Harry Potter
Invisibility Cloak Harry Potter
Headmaster Albus Dumbledore
Lord Voldemort
Harry Potter and the Order of the Phoenix
Harry Potter
Ron Weasley
Hermione Granger
Neville Longbottom
Draco Malfoy
Albus Dumbledore
Severus Snape
Rubeus Hagrid
Sirius Black
Dolores Umbridge
Argus Filch
Lucius Malfoy
Lord Voldemort
Death Eater (Black Mask)
Death Eater (Silver Mask)
Luna Lovegood
Bellatrix Lestrange
Dementor
Harry Potter and the Half-Blood Prince
Harry Potter
Lucius Malfoy
Ginny Weasley
Mad-Eye Moody
Hermione Granger
Ron Weasley
Rhys Phillips
Albus Dumbledore
Luna Lovegood
Fenir Greyback
Bellatrix Lestrange
Sets and special editions
As well as individual action figures there are sets of action figures, action figures with dioramas, playsets and special editions.
Sets usually contain the principal characters of one of the movies, for example, four characters from Half Blood Prince, or the Deluxe Creature Collection.
Dioramas are figures which come with their own mini-scenes from a movie or iconic background and give the action figures their own stand.
Special editions are larger figurines or mini busts, high quality, scale representations with lots of detail, sometimes hand-painted. A 12" Serverus Snape Real Action Hero Rah by Medicom can cost around £400.
Playsets These place a variety of figures in settings such as quidditch games or the great hall at Hogwarts
Where to Start
Whether collecting for enjoyment or financial gain, without a clear direction it's easy to get lost or discouraged by so much choice. It's also easy to pay too much and end up with a box of mismatched figures of little collective value. On the other hand, with a plan the pursuit can be very fulfilling as each acquisition brings the collector nearer their goal.
Niche
Within the overall Harry Potter category, the focus can be on a sub-topic. The objective is to find a niche that is tight enough to enable one to build the collection, complete each series or strand, keep costs down and add value. For example:
A particular manufacturer, along with Mattel and NECA, there are Lego and Tomy lines,
a particular theme, such as quidditch,
a particular film, such as Harry Potter and the Deathly Hallows
A set of characters, such as the Weasley family or the staff at Hogwarts – Snape, Dumbledore, Lockhart, Quirrell etc.
Harry himself in many guises and roles – Quidditch Harry, Gryffindor Harry and Invisibility Harry etc.
Condition
The golden rule for collecting action figures is never to take them "off the card", the cardboard backing on which they are enclosed in a see-through plastic bubble. Doing this devalues the figure quite a bit.
Whether to buy new or second-hand is the next decision. To keep to a budget, the best bet would be to go for second-hand figures and save buying the new ones for especially attractive figures.
The advantage of buying new is, of course, that the figures are in mint condition and stand the best chance of increasing in value provided they are kept carefully in a place where they will be protected from dust, temperature variations and sunlight.
Grading
Do figures which are not in gem mint condition have any long term value? That depends on just how close to mint they are. There are various scales which collectors use to assess potential buys. The Collector-Action Figures "C-Scale runs from C-10 (Mint) to C1 (Very Poor) and is very exacting. Items on eBay will quite often have these references.
Rarity
As with any collectible, the harder a prized action figure is to find, the money a buyer has to pay. The range of action figures on the market can be classified as Regular, Chase, Super Chase and Variant.
Regular: A regular action figure is the standard issue, bought new from a shop or on-line outlet with the figure pictured on the packaging. Beware of massively overproduced mass market figures, as these, even in Gem Mint Carded condition, are unlikely to increase in value for a long time.
Chase: A chase is a version of the regular figure which has been modified intentionally in some way by the manufacturing company, so called because its scarcity will stimulate the collecting community to chase it. Sales of the original Dumbledore were promoted as "limited quantity available".
Super chase: This is a further modification of the chase figure produced in very limited quantities to create an artificial scarcity.
Variant: A variant is a different form of the regular figure arising from an error in the manufacturing process or because of a decision to change something in the manufacturing process.
Buying Harry Potter Action Figures on eBay
Now that you know which Harry Potter action figures you want, you can find them quickly and easily on eBay. To start shopping, go to the Sports and Leisure category. Click the Toys & Games then the Action Figures portal then Harry Potter Theme.
While shopping, don't forget Animals & Dinosaurs,, Anime & Manga,, Comic Book Heroes,, Designer & Urban Vinyl,, Fantasy,, Historical Figures & and Military & Adventure..
Categories
The Categories list on the left side of each page will help narrow down listings by item type. There are for themes such as: Wrestling & ,Doctor Who & ,Batman,, Power Rangers,, Action Man & and Marvel Legends .
Product Finder
Use the Harry Potter Action Figure Finder to quickly narrow down item listings by brand, model and condition (new or used).
Keyword Search
Search eBay listing titles for specific words. For example, if you want to find New Harry Potter Action Figures, type the keywords "Harry Potter Action Figures New" (without quotation marks) into the Search box. Click, "Search title and description" to expand the results. Visit eBay's Search Tips ppage for more tips on searching with keywords.
If you can't find exactly what you want, try browsing eBay Stores or tell the eBay Community what you're looking for by creating a post on Want It Now,, or save a search oon My eBay and eBay will email you when a matching item becomes available.
Buy Harry Potter Action Figures with Confidence
Make sure that you know exactly what you're buying and understand how eBay and PayPal protect you.
Know the Item
Read the details in the item listing carefully.
Remember to add delivery costs to final price. If buying a high value item, check that the seller will insure it until it is delivered.
For more information, click the "Ask seller a question" button on the seller's profile or the "Ask a question" link at the bottom of the item listing page.
Always complete a transaction on eBay (with a bid, Buy it Now or Best Offer) otherwise you will not be covered by eBay Buyer Protection.
Never pay for an eBay item using an instant cash wire transfer service like Western Union or MoneyGram. These are not safe ways of paying a stranger.
Know the Seller
Research the seller to feel safe and positive about every transaction.
What is the seller's Feedback rating?
How many transactions have they completed?
How many positive responses do they have?
What do buyers say in their Feedback?
Are they positive about the seller?
Most top eBay sellers operate like retail shops and have a returns policy.
Do they offer a money-back guarantee?
What are their terms and conditions?
Buyer Protection
In the very unlikely event that you do not receive your item or it is not as described, eBay Buyer Protection covers your purchase price plus original delivery cost.
Conclusion
The last Harry Potter book and film have been released, but new generations are continually discovering the magic of the scrawny boy with the lightning bolt scar. Online and on-street outlets continue to serve them. Meanwhile the value of these fabulously collectible figures around the place keeps increasing. Have fun.