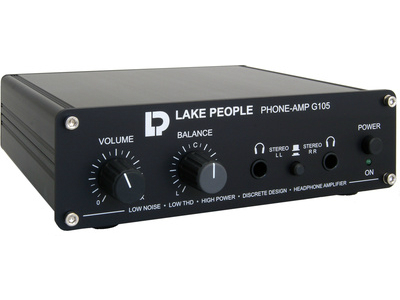 Getting the best sound quality possible is the aim of every serious music lover and, for most, volume plays a crucial role in musical enjoyment. Headphones are an essential addition to audio equipment if high volume levels are not to disturb others. If a set of headphones does not have the capacity to supply an adequate level of volume without unpleasant distortion, then a headphone amp could be the answer. For professional musicians it is an integral part of pro audio equipment, but, as they would know, there are a few facts to be considered before acquiring a headphone amp.
About the Headphone Amp
A headphone amp is the component of a headphone that drives the miniature speakers within the device. In a good set of headphones, the built-in amp will be sufficient to suit the purpose for which a particular headphone set has been made. If, however, greater volume or clarity is desired, then a supplementary headphone amp can be utilised to provide greater tone and timbre detail and extend the entire dynamic range of a headphone set. A first consideration before purchasing a headphone amp should be the type of listening experience desired. Musicians and technicians in a recording studio would obviously have far greater hi-tech requirements than the average sound-system enthusiast. A further important point to consider is that good quality is required of both the headphones and the amp if the two are to be compatible and function optimally. The quality of a headphone set is important in that poor headphones can limit the functionality of any accessories. Once the function of a headphone amp has been determined, the technical features of an amp will need to be considered.
Technical Features
Impedance will be one of the main topics of discussion when deciding on the suitability of specific amps to particular headphones. Impedance is the manner in which the electrical load of a set of headphones resists and reacts to an amp. High impedance cans usually require more voltage to achieve a good level of listening pleasure and an amp is ideal for accomplishing this. Low impedance cans may need more current to improve sound quality and, again, an amp would be beneficial. Where portable players are being used together with larger headphones, a headphone amp would improve volume levels. If full-sized headphones are used in conjunction with an iPod, for example, the full potential of the headphones would be lost, but supplementing the limited power of the iPod amp with another will significantly improve performance. Headphone amps used by professional musicians and studio technicians will require a different set of criteria to achieve excellence. The table below gives a few examples of headphone amps and their suitability to particular environments.
| | |
| --- | --- |
| HeadRoom Total BitHead | With two 1/8" headphone jacks, this portable headphone amp offers a superb listening experience via a home computer, laptop or iPod. Weighing only 5.5oz this amp is almost the same size as a standard-sized iPod and, therefore, easily portable. Analogue input is accessible via the 1/8" jack and digital via a USB port. A High/Low Gain switch allows for matching with any headphone impedance up to 300 Ohms and a higher precision of impact and bass control is promised by this amp. An iPod or other player is easily affixed to the BitHead by the Velcro Velcoin discs that come with the kit. The BitHead can then be attached to a computer or desk by the same method. This headphone amp has been designed to satisfy the personal listening needs of the most avid audiophile. |
| Yulong Sabre A18 Reference Headphone Amp. | Suited to professional use, this Class A, high-end headphone amp is relatively small, weighing approximately 7 pounds. Its metal cans allow for higher current which is why they are each set in an impressive heatsink that provides for maximum thermal efficiency. The power button on the front panel gives access to a power supply that boasts a Plitron toroidal transformer, LM337K linear regulators and Elna Smoothing capacitors. The power button and volume control are all that appear on the front panel, while a rear switch is for selecting either RCA or XLR input. This amp is compatible with almost every set of headphones with its capacity for voltage swing that offloads 24V into 600 ohm loads, while benefitting users of planar headphones by channels that carry almost 2 full watts each into lower impedance loads. Besides the single opamp that buffers the RCA input, this design is fully discrete. Yulong have eliminated the need for an adapter by users of balanced headphones by combining two negative signal wires to achieve balanced output and a high quality playback sound. |
| Nighthawk Headphone amp. | The Nighthawk, by Audio Electronics, is one of the larger headphone amps, so that it is not portable. Its large size is compatible with the power transformer which is almost treble that which is required for this design. Its internal components, which are also large and based on a JFET device, also express the optimal sonic performance of which this amp is capable. Audio Electronics claim that the amp's high linearity and low distortion is due to an output stage that is complimented by a further, buffered, output stage. Users of any high quality headphones are accommodated by the amp's ability to drive an impedance of 20 and 600 Ohms. Some may find the single headphone input restricting and the amp has no gain sensitivity control, but the general consensus seems to be that the quality of the amp's performance makes this a superfluous requirement. |
| Behringer MicroAMP HA400 | This is the perfect amp for jamming with friends in a home set-up. With 4 headphone jacks, each with an independent volume control, this micro amp is both affordable and efficient and can be used with most headphones. High and consistent sonic quality is achieved through 4 high-power stereo amplifiers. Ultra low noise, 4580 operational amplifiers add to this amp's exceptional audio performance and a dedicated DC 12 volt adapter adds versatility. |
| Sennheiser HDVD 800 | This amp is equipped with a Burr-Brown DAC that will convert digital to analogue without any loss of frequencies. Its manufacturer promises a quality of sound so precise and distortion free as to place a user's audio sense at the source of the sound. The unit has both symmetrical and asymmetrical input sockets which symmetrises incoming signals, up to 24bit/192kHz, before processing continues. Specially made cables some standard with this amp to facilitate symmetrical connection to headphones although connection can also be made with a 6.3mm jack plug. The rear panel of the amp has XLR, or AES/EBU, as well as optical and Coaxial, or USB, inputs, which makes this amp suitable for most headphone uses. |
Conclusion
With so much information available online and the good selection of headphone amps for purchase on sites such as eBay, some research should be done into the specifics of a user's requirements and the technical features offered by the various brands and models of headphone amplifiers. This will not only eliminate any buyers regret, but it may also be a cost-saving exercise. Most brands and models will have been reviewed online and the views of many current users of a particular product can prove invaluable in deciding which headphone suits a potential buyer's needs. Advice from experts in sound is usually also freely accessible.