Heinkel/Trojan 200
This is one of many illustrated classic car guides I've created for the community. I hope you enjoy it. If you wish to find out more about the classic bubble and micro car art featured in this guide please click here.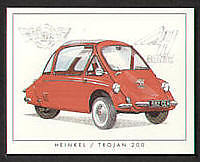 Considered one of the prettiest bubbles, the Heinkel Kabinen entered the German market in 1955. The 175cc four-stroke air-cooled engine gave two adults/two children a top speed of 56mph with 100mpg. Soft-top convertibles were also built, sealing the front opening door and cutting the body to waist height. Production moved in 1958 to Dundalk Engineering in Northern Ireland, and again in 1962 to the Croydon based Trojan Company who with modification, marketed it as the 200 and built some 10,000 units.
If you would like to see more guides on bubble and micro cars please click!
Thank you for reading my guide and I hope you found it interesting!