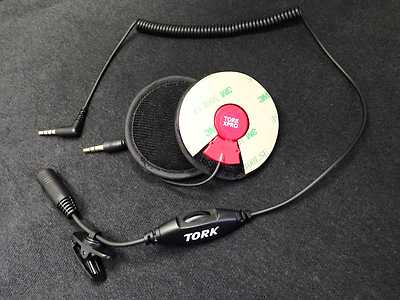 Helmet speakers are an inexpensive way of listening to music or GPS instructions while wearing a helmet and are typically used by motorcyclists, snowboarders, skiers, cyclists.
They differ from the more common earbuds, as they fit into the helmet whereas earbuds fit into the ears and often pull out as a helmet is put on.
Helmet speakers stick or velcro into the ear pockets of helmets that cover the ears and the speaker wires can be concealed in the helmet lining leaving a small plug protruding from the left or right side of the helmet. An extension cable is usually supplied that plugs into your device. The speakers should be thin, under 10mm thick so they do not press on the users ears causing discomfort.
Tork of Canada are the brand leaders in this market with a range of speakers available at different price points. Their speakers are very thin and the coiled plug in extension cable features an integral volume control.
Cheaper unbranded Chinese helmet speakers are available very cheaply but they are of variable quality and lack bass due to their low cost construction.
For bicycle helmets and some ski & snowboarding helmets that don't cover the ears, helmet speaker can be fitted into proprietry ear pockets available for these types of helmets.
Note that helmet speakers are a wired solution rather than bluetooth, however good quality helmet speakers are often used to replace the standard speakers supplied with bluetooth motorcycle headsets to give a better listening experience when listening to music.