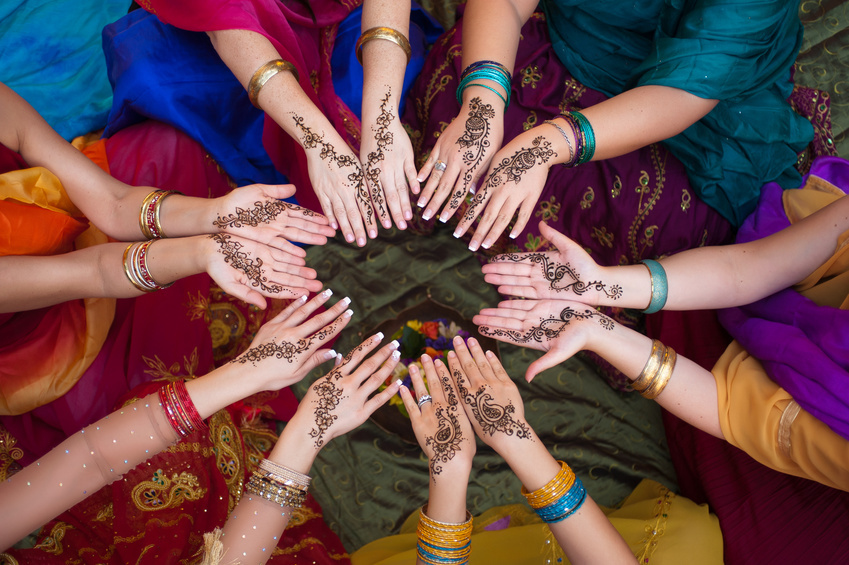 Get the look of a tattoo without the permanent commitment with a high-quality henna temporary tattoo. You can mix the paste, choose the design, and create the tattoo yourself at home, as long as you have the right supplies. In the average henna supply kit, you should find henna powder, instructions for mixing and application, some suggested designs from which to choose, and a variety of other supplies.
Henna Powder

First, you need a supply of henna powder. A henna tattoo kit should include some powder. The henna powder must be fresh. Off-the-shelf powder does not yield as rich and vivid a stain as fresh henna does. Make sure that the label on the henna indicates that its quality is high enough for body art. Avoid trying to sift the henna yourself; instead, buy finely sifted henna, as it is perfect for smooth, colourful henna tattoos. The henna needs to be pure, without additives or chemicals. Among the popular types of henna powder are Yemeni henna powder, Indian henna powder, and Moroccan henna powder. Indian henna powder offers a beautiful balance of colour, while Yemeni powder is a little stringy and sandy. Moroccan henna powder offers swift colour release in just a few hours.
Henna Tattoo Design Books and Tracing Systems
Creating henna tattoos usually involves some level of drawing skill. You can purchase a kit with a booklet of suggested designs and copy those, or create and apply your own art. Users who are not confident in their artistic abilities can buy henna kits with henna stencils or tracing systems to guide their tattoo application. Make sure that the kit you buy has clear instructions for mixing and application, written by a professional henna artist.
Henna Application Tools

To apply the henna to your skin, you need a reusable bottle that has a tiny metal tip for precise drawing. It is possible to apply the henna paste with other implements, but the professional-grade bottle offers ideal results. You also need cotton swabs and toothpicks for correcting the design. Eucalyptus oil and certain other essentials oils help the henna tattoo adhere to the skin, so choose a kit that incorporates those supplies. Having a kit with a pre-measured henna mixing solution makes the process easier as well.
Other Henna Tattoo Supplies
Since henna tattoos are temporary, they begin fading before long. To keep the tattoo as long as possible, invest in a few aftercare supplies. Cover the tattoo in a special henna aftercare balm to protect it from water when you shower, bathe, or swim. You can also purchase hypoallergenic medical tape and micropore paper tape to seal the designs as needed.