Introduction
This guide goes into a lot of detail but hopefully covers all the bases. I get so many people asking advice that this guide will help everybody select the right key for the task that they have in mind.




What is a Hex key?
A Hex key is a hexagonal (6 sided) tool that is used to remove screws and bolts.
It is for use on the hexagon formed inside of a bolt head.
It has advantages over Philips and slot bolt heads as the key cannot easily slip out of the bolt head and you can apply a lot more torque.
The company first to put a Patent on the design was Allen in around ???, hence the name Allen key, but officially only tools made by the Allen company can be called 'Allen keys' (it's like calling a vacuum cleaner a Hoover)



Size Guide
There are 2 different systems of measurement for hex keys, Metric or Imperial (SAE)


Metric is measured in mm and Imperial is measured in Inch (or fraction of an inch 1/8 = 1 8th of an inch)
If it is old, it's probably Imperial and if it is new it's probably metric.The chart below shows available sizes in BLACK
Anything written in RED is just for reference and keys cannot be brought in that size
There are 2 different systems of measurement for hex keys, Metric or Imperial (SAE)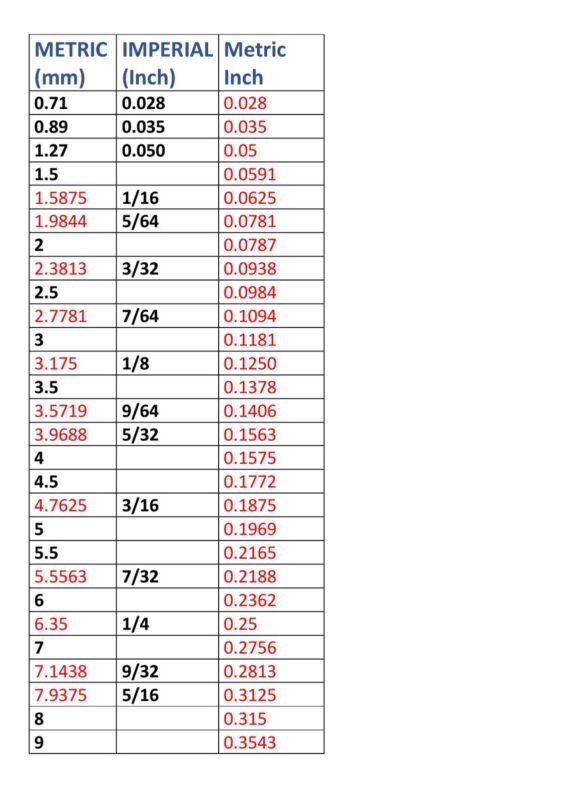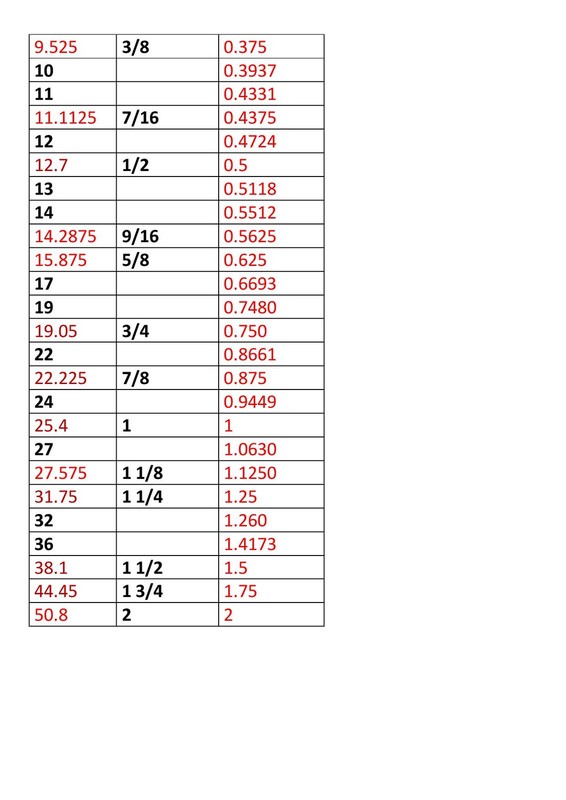 Sizes that are exist but are rarely sold or used include 15mm, 16mm, 20mm, 21mm and 9/32
Most manufactures no longer make these sizes


What Size Key Do I Need?
This is easily established with the larger sizes as you can measure what size the hole is with a tape measure.
The measurement is taken across from the flat to flat (sometime referred to as 'Across flats' or 'A/F'). Do NOT measure from corner to corner as this will not be accurate.
Alternatively, you can measure the hole with an internal micrometre (if using an Imperial micrometre please refer to the grid above)
Using the incorrect key might undo the bolt but over time will damage the bolt head and key



Types of tool
Hex tools come in a wide variety of shapes and sizes
Loop Handle Cusion Grip (loop with t-handle cusion grip)
Bits (handy to put in your power tools or screwdrivers) Metric
Bits in sockets (good to put them on you ratchet or breaker bar, large amount of torque can be applied
Blades (for Handled tools)
Speciality tools
Ball end (tool can be used in the bolt head at different angles, to around 25°; this makes the took more versatile especially in tight spaces) Availible in most styles of key.
Grip Feature (grips the bolt to the tool, examples are Magnetic, ProHold, MagicRingect)
Tamper-resistant (has a hole in the end to accept a security pin in the bolt head, also known as Security or Tamper proof) Buy all sizes here
What the hex key is made of?
The type of steel the key is made of is very important, this determines what torque can be applied, breaking strain and likelihood of the tool shattering.
There are several grades of steel commonly used by hex tool manufactures. Here is a list of the steels in order of strength from high to low:
Protanium high torque steel. An alloy developed and manufactured by Bondhus. It is the hardest, most ductile and longest wearing steel used in the hex tool industry.
Chrome moly steel. Stronger and harder than Chrome Vanadium. Expensive to manufacture and commonly used in high end tools.
S2 Steel. Only used by a few manufacturers, it's harder than 8650 but is less ductile so more prone to shattering
Chrome vanadium Steel. Similar to 8650 in strength. Commonly used in Europe
8650 Steel. Commonly used in Far East and US
1050 Carbon steel, this is inferior to all the above, but it is still used by some manufacturers in Europe and Asia. Cheap to manufacture.
What are you using the tool for?
Flat pack furniture, only requires a cheap tool (no point spending too much)
Metric
Imperial
Putting on a roof rack 4 times a year (a low- to middle-grade tool is recommended)
Daily use (a mid- to high-range tool is recommended)
Doing up bolts on your very expensive sports car (a high-end tool is recommended, not the place for damaging a bolt)
Ball-end keys shouldn't be used for high torque applications if a normal hex is available.
Seized Bolts
Some bolts are very stiff and even with the correct size key seem impossible to turn, here are a few tips that might help.
Spray with wd40 (or some more specialised penetrating grease) around the bolt entry point, leave for a minute or two to let the grease settle into the thread, this might help lubricate the stiff bolt to help aid removal.
Use an extra-long hex key to give you more leverage.
Using a standard key, you could help torque by using a strong tube such as a scaffolding tube. Placing the tube over the long arm of the key makes the long arm longer. If using this on a cheap inferior key then please wear safety goggles, as you are asking the key to do more than it was designed for and there is risk of shattering. (last resort method)
Damaged Bolt ends
Do you need to remove a bolt that has previously been damaged?
For example, the internal hex is stripped. There are many methods that you could use to try and remove it:
If the bolt is protruding, then getting some grips on it might be enough to turn it to get it out. Some WD40 or some other deep penetrating oil might help matters (as long as you are accurate and don't get any on the bit you are trying to grip.) (Try First)
If the bolt is protruding, then you could grind a line in the bolt head and then remove with a flat head screwdriver
If the bolt is sunken and need it removed nicely, you could drill a hole in the centre of the head and then remove with a screw extractor (most professional solution). Available Here
If you are not replacing the bolt and you could drill the whole bolt out, if you need a new bolt in there then you could tap the whole and replace with a larger bolt (last resort)
You could select the next size up Hex Key and try hammering it into the damaged bolt head, you might just get enough grip to get the bolt out (not recommended but might be a technique that might suit curtain circumstances)
All of these methods take time, and care must be taken to do properly, if unsure get someone who has done it before to help.
Stubby Key Cheat
If the Hex key short arm is too long then you could cut it down with a
hacksaw
or a
grinder
. (as long as you do not mind sacrificing a key by cutting it down)
One benefit of
stubby
keys is that they are made differently to standard keys as they have a tighter radius in the bend to help in tighter spaces
Who makes the best Hex keys?
Many companies make excellent hex keys.
If the manufacturers are willing to put their name on the tool then that is usually a safe bet. No-One wants bad press for rubbish tools.
Any manufacturer who puts a lifetime warranty on their tools is sure the tool will not need to be replaced very often.
But I think the clear winner is Bondhus.
Out of all manufactures Bondhus have spent the most money in research. They are the company that invented the Ball-end key which is now industry standard for high-end sets, they have developed the Protanium steel that has out-performed every other steel in strength tests, and offer a lifetime warranty on ALL of their tools.