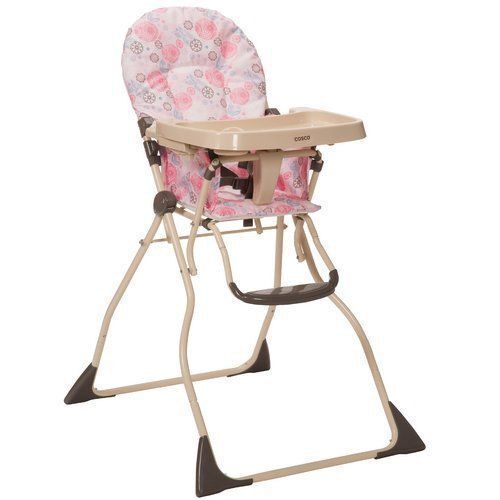 A parent uses a high chair to secure their child during feeding time. The high chair positions the child at a height that is comfortable for the parent to feed their child. Because a child is raised up when sitting in a high chair, there is a risk of the child falling to the floor. This is why it is vital that the high chair come equipped with all the safety features necessary to secure the baby in her seat. When shopping for a high chair, a parent should consider a high chair with a five-point harness and a crotch post. Even with myriad safety features present, a parent should still follow a few trusted safety tips to prevent accidents when baby is sitting in the high chair.
High chairs are available at a variety of locations, including high street specialty baby stores and online venues such as eBay. eBay carries hundreds of current listings for high chairs that boast the latest in quality safety features.
Tips for Buying a Safe High Chair
When choosing a high chair, the first consideration should always be safety. It is important to know what to look for when comparing high chair safety features. A buyer should consider such things as how the baby is secured in the seat, including the presence of harnesses, crotch posts, and removable trays. Some high chairs come with wheels, while others fold down. The buyer needs to make that if the chair has a folding mechanism or wheels that these features are lockable. A parent also needs be especially cautious when shopping for a secondhand, vintage, or antique high chair.
Choose a High Chair with a Five-Point Harness
This type of high chair harness is better at securing a child in a high chair than lap-only safety restraints. A five-point harness system is one that has insertion points above each shoulder, on either side of the baby's middle, and between the legs. The harness is buckled over the baby's tummy. The buyer should examine this buckle carefully. A child should not be able to undo the harness themselves.
The Chair Should Come with a Crotch Post
Each high chair should have a fixed, plastic crotch post in the centre of the seat to keep the baby from slipping out under the tray. Although these posts are very important for child safety, they cannot take the place of a safety lap restraint. The parent should look for a high chair that has all the restraining straps necessary to secure baby.
A Feeding Tray Is Not an Alternative to a Harness
The tray by itself cannot properly secure the baby. A safe high chair includes waist and crotch restraint straps. Using the restraints each time baby is placed in the high chair ensures that there is no chance that she can wiggle out of her seat and fall to the floor.
Consider Secondhand High Chairs Very Carefully
Whether purchasing a high chair from a family member, friend, or other reliable source, check for any safety recalls that may have been issued on that particular high chair. It is always a good idea to inspect the used seat to determine whether the chair frame, tray, and safety straps are properly assembled, all the parts are present and accounted for, and that all parts of the high chair are in perfect working order. When shopping for a vintage or antique high chair consider that any high chair older than a decade may not have many of the safety features present in new high chairs. This is because these high chairs were manufactured long before there were any safety standards in place. While an antique high chair may be beautiful to behold, it may prove to be dangerous to a baby.
Tips for Using a High Chair Safely
High chairs keep babies safe during meal and snack times and reduce the amount of cleanup that parents have to worry about. With proper use and care, high chairs are considered safe for use with babies and toddlers. Not only does reading the owner's manual make assembly easier and safer, it provides valuable information about manufacturer-suggested age and weight restrictions. Before using a new high chair, it is good to be aware of some basic safety tips.
Use Every Safety Strap Every Time
Using the harness or safety strap on a high chair is not optional because the baby's life could very well depend upon being securely restrained in the high chair. Babies have slid from high chairs under the tray or fallen while standing in the seat, and have sustained serious injuries or even been killed. If the safety harness is always attached and the baby is always supervised, there should never be a mishap. A baby should always be sitting down in a high chair. Never allow baby to stand up. The harness should be secured in such a way that baby is not uncomfortable, but that there is also no chance that the child can wriggle out of their harness.
Never Place a High Chair Near Walls, Counters, or Tables
If a high chair is placed too close to any other piece of furniture, the baby may use their feet to push against the surface of that object and tip the chair over. Make certain that if the chair is placed near other objects while the baby is being fed that he is never left unattended, for any amount of time.
Make Sure the Tray Is Secure
Most high chairs have a detachable tray that is removable, making it easier to put the baby in the chair and take him out again. Trays should snap into place securely, making it hard for a baby to kick it off or remove it himself. Tray snaps should never be within the baby's reach, but positioned in a way that allows the parent to easily remove it when the baby is being taken out of the high chair. Tray snaps or locks should lock securely on both sides, with no sharp edges jutting out, and should be in place whenever the baby is using the high chair.
Never Allow Other Children to Play on the High Chair
A rambunctious older child may try to climb a high chair. This should never be permitted. Injuries can result, especially if the older child attempts to move or climb the high chair while their younger sibling is in it. The added weight of an older child can cause the whole high chair to topple over.
Be Sure the High Chair is Fully Locked
Some types of high chairs fold in half for easy storage. Others have casters that allow the chair to be easily moved around the room. Whenever a baby is sitting in the high chair, it is critical that every folding and moving part is locked securely. Forgetting to do this could see the chair collapse with the baby sitting in it or the chair roll into a position that allows the baby to kick against other furniture and tip the high chair over.
Secure Hook-On, Travel, and Space-Saver High Chairs Properly
When using a portable, hook-on high chair, never use it on a glass or loose tabletop, or one with a tablecloth. An unsecured portable high chair has the potential to slide off. Many of the injuries associated with high chairs occur when babies are seated in hook-on, travel, or space-saver high chairs. This type of high chair attaches to chairs or tables. Injuries can result if this type of high chair is not secured properly. A high chair that hooks securely to the side of a table is never a good substitute for a traditional, freestanding high chair.
How to Find a High Chair on eBay
When you have done your research and are ready to buy a high chair, start by simply entering keywords into the search bar at the top of eBay's home page, or any page on eBay. For example, if you enter 'baby high chairs' the local search engine populates the results page with thousands of listings for high chairs. You can also narrow your search options by using the various search filters available on the results page. You can choose search filters and sort the listings based on the height of the high chair, whether the chair has removable trays, and the types of cushions. In addition, you can search by manufacturer or by type of seller. You can choose to narrow listings to only show those listings posted by Top-Rated sellers. Such sellers have established records of successfully completing all transactions according to eBay's guidelines. You can also search by location by specifying a search radius for listings posted by local sellers.
Conclusion
High chairs are a very common type of baby furniture. Not only can a high chair provide a safe place for the baby to be fed, it can also help to reduce the mess caused by a baby learning to feed himself. High chairs are an important piece of baby furniture that most parents could not imagine doing without. And when prescribed safety tips are closely adhered to, high chairs are very safe. A parent should make sure that prior to buying a high chair that they investigate all the chair's safety features and the history of the high chair. They should check to see if there were any recalls for the type of high chair they are interested in, whether it has an adequate harness system for safely securing the baby in the seat, and whether it has a good locking mechanism for any folding and moving parts. Buyers can find a wide variety of high chairs on eBay, both new and used.