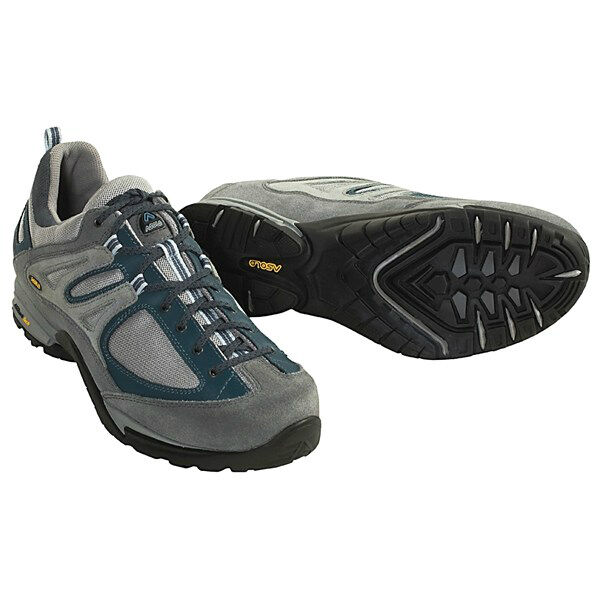 Shoe manufacturers design and construct hiking shoes specifically for hiking. Many hiking enthusiasts consider hiking shoes to be the most important element of their hiking gear, since the quality of a pair of hiking shoes determines durability and protection for the feet and ankles. Hiking shoe quality plays a significant role in how far, fast, and safe a hiker travels. Most hiking shoes provide the support that allows hikers to travel long distances over varied terrain. Hikers wear hiking shoes for backpacking, rock climbing, mountaineering, hunting, and as casual outerwear. Properly fitting hiking shoes can prevent ankle sprains and blisters that often derail day hikes. Hikers can find hiking shoes at shoe stores, in the outdoor section of big box retailers, in sporting goods stores, and on the leading online auction site, eBay. Before hikers buy a pair of hiking shoes, they should learn about the types of hiking shoes, the common materials used to make hiking shoes, buying factors to consider, and how to fit a pair of hiking shoes.
Types of Hiking Shoes
The first step in the hiking shoes buying process is to determine the type of hiking shoe to purchase. Each type of hiking shoe has a unique purpose that is often determined by a hiker's experience level. For instance, beginner hikers do not require the type of hiking shoes that experienced hikers use on rugged terrain. Please note that some hiking shoes border on two different types, and which type of hiking shoes a hiker decides to purchase depends upon his or her hiking style.
Light Hiking Shoes
Light hiking shoes resemble thick, long distance running shoes. They are typically low cut and possess flexible midsoles for navigating turns. However, the low cut feature also provides less ankle support than other hiking shoes. Beginner hikers utilise light hiking shoes for day hikes over flat terrain and short distances. Some experienced backpackers wear these lightweight shoes because they believe in the equation that one kilogramme on the feet means four kilogrammes on the back.
Hiking Boots
Some beginner hikers buy this mid- to high-cut hiking shoe for weekend backpacking trips. Hiking boots are worn by backpackers who carry lighter loads. They are flexible, yet require a day or two of walking to break them in. Hiking boots are the least durable type of hiking shoe, since they cannot withstand the constant pounding of long backpacking excursions. Boy Scouts who take frequent weekend sojourns through the backcountry find that hiking boots do a good job of matching their hiking footwear needs.
Backpacking Boots
Once hikers have progressed to taking long, multiple-day hiking trips, they should consider purchasing backpacking boots. Manufacturers design these boots for those who carry loads of heavier weight deep into the backcountry. Backpacking boots possess stiffer midsoles than hiking boots, which provide hikers with more support and ensure higher durability.
Mountaineering Boots
Think of hiking parties that make excursions over some of the roughest terrain in the world. These hiking professionals wear mountaineering boots because the boots possess the stiffest midsoles, which provide the sturdiest support. This is a critical feature for traversing rocky, steep slopes. Mountaineering boots do the best job of handling heavy loads and they can carry crampons for hikes that involve traversing glaciers. This is the toughest boot type and contains long-lasting construction properties.
Materials Used to Make Hiking Shoes
The materials used to produce hiking shoes may be the most important component that buyers must consider before making a purchasing decision. Hiking shoe materials influence shoe weight, breathing capability, durability, and water resistance.
Material

Features

Full Grain Leather

High durability

Abrasion resistance

Used for extended backpacking trips over rugged terrain

Not as light or breathable as nylon-leather

User must spend time breaking in new shoes

Split Grain Leather

Combination of nylon and leather

Offers lightweight, breathable comfort

Rougher part of cowhide splits away from smooth exterior

Costs less than other materials

Low water and abrasion resistance

Nubuck Leather

Full grain leather

Resembles suede

High durability

Strong waterproof attributes

Flexible, yet takes some time to break in

Stylish look

Synthetic

Mostly constructed with polyester

Lighter and dry faster than leather

Easy to break in

Inexpensive

Exterior stitching causes durability issues

Waterproof Lining

Waterproof membranes added to ensure water resistance

Reduced breathing capability

May cause feet to feel warm and dry on hot hiking days

Still require waterproofing treatment on leather hiking shoes
What to Consider Before Buying Hiking Shoes
Buying hiking shoes requires hikers to establish a few goals. Hikers have to balance a number of factors, such as cost, midsole support, and boot material to buy the right shoes to protect their feet. However, hikers need to consider a few factors before they begin to shop for hiking shoes.
Intended Use
The first question to ask is, "What will the hiking shoes be used for?" Each type of hiking shoes has a specific purpose that is predicated on how manufacturers construct the shoes. The factors that determine intended use include: weather, terrain, hiking duration, and backpack load.
Hiking Skill Level
Hiking experience goes a long way towards determining what type of hiking shoes a hiker may buy. Experienced hikers can choose lighter hiking shoes than the ones used by less experienced hikers who hike the same path under the same conditions. Beginners should always look for hiking shoes that have the sturdiest midsoles and the highest cut to help protect feet, ankles, and heels from injury. Strong support also reduces the wear and tear on ankles, calves, and thighs. Experienced hikers know how to walk in lighter hiking shoes to prevent leg-related aches and pains.
Quality
One of the worst things to happen during a hike is for a hiker's shoe to fall apart. Hikers of all calibres should place a premium on hiking shoe quality. Start by purchasing hiking shoes from a reputable brand. The companies that put their hiking shoes through rigorous testing inevitably become the companies that establish strong reputations. Examine a pair of hiking boots closely for stitching, the connection between the sole and upper portion of the hiking shoes, and the sole's lug pattern. Stiffness and the type of lacing also determine the quality of hiking shoes.
How to Find the Right Hiking Shoe Size
Foot problems are another issue that can stop a hike dead cold. Hiking shoe fitting is the final, and most important, part of the hiking shoes buying process. Hiking shoes that are too tight can cause feet to swell. On the other hand, hiking shoes that are too loose can provoke ankle rolls and cause feet to develop blisters. Finding the right hiking shoe size involves learning a few tips and then following five hiking shoe fitting steps.
When to Fit
Many hikers do not realise, but there is a difference between the size of their feet in the morning and the size of their feet after an extended period of walking. Most hiking shoe experts recommend that hikers take at least a 15-minute walk before trying on a pair of hiking shoes.
Socks
The same principle that applies to trying on a pair of dress shoes or tennis shoes also applies to fitting hiking shoes. Wear the socks that you plan to wear during hikes. Because wool socks are thicker and some hikers double up on socks as well; following this tip is even more important for buying hiking shoes.
Sole
Remove the inner sole and place the sole against the sole of your foot. Hikers want a hiking shoe that has a sole that closely resembles the contour of their foot. Feet that overlap a sole means the hiking shoe is too snug and too much sole space means a pair of hiking shoes are too large.
Five Fitting Steps
First, place the foot in the open hiking shoe with the laces unfastened. Stand up straight and push the foot towards the toe of the shoe. There should be enough room to place the index finger between the heel and the heel of the boot. Second, sit down to lace the boots. The heel should now press against the back of the hiking shoe. Third, walk with a normal gait around the inside perimeter of the store. Fourth, during the walk, check to see if the toes touch the front of the hiking shoe. Hikers have to find a larger size hiking shoe if the toes touch the front of the shoe. Finally, after walking for a few minutes, take off the shoe and check for any redness that indicates swelling or blisters on the feet. The feet should show no signs of wear and tear.
Buying Hiking Shoes on eBay
No matter how many kilometres you plan to hike, you need high-quality hiking shoes to reach your destination. eBay offers hikers a wide selection of hiking shoes that offer the type of features that hikers demand in a pair of hiking shoes. However, buying on eBay does not allow hikers to try on a pair of hiking shoes before making a purchase. Therefore, only experienced hikers who have gone through a few pairs of hiking shoes should consider eBay as a hiking shoe purchasing option. Even experienced hikers have to find eBay sellers that offer generous return policies, just in case a pair of hiking shoes do not fit.
Use eBay's search engine to find a pair of hiking shoes that meet your buying criteria. You can type "hiking shoes" into the search engine and then navigate through numerous search results pages. To narrow your search, type specific keywords, such as "mountaineering boots" or "nylon hiking shoes". Once you find a seller that piques your interest, click the link to the seller's product page. eBay sellers present an enlarged photograph of the hiking shoes on their product pages, as well as provide information about delivery terms and the time left before an auction.
Conclusion
Hikers have to make many hiking gear decisions before a hike, but no decision is as important as buying the right hiking shoes. Buying the right hiking shoes can be the difference between an enjoyable day hike or a mountain hike that ends prematurely due to a serious ankle injury. Hikers need to consider the types of material used to construct a pair of hiking boots, as well as the type of hiking boots. The type of hiking boots to buy depends upon their intended use, quality, and a person's hiking experience. Hikers must place hiking shoe quality above all other factors to ensure a safe and comfortable sojourn through the wilderness. After deciding on the hiking shoe material, type, and intended use, hikers are then ready to follow a few steps for fitting their new pair of hiking boots. Hikers can learn a few tips to help them buy the right pair of hiking boots, but only one tip has relevance for hikers of all experience levels. If the hiking shoes do not fit, do not wear them.