Whether you are looking for a bang on trend jacket to wear to a party or something practical for the great outdoors, Hollister has what you're looking for for both men and women. Take a look at our guide to see what's on offer.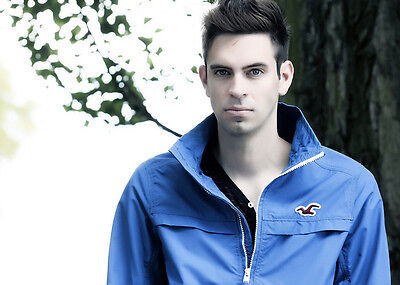 Your guide includes
Buying considerations
Denim jacket
All-weather jacket
Sport jacket
Parka jacket
Hollister is an American lifestyle brand by Abercrombie & Fitch. It offers everything from light-wash denim styles to waterproof numbers, all with a southern California-inspired twist. There is something unique and quirky for both Bettys and Dudes, so why not celebrate life with a designer garment at a fantastic price? All Hollister goods are named after SoCal beaches, so feel the sun on your face and the wind in your hair with a great-value purchase.
If you're in need of some inspiration, below is a rundown of the different jackets available.
Denim jackets perfectly encapsulate the cool yet casual essence of the Hollister clothing brand. Simple, stylish and easy to wear, they effortlessly complement trousers, crops, skirts and dresses and are widely available for both sexes. With many designs to choose from you can rock the vintage buttons if you fancy it or opt for zip fastenings and button-down pockets – the choice is yours. From light-wash denim in many different styles and shades to medium and dark denim, jackets like this are a wardrobe staple and you're sure to find a design to suit.
When it comes to choosing a
denim jacket
, however, it's wise to think about your body shape. While a classic jacket (which tends to be hip-length and feature silver or copper details) will suit almost anyone, shorter, cropped garments look great on people with a slender frame. Similarly, tight-fitting jackets are perfect for showing off curves and loose-fitting jackets radiate a laid-back, relaxed attitude and look wonderful over tight-fitting T-shirts. Hollister is renowned for its unique interpretation of fashion and uses high-quality fabrics to produce attire that can be worn during the day or night.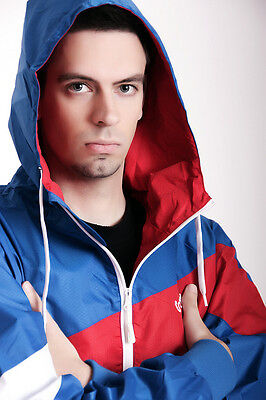 If you're an avid adventurer and love nothing more than cycling, running, walking and trekking in the outdoors, a durable,
all-weather jacket
will certainly be what you need. Made from strong materials such as nylon, these long-lasting garments are designed to withstand tough conditions and will protect your from the elements while you enjoy an active lifestyle. Styles and colours vary; however, typical features include a full zipper
and snap closure, storm cuffs, a mock neck collar and a hood. The lining
of all-weather jackets tends to be fleecy or mesh and you'll often find the signature seagull embroidery on the left chest.
When it comes to buying an all-weather jacket, think about when you'll wear it the most as this will help you find something suitable. Do you need something lightweight that'll help you run a race or climb mountains with ease? Perhaps you need something heavier to keep you warm and snug as you go about your missions? What's more, think about the type of pockets you require. Will poppers be sufficient or are zips better? Would you prefer a host of hidden compartments for personal items such as your phone or watch? Whatever you decide, Hollister is sure to have it covered.
When doing exercise it's important to be as comfortable as possible. The clothes you wear must be non-restrictive and allow you to burn up a sweat with ease – and that's where
Hollister's sport jackets
come into play. As many of the jackets on offer are made from super-soft fleece, they're not only soft to touch but are great to throw on for a jog or after a workout. Hollister's sporting tops also tend to come with a full zip closure and a drawstring hood allowing you to keep your body as warm as possible when necessary. Want to listen to music while you get active? Then you can thanks to the interior headphone opening found in the left pocket of most jackets – cool hey?
The awesome thing about Hollister sports jackets, as well as their practicality, is the fact they come in many different styles and designs. As well as plain colours, like black and navy, which go with virtually all kinds of outdoor and gym wear, you can also get hold of fleecy sport jackets in a range of different shades and patterns – ideal if you like to stand out from the crowd. Moreover, there are an array of different sizes, styles and cuts to choose from. While Classic Fit sits just below the waist and tends to be slightly looser with long sleeves, Muscle Fit is that bit tighter and is perfect for showing off a well-toned physique, so it's up to you what you'd feel more comfortable wearing.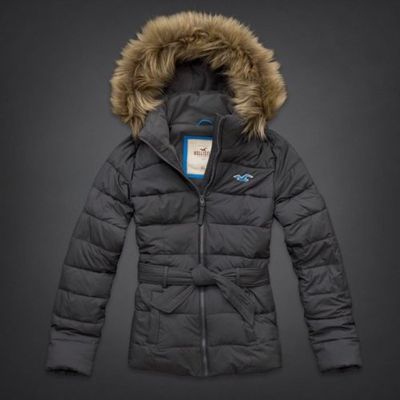 Parkas
are instantly recognisable thanks to their quilted, padded exteriors and fleecy interiors. The hoods are often trimmed with faux fur, which
gives them a touch of class, and they are designed to shield the face
from strong winds and icy conditions. As with all Hollister jackets, the
parka range is of the highest quality and finished with exquisite detailing such as seagull embroidery on the left chest, fleece-lined front pockets
and mock-necked collars. Parkas come in many different colours,
including white and black, and boast features such as poppers and
waist ties.
While many people love the statement fur collars on Hollister parkas, there are furless hoods available, so why not search for something that tickles your fancy? Parkas typically skim the upper thigh but if you are particularly short or tall they might sit slightly differently so bear this in mind before parting with your cash. If you need something that's great for cold conditions, the fleece-lined garments may be ideal, but if you just want a jacket to throw on over a jumper, the mesh-lined type might be better. Also, think about where you like the pockets? Do you prefer them low down on the coat or high up and are secret compartments necessary? This will all help you make a purchase you're proud of.
Hollister jackets are fun, practical and easy to wear, so check out what's available today.