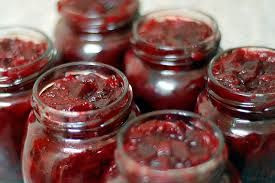 Another Homemade treat
What could be a nicer Christmas gift than some delicious homemade beetroot chutney, wonderful with cold meats on boxing day.
A beautiful chutney the whole family will love and so versatile great with meat, fish, salad from hearty sandwiches to a delicately seasoned warm salad with feta mmmm.....
Ingredients...
3lbs of Beetroot...
1 Large onion...
1 Large cooking apple...
12ozs Sugar...
2 teaspoons of Ginger...
1 level teaspoon of salt...
1 Pint of Vinegar.

Method...
Cook beetroot and dice into small chunks
Peel and dice onion... Peel and dice apple...
Put into a large pan and add sugar, salt, ginger and vinegar.
Bring to the boil and then simmer until all the ingredients are soft.
Fill clean and sterilised jars and label.

Quick easy and absolutely delicious, great fun to make with the kids and then dressing the jars up with homemade labels such a lovely thing to do on a rainy afternoon. You can also change the ingredients to suit your own taste and use any vegetable you like plus will keep for ages un opened and up to 2 weeks once opened and stored in the fridge.

I've written this guide as part of a #Bzz Campaign as I am a #BzzAgent