Admiral Lord Horatio Nelson Foudroyant Flagship Blackpool Medallion
A Medallion With A Blackpool Connection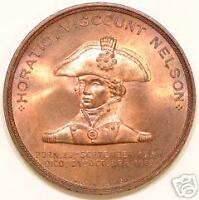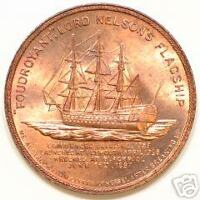 Obverse and Reverse of Copper Medallion Showing Nelson and His Flagship Foudroyant
A Copper Medallion Struck from the Copper of Nelson's Flagship Foudroyant
A copper medallion struck from the metal of the ship Foudroyant. In May of 1799 according to a letter by Nelson, but on June 8th 1799 according to another source, Rear Admiral Horatio Nelson took command of his new flagship Foudroyant at Palermo. He sailed to Naples (May 24th?) where he restored Naples to the Kingdom of Sicily. He states that he had been on board the Foudroyant for four weeks.
Obverse
The obverse (head side) shows a portrait of Nelson.
The inscription reads:
Horatio Viscount Nelson
Born 29th September 1758
Died 21st October 1805
Regd. No. 311490
Reverse
The reverse (tail side) shows a rear port (left) side view of the ship Foudroyant. It is shown as a three masted square rigged ship, there are two rows of 14 cannon suggesting a total of 56 cannon if the medallic artist can be relied upon for accuracy.
The inscription reads:
"Foudroyant" Lord Nelson's Flagship
Commenced Building 1789
Launched at Plymouth 1798
Wrecked at Blackpool
June 16th 1897
Medal Struck from Copper of Vessel After Breaking Up
History of The Foudroyant
The Foudroyant was acquired by a Wheatley Cobb, and was described as a 74 gun frigate, and having sunk in 1893. This being close to the date recorded on the medal, I believe it is the same ship. Cobb bought another vessel in 1897, the Trincomalee, restored it, and changed its name to Foudroyant, this ship is now owned by the Foudroyant Trust in Gosport Hampshire, and has been renamed in about 1994, as the Trincomalee.
Other sources record a vessel of the same name being captured (by the French?) and entering service in 1758, ending service in 1787. This was a frigate of 90 cannons. There is also a record of a privateer's ship the Foudroyant at Halifax, Nova Scotia, in 1758.
There is now a French submarine bearing the name Foudroyant
If our translation is correct Foudroyant means lightning or "striking down".
A German model ship listing shows a Foudroyant as being dated 1750, and being an 80 cannon frigate.
Smaller Foudroyant Medallion
We have also seen a number of smaller Foudroyant medallion of much poorer style and quality.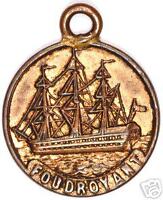 Obverse and Reverse of Small Copper Medallion Showing Nelson's Foudroyant
About the Author
Lawrence Chard is a director of Chard Coins of Blackpool, England, and has over 42 years experience in numismatic and bullion coins.
Chard have maintained a dealing service for both collectors and investors in bullion and numismatic coins. During the period from 1965 to 1971, we were one of only a small number of dealers who were granted a dealers licence.
Copyright
All our images and text are copyright.
Was This Guide Useful?
If you found this guide interesting, informative or useful, please spare few seconds of your time to vote for it by clicking on the "Yes" button below, thanks.
Other Guides
You may be interested in viewing our other guides:-
Mints & Mintmarks on Gold Sovereigns - All Seven Mints

How to Photograph Coins - Advice, hints, tips & more...
1780 Maria Theresa Silver Thaler Restrike Trade Coin

Krugerrand - One Ounce Investment Gold Coin

Buffalo - 9999 Fine Gold US Bullion Coin - 24 Karat Au

Pink Diamonds - One of Nature's Rarest Gemstones
Sniping - Is It Good Strategy or Tactics for Winning eBay Auctions?
£2 Two Pound Coins Queen with Necklace Rumour & Facts

Winning Auctions - Or Spending Money?
CGT Capital Gains Tax Exemption on Gold Sovereigns Britannias UK Coins

Definition of Investment - VAT Exempt (Tax Free) in UK & EU

Second Chance Offers on eBay - Should You Use Them?
Spellings - Is Good Spelling Important - A Few Howlers

Famous People (Celebrities) Who Collected Coins

Heads Upside Down on Coins - Medal & Coin Alignment

Identifying Coins, A Brief Guide to Help Identify Coins

BNTA - The British Numismatic Trade Association

Gold Coins Which Are Not Gold - Including German & € Euros

Postage Packing Shipping Insurance Charges - Fair or Excessive?
The Difference Between Proof and Uncirculated Coins
London Gold Fixing Price

Gold Bullion Bars For Investment