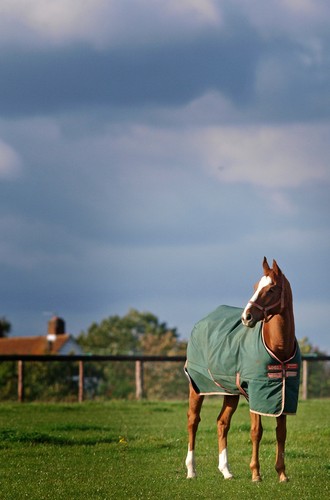 Buying a horse rug is vital for horse owners, and it is important that the animal is kept protected and warm at all times. There are many different types of horse rug, and the benefits of each are many. Horses are high-maintenance animals, as any owner knows, but they bring endless pleasure and enjoyment, and for the best sort of horse rug have a look on eBay where there are many to choose from. To differentiate between the different types it is important to consider what each is for, and why there is a need for so many. Rugs come in a wide variety of shapes and sizes, thicknesses and materials, and are very versatile items. There may be a case for buying a number of different rugs for a horse so that it is correctly cared for at all times. There are several considerations to take into account when buying a rug for a horse.
Different Types of Horse Rug
The following considerations are important when looking to buy a horse rug, and should be the first thins a buyer thinks about when looking at the choices on offer:
Breed of Horse
Condition of Horse
Type of Use Required
Style of Rug
Size of Rug
Fabric Options
The Environment in which the horse is kept
All of the above are of equal importance, and each has its own merits. For example, the breed of the horse could influence the size of the rug, while the condition may be important; older and less healthy horses need better protection. The type of use for the rug is also paramount – we will have a look at the different types of use later on – and the style and size of the rug are essential considerations for fit. The fabric type will have an effect on the job the rug does, and the environment is a defining factor as to the rug needed.
There are a number of different options, each of which offers its own advantages. These include:
In each case it is essential that the buyer considers many different aspects relating to the rug, including – of course – the size. Before sizing a horse rug the buyer needs to consider the different types of rug available, and what they offer to the horse.
The Standard rug: this option is one that is very common and offers excellent protection. This is the usual sort of rug for summer weather as the neck is open at the withers with the neck uncovered. These are usually lightweight rugs.
High Neck rug: this one covers the neck, but not entirely; some horses are subject to rubbing when wearing a standard style rug, and this type can be a good choice if that is the case.
Detachable Neck rugs: a clever type of rug that is akin to a standard rug but has a detachable neck cover for when extra warmth and protection is needed.
Combo rugs: these cover the entire neck on a permanent basis, and offer excellent protection in all weathers – particularly in the winter.
Those are the four types of rug available, and each offers its own advantages. There is a further consideration to make, and that is for the fabric of the rug. Rugs can be made from many different materials, and some are more favourable than others. It is important to consider the denier of the rug; this is the thickness of the yarn, and it is a way of assessing the efficiency of a rug. For example, a 1000 denier rug will be twice as strong as a 500 denier version. Look or nylon and polypropylene rugs for added density and strength, as these do not tear easily and are designed for long life.
Waterproof and Breathable Rugs
A turn-out rug, in particular, will need to be both waterproof and breathable, but what does this actually mean? Quite simply, the outer surface of the rug will be waterproof, most likely by the application of a coating of some sort. This means it is resistant to rain, and will allow the horse to be protected from the elements to a great degree. Over time the waterproofing qualities may diminish, and in heavier rain it may let in a little water. It is possible for the rider to buy a coating spray and recoat the waterproofing themselves.
The breathable element is a technological breakthrough that allows for a coating on the inside of the rug to draw sweat away from the horses skin and onto the outer of the rug. This is done in a clever fashion that is designed to keep the horse comfortable, while also keeping the horse comfortable and not too dry. This is an important element of a rug, and is one of the foremost considerations.
Measuring A Horse For Rug Size
It is absolutely essential that a horse rug fits the horse; each horse is different and there is no one size fits all philosophy here. Also, different styles of rug – as defined in the section above – can suit different horses. If the owner has a rug that fits a horse but needs replacing it may be sensible to check its design and make, and look for a similar one. There are many brands of horse rug on sale on eBay. Rugs come in a wide variety of different sizes, and it is important that the horse's measurements are taken accurately. The owner should measure the horse from the chest to rear, not including the tail; this is best done by two people as it can be quite difficult. Now, using the following table relating to the height of the horse, it is possible to work out the size of rug required:
| | | | | | | |
| --- | --- | --- | --- | --- | --- | --- |
| Horse height in hands | 12.0 | 13.0 | 14.0 | 15.0 | 16.0 | 17.0 |
| Rug Size in Inches | 51" | 57" | 63" | 69" | 75" | 81" |
Allow for increments of three inches each time for measurements between the above, and that should be a decent guide to making the right purchase for the right horse. If the owner does have a rug that fits, lay it out on the floor and measure it and it should be easy to see which of the above it corresponds to. Once bought, it is important to understand the correct fitting instructions so that the horse is as comfortable as possible, and the manufacturer will include a fitting guide with the rug.
How To Buy Horse Rugs On eBay
There are many horse rugs for sale at any one time on eBay, and they are easy to search for and even easier to buy. You will find many different types of horse rugs, stable accessories, rider clothing and accessories and more, and with many vendors offering free delivery and excellent prices you are guaranteed the best deal. Using eBay is extremely easy; once you have decided upon the type of freshwater fishing reel you want you simply go to www.ebay.co.uk and choose the Equestrian section under the Sporting Goods header. Now look for the section titled Horse Wear and Equipment, and from there select the Rugs and Sheets choice for a great selection of rugs. The choice of equestrian goods is comprehensive, and you can narrow your search down by entering a brand name or model number into the search box, or by selecting sizes and other details on the drop down menu to the left. If you need further advice on buying horse rugs on eBay you can visit the Search Tips page, and you can also look in the eBay Stores section for more choice of horse rugs at eBay.
Conclusion
Many people enjoy riding horses for both pleasure and sport, and these graceful and intelligent animals can be a joy to be around. Horses live outdoors for a great deal of their life and, as such, it is up to the owner to make sure they are looked after adequately and correctly. Horse rugs are not an option, they are a necessity, and with so many available on eBay at any one time there should be no problem finding the right version for every individual horse. By following the above tips, tables and guides it is possible to make sure that the horse in question has the right rugs for the right time, and that it will be protected, warm and dry whether in the field or stable. Horses make great companions, but they are susceptible to elements – just like us – and inexpensive, quality horse rugs are a very important part of the equipment. Consider the options carefully, and your horse will be beautifully warm and protected at all times.