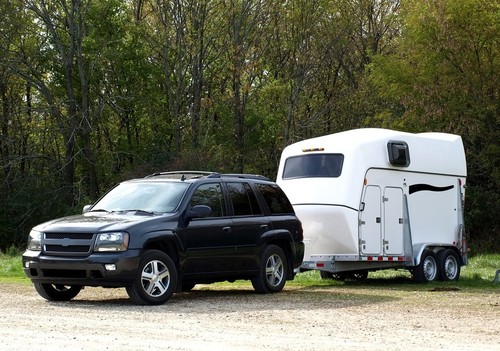 A horse trailer can be an invaluable tool for horse owners. They are created in a wide array of styles and sizes, and choosing the best one is not always an easy process. It is necessary to decide on the load style of the unit, as well as the number of horses that need to be hauled. It is also possible to purchase units that have a tack, dressing room, or even full living quarters.
Buyers on a budget can also consider pre-owned trailers. Many of these products are still in excellent condition, and can be obtained at significantly reduced prices. Before purchasing a used trailer, be sure to verify its condition, and when possible, inspect the trailer in person.
Horse trailers can be purchased from ranch and home supply stores, specialty retailers, and online sellers. Marketplaces like eBay have listings from both private and commercial sellers, and can be used to shop for new and used horse trailers. Shop around to compare prices and find the most suitable units available. With a little patience, a great trailer can be found to safely and comfortably transport horses and supplies on the road.
Choosing Horse Trailers
Buyers looking to purchase a horse trailer should begin by choosing the design of the trailer. Options can then be refined by features such as flooring, dressing rooms, and stall size.
Load Style
The load style of a trailer determines how the horses stand inside, and to an extent, how many horses can be carried at once. There are two primary styles available, including straight loads and slant loads. Each type has small variations, as well. Learn about each load style to choose the best one for the type of transport that is needed.
Straight Load
The most common type of horse trailer is a straight load. These units are designed with stalls that run parallel to the sides of the trailer. Horses are lead directly into the trailer, and stand facing forward. These trailers are typically designed to haul two horses at once, side-by-side, and a divider separates the trailer into two halves. The design of straight load trailers makes them ideal for hauling materials other than horses, as well.
A variation on the standard straight load trailer is the head-to-head load style. These are typically designed with room for four horses, and the animals in the front and rear of the trailer are loaded facing one another.
Slant Load
Slant load trailers are the kind most commonly used. The stalls for each horse are shifted diagonally within the trailer so the horse's head is on one side and their hindquarters on the other. Unlike straight load trailers, slants are loaded from the front, and horses face toward the back of the trailer. On a standard slant load trailer, the horses' heads are on the driver's side, which means owners can lead the horses in with their right hand. Buyers who prefer to lead with their left hand can find reverse slant loads, in which a horse's head sits on the passenger side of the trailer. Reverse slant loads are less common, however, and may be difficult to find.
Interior Features
Once the design of the horse trailer has been chosen, buyers can begin looking for additional features. These may include padding to keep horses safe, or rubber pads to protect the walls from damage caused by a kick. Examine some of the features commonly found on horse trailers to choose the best units.
Padding
Many trailers have padding in all areas a horse might come in contact with. This helps protect the horse in case of sudden stops or an accident. It is also important for a trailer to have a kick wall. The area behind the horse should be covered with thick rubber padding to protect the trailer frame and horse from harm in case the horse kicks.
Floor Materials
The floor of a trailer can be made from a few different materials, including wood, aluminium, and rumber. Wooden floors generally provide better traction than either aluminium or rumber, but are higher maintenance. However, they can last for a long time if they are kept clean and dry. Aluminium is the standard floor type on many trailers, and is ribbed to help rubber mats stay in place. Aluminium is easy to clean and low maintenance. The other material common on trailer floors is rumber, which is a durable type of hard rubber. Like aluminium, it is easy to clean, though it can become slick when wet. Many owners of trailers with rumber floors lay down wood shavings.
Stall Size
The specific size of stalls in a horse trailer can vary significantly from one unit to the next, especially in slant load trailers. Be sure to obtain measurements for the size of the stalls and find a trailer that can comfortably accommodate all owned horses.
Dividers
The dividers between stalls can be either open or solid. Dividers that use bars or slats can help horses stay cool in warmer months, while a solid, closed divider keeps horses from playing with one another during the ride.
Tack
A tack is an area to store saddles and other gear. Most trailers have a small compartment tucked into the trailer for storage, and some of these can be collapsed when not in use for additional trailer space.
Dressing Room
Some trailers are equipped with a dressing room. This is usually a closed-in area located at the front of the trailer that has a separate entrance. Look for this feature if a changing room is needed for shows.
Full Living Quarters
Buyers can also find large, professional horse trailers that are designed with full living quarters. Though the majority of these horse trailers are bumper pull units, some are even designed as complete vehicles, similar to an RV. Most trailers with living quarters are slant load trailers, and can carry a high number of horses.
Purchasing Used Horse Trailers
Horse trailers can be an expensive investment. To save money, consider purchasing a pre-owned horse trailer. A high number of units are available from private sellers that are still in excellent condition, and these can save buyers hundreds of dollars. Be clear on the condition of a used horse trailer before committing to a purchase. When possible, inspect the unit in person. If buying online, look for photos of both the interior and exterior of the trailer, and read descriptions carefully.
How to Buy Horse Trailers on eBay
Horse trailers of all sizes and styles can be purchased from sellers on eBay. These items can be located by entering keywords into the search field on the home page, or by using eBay's category links. Both methods can also be used to refine listings. For example, to find used items, enter "horse trailer" into the keyword search. From the results that appear, find the relevant category option for used horse trailers. After clicking on the link, you may introduce new keywords such as a brand name.
Click on the name or image of an item in search results to see its full listing. There, you can find information about the trailer, its price, and delivery methods. Due to the size of horse trailers, many are available for local pickup only. Determine the location of the seller, as well as delivery and pickup options before committing to a purchase. Look for a seller description of the trailer, as well as information from the manufacturer. Examine all photos of the trailer, as well.
Once you have found trailers that interest you, take a moment to research the seller. Item listings provide a positive feedback rating and the seller's number of completed transactions. This information can be used to gain a quick estimate of the seller's reliability. If you'd like more details, click on the seller's name. Look for average ratings on the seller's communication, shipping rates, and accuracy of item descriptions. Once you have completed your transaction, leave feedback for the seller to support the eBay marketplace.
Conclusion
Horse trailers are produced in several different styles and designs, from small, straight load bumper tow units to large, slant load trailers with full living quarters. Buyers should begin by deciding which type of load style they prefer. Straight load units have the horses facing forward, and generally hold only two horses. Slant loads position the horses diagonally, and facing the rear of the trailer.
Look for trailers that have sufficient padding in areas that a horse might come in contact with, including the dividers, mangers, and surrounding walls. The wall behind the horse should be sufficiently padded to protect the structure and the horse from kicks. Floors can be made from wood, aluminium, or rumber. Aluminium is low maintenance and easy to clean, but requires rubber mats to be laid down. Rumber is also quite durable, though it can become slick when wet. Wood must be kept clean and dry, though it can last many years if properly cared for.
Horse trailers are available from ranch supply stores, specialty retailers, and online sellers like those on eBay. Shop around to find the full selection of products, and compare prices to find the best deals. Whether for a single horse or half a dozen, a horse trailer is available to suit the needs of any buyer.