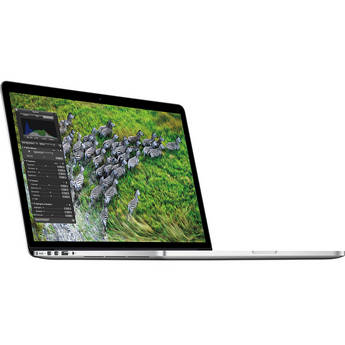 Apple's range of products have transformed not only the world of personal computing, but also the mobile world, as well. Given the diversity and quality of Apple products, many individuals find themselves with an entire collection of Apple technology, from phones to music players to desktop computers. Incorporating an Apple laptop into this suite of technology can add yet another level of functionality to a user's home or business set-up.
Learning the ins and outs of Apple technology, including how a MacBook Pro or Air integrates with other products in the Apple line, opens up a lot of possibilities to consumers. With this information in hand, consumers may then want to explore some retail options beyond the traditional, brick-and-mortar computer stores that sell Apple goods. For a larger and more flexible catalogue of options, many consumers turn to online retailers, such as the aggregator eBay, to purchase Apple products and accessories.
Types of Apple Laptops
Before looking into how Apple laptops can integrate into a suite of existing Apple products, it can be helpful for consumers to learn about the types of laptops that are available from Apple. In some cases, only used or refurbished versions are currently sold.
iBooks
The iBook was a popular line of laptops created by Apple from 1999 to 2006. They can still be found for purchase in the used and refurbished marketplace. In its earliest version, the iBook G3 featured a unique clamshell design with bold accent colours. By the time the G4 appeared on the market, the iBook had transitioned to a more traditional and streamlined form factor. The iBook was eventually replaced with Apple laptops that leverage Intel processing cores.
PowerBooks
The PowerBook was another line of laptops from Apple that was released concurrently with the iBook. These laptops were primarily marketed as a business solution. Early versions include the WallStreet and MainStreet series that had processing speeds from 233 MHz to 300 MHz and a choice of 12-inch, 13-inch, or 14-inch screens, along with dual drive bays capable of accommodating floppy drives, CD-ROM/DVD-ROM drives, hard drives, and extra batteries. A second PowerBook G3 series, the PDQ, was introduced in the late 1990s with the addition of L2 cache in even the most basic 233 MHz model, which improved overall performance.
MacBooks
The MacBook series was released in 2006 as a merger of sorts of the main feature sets from the iBook and the PowerBook. It also marked a transition away from the Apple cores the company had been using to the use of Intel processors. The first MacBooks had single Intel cores, while later models transitioned to Intel dual cores, further enhancing their performance power.
Within the MacBook family, there are MacBook Pros and MacBook Airs. The MacBook Air is a simpler, lighter, more portable option with a more affordable, entry-level price point. The MacBook Pro is the full-service laptop in the family, and it also comes in a version with a retina display that enhances the graphical display.
MacBook Specifications
The MacBook family has a range of performance specifications. The following table outlines the basic tech specs for many versions of these Apple laptops that can be found new and used in the marketplace.
| Model | Processor | Memory | Storage |
| --- | --- | --- | --- |
| MacBook Air 1.7 GHz 11 in | 1.7 GHz (Dual Core) Core i5 | 4 GB 1600 MHZ | 64-512 GB SSD |
| MacBook Air 1.8 GHz 13 in | 1.8 GHz Core i5 | 4 GB 1600 MHZ | 128-512 GB SSD |
| MacBook Pro 2.5 GHz 13 in | 2.5 GHz Core i5 | 4 GB 1600 MHZ | 500 GB HDD |
| MacBook Pro 2.5 GHz 13 in | 2.5 GHz Core i5 | 8 GB 1600 MHZ | 128 GB SSD |
| MacBook Pro 2.6 GHz 13 in | 2.6 GHz Core i5 | 8 GB 1600 MHZ | 256 GB SSD |
| MacBook Pro 2.9 GHz 13 in | 2.9 GHz Core i7 | 8 GB 1600 MHZ | 750 GB HDD |
| MacBook Pro 2.3 GHz 15 in | 2.3 GHz (Quad Core) Core i7 | 4 GB 1600 MHZ | 500 GB HDD |
| MacBook Pro 2.4 GHz 15 in | 2.4 GHz (Quad Core) Core i7 | 8 GB 1600 MHZ | 256 GB SSD |
| MacBook Pro 2.7 GHz 15 in | 2.7 GHz (Quad Core) Core i7 | 8 GB 1600 MHZ | 512-768 GB SSD |
Technical specifications for Apple laptops are constantly evolving. Consumers can use this table as a general reference when shopping for a computer in the MacBook family with the understanding that specs change with each new release by the company.
How to Use an Apple Laptop to Supplement Existing Apple Products
In addition to being a powerful portable computer, an Apple laptop can also extend the functionality of many other Apple products. If a consumer is considering incorporating an Apple laptop into a suite of technology from Apple, the following examples are just a few of the ways in which that unit can supplement other Apple technology.
Functioning as a Control Module for the Mac Mini
The Mac Mini is essentially a powerful, portable brain without a control interface. It looks very much like an external hard drive with a compact, block-like form factor. In a recent iteration, it has an Intel Quad core and runs Apple's OS X Mountain Lion. A Mac Mini gives consumers a way to transport large amounts of media in a compact design. Many users utilise these machines in tandem with a desktop as a way to back up and transport essential files.
An Apple laptop can port with a Mac Mini on the go to display and control the content stored inside that unit. The laptop serves as the control and display for the Mac Mini's brain. If a user has a desktop Mac at home and wishes to share and display large files in a remote setting, all he or she has to do is transfer them to the Mac Mini and then port the Mini with a laptop.
Tethering a Laptop to an iPhone
An Apple laptop can also be used to extend the functionality of an iPhone and vice versa. Since iPhones come with data plans, they have mobile access wherever they are. A laptop, on the other hand, does not necessarily have on-the-go Internet access. Tethering an iPhone and a laptop together increases the functionality of both machines. It gives the laptop Internet access wherever it may be, and it gives content that may be on the iPhone a larger and more functional control and display module through the laptop.
Accessing Laptop Content Remotely
Apple iPads are extraordinary machines with a very portable form factor and intuitive interface. Consumers do not want to load these machines up, however, with excessive file storage. Fortunately, there are several apps available that allow consumers to remotely access content from a laptop via the iPad. In this type of set-up, consumers can use the laptop as a home base and storage resource. Then, when out in remote settings, an iPad can be used to access files from the laptop without actually carrying the larger and heavier unit around.
Backing Up and Updating a Music Catalogue
The iPod serves as a great mobile music catalogue for consumers. It does not, however, edit easily, and it also needs to be backed up in case it crashes. An Apple laptop can serve both functions. The music catalogue on an iPod can be edited and supplemented via an Apple laptop, and the catalogue can also be copied to the laptop as a backup library.
Buying Apple Laptops and Products on eBay
Consumers who are interested in getting Apple laptops or products online often turn to the diverse catalogue found on eBay. This site aggregates multiple vendors to create a wide selection for consumers. Searching through all of these options is not intimidating. In fact, eBay has created a search interface and advanced search option that allow users to find products easily and quickly. Look for the search bar on any page on the site or click on the word Advanced near the search button to run a search of the catalogue. This takes you to a list of all the products on the site that relate to your search parameters.
Evaluating Sellers on eBay
Another distinct advantage you have as a consumer on eBay is the ability to evaluate and get to know the sellers on the site. This can help you ensure that you get the right product with the right specs for your particular application. You can review a seller's feedback as well as past listings to get an idea of the types of products that vendor sells. You can also reach out to a seller directly, if you prefer, to ask any questions you might have about a product.
Conclusion
The Apple suite of technology consists of some of the most advanced and user-friendly devices on the planet. These units can bring performance and functionality to everything from movies to music to communication. An Apple laptop can often function effectively as the core of a suite of Apple products. With their processing power and efficiency, Apple laptops can easily supplement any other product in the Apple suite, including iPhones, iPads, iPods, and desktop computers.
Consumers who are interested in exploring these options can access a large list of choices on the online retail site eBay. This site brings together multiple vendors and gives users lots of options and a great way to comparison shop for different models and selections. Although comparison shopping may be a little more complicated, shoppers can also search locally in computer stores that feature Apple products to find the right Apple laptops and accessories for their needs.